How Much Did The Baeumlers Make From HGTV On Renovation Island?
HGTV's "Renovation Island" follows the Baeumlers, a family led by home renovation experts and proud Canadians Bryan and Sarah, as they take on the seemingly insurmountable task of turning a dilapidated island resort into a luxury vacation destination. Announcing the series, which previously aired in Canada as "Island of Bryan," HGTV enthused that the refurbished hotel is now "a world-class island oasis complete with 18 luxurious hotel rooms, 22 oceanfront villas and a host of breezy resort amenities."
Aside from tackling a never-ending list of construction and contingency problems, the Baeumlers also have to juggle raising their children and everything that comes with being working parents. "This is the biggest change our family has faced and the largest project we've ever taken on," Bryan acknowledged, adding, "What are we risking? Absolutely everything." The couple is very careful with their money, and they evidently saw creating their own beachfront resort as an investment in their family's future.
As Bryan explained to RBC Royal Bank, "Understanding the value of things in the short term versus the long term is important. And if you save and raise the money for something you really want, you develop a pride of ownership." 
Naturally, picking up a regular paycheck from HGTV helped them achieve their goal, too.
Bryan Baeumler's production company handles the show
Considering how much the Baeumlers really spent on HGTV's "Renovation Island," it's heartening to know they earned a decent amount from putting their struggles on television. As Distractify clarifies, reality stars are typically paid by the production company, but Bryan and Sarah's remuneration is actually handled by Bryland Entertainment, of which he is the owner-operator. As a result, the Canadian natives are able to command a higher rate across the board — particularly given how many shows Bryan appeared on prior to "Renovation Island," which solidified his lucrative partnership with HGTV.
The Nielsen ratings confirm how much of a hit it is, with the show reportedly garnering around 8.8 million total viewers since it began. Bryan is likely to be earning a bigger amount he's handling the production side too, and working in a single location is generally more attractive to both crewmembers and companies because there are fewer variables to consider. It's reasonable to assume HGTV paid around $50,000 per episode of "Renovation Island," totaling around $650,000 for the first season alone. Bryan could easily have negotiated a higher price, however, given the show's demonstrable success.
According to Celebrity Net Worth, the Baeumlers are worth a combined $20 million. They run their own business and have several successful reality shows to their names, so it's unclear how much of that came from "Renovation Island," but the couple are doing well with HGTV either way.
The Renovation Island stars bet everything on their dream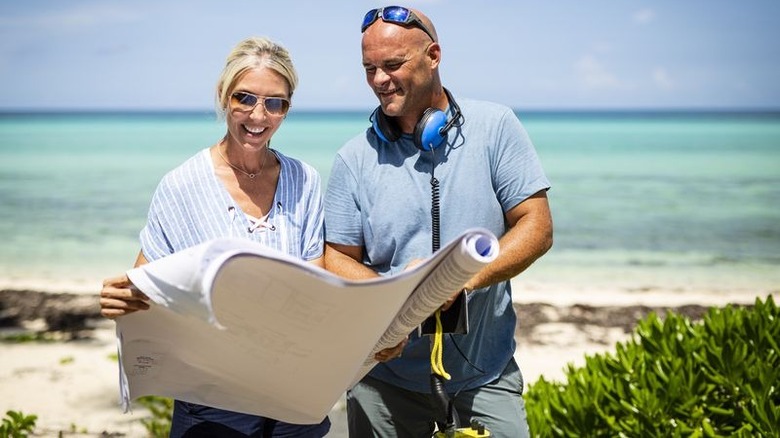 HGTV
Bryan and Sarah Baeumler notably own 100% of their luxury island resort, Caerula Mar Club, which comprises a selection of boutique rooms alongside an in-house restaurant and bar, clubhouse, spa, and in-ground pool, per The Wrap. "Renovation Island" fans will already know the couple put everything they had into making their dream a reality, including relocating to the island of South Andros, in the Bahamas.
Although the opening went ahead as planned, the COVID-19 pandemic set everything back, forcing the closure of the hotel for a short while. The savvy investors were prepared, though. Bryan explained, "In our financials, we had planned that the first year, generally, you're not gonna run at a profit, so we've had protections in place and we talked to our staff there." Regardless, given they've invested every single penny into the project, it has to work out.
After purchasing the resort for $2 million, with the intention of putting around $4 million into renovating it, the Baeumlers soon realized that it would cost significantly more to get Caerula Mar Club up and running. In fact, they "more than doubled that before we opened the doors," Bryan confirmed, bringing their investment to an eye-watering $10 million to date. 
He subsequently told The Wrap that business has been booming since coronavirus restrictions were lifted, making it all worth it. This also correlated with early predictions that the "Renovation Island" resort would see a huge surge after the pandemic.