How Many Kids Do Renovation Island's Sarah And Bryan Baeumler Have?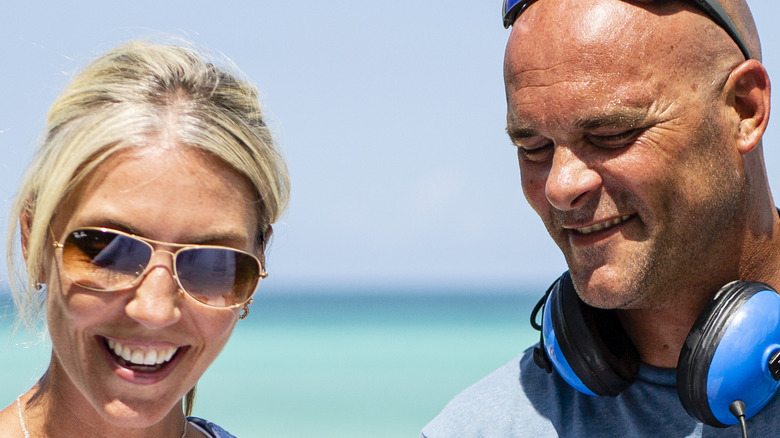 HGTV
Sarah and Bryan Baeumler are the husband-and-wife duo who lead the show "Renovation Island." The series follows the couple and their family as they renovate an old resort in San Andros Island in the Bahamas, per Country Living. Between Sarah's talent as a designer and Bryan's as a contractor, the two are quite skilled at renovation. 
When they vacationed to the island in 2017, they got the idea to redo the rundown hotel called Caerula Mar Club. With their background in television — they have also appeared on Canadian shows including "Disaster DIY" and "House of Bryan" –- they ran their idea by HGTV and "Renovation Island" began.
While the show had its fair share of struggles including Hurricane Dorian and the COVID-19 pandemic, which shut down the hotel for a few months in 2020, via Cheat Sheet, it still became an instant hit among viewers. One of the big reasons for the success is the Baeumlers themselves, who moved their kids to the Bahamas to renovate the resort and film the show. But just how many kids do they have?
The Baeumler kids are growing up on the island
Moving to the Bahamas so your parents can renovate a resort to run may sound like a movie, but for the Baeumler kids, it's their real life. According to HGTV, Sarah and Bryan Baeumler married in 2004 after dating for a few years. In 2006, they had their first child, Quintyn, followed by three more: Charlotte, Lincoln, and Josephine. 
During the first two seasons of "Renovation Island," fans saw a lot of the kids. According to Distractify, Sarah and Bryan chose to homeschool their children when they first moved to San Andros Island, but as the construction at the resort became overwhelming and dangerous, they chose to enroll the children in a local school. Their oldest, Quintyn, was entering high school and instead of keeping him local, they chose to send him to a boarding school about 20 minutes away via plane.
Fans are excited to see how life develops on the island for the Baeumlers
While their childhood may not be as normal as most, the Baeumlers know they made the right decision moving their four children to the island. "I think our children have experienced so much on this island that they have really grown as people, and I think that makes us, as parents, feel like we did the right thing," Sarah said in a video clip. "We showed them a different part of the world, and [with] the people that they've met and the work that they've had to put in, hopefully, they will understand the benefit as they grow older."
After a bit of a rough start, Sarah and Bryan Baeumler officially reopened their renovated resort in October of 2020, per ShowBiz Cheat Sheet. COVID protocols made it difficult for guests to travel to the island, but as things began to loosen up, it seems the resort has found success again. In an Instagram post, they announced that you either need to be vaccinated or have a negative COVID test to stay at the resort, a policy enacted by the Bahamas. 
Hopefully, "Renovation Island" will air for years to come and we will be able to continue to watch Sarah, Bryan, and their kids enjoy life on the island.