Days Of Our Lives Star Robert Scott Wilson Gets To Know His New TV Dad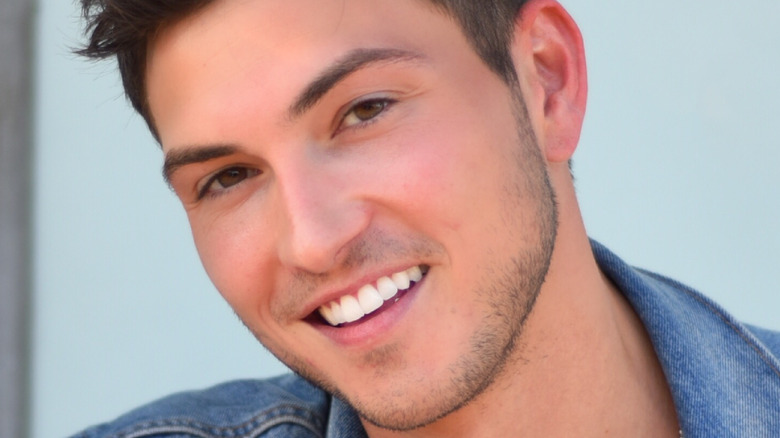 Michael Mattes/Shutterstock
It's hard to imagine Robert Scott Wilson playing any other character but Ben Weston on "Days of Our Lives." However, that's exactly what fans will have to do as the actor has moved from the role of Ben into the character of Alexander Kiriakis (via Soaps). After Ben and his wife, Ciara Brady (Victoria Konefal), set sail and left Salem behind for a brand new adventure on the seas with their newborn son, Bo, the NBC soap found a way to bring Wilson back into the mix.
Wilson will no portray the role of Alex, the son of Justin Kiriakis and Anjelica Deveraux. "I got a great phone call about five, six months ago, about some changes coming and, long story short, turned myself into Alex Kiriakis," Wilson told TV Insider of his new role. Meanwhile, the actor promises fans that the transition from Ben to Alex should be relatively smooth. "After the first few episodes, you're not going to see Ben Weston at all," Wilson told Soaps.com. "We're telling a different story with a different person. If you can give it just that moment, I hope that they'll see that," he added.
Recently, Wilson sat down with his on-screen father, Wally Kurth, for a little question and answer session about his new character.
Robert Scott Wilson and Wally Kurth bond on the set of DOOL
This week, Wally Kurth interviewed his co-star Robert Scott Wilson from the set of "Days of Our Lives." The Q&A session was posted to the NBC soap opera's official YouTube channel, and gave fans plenty of insight into the actor's transition from Ben Weston into Alexander Kiriakis.
During the sit-down, Wilson admitted to his on-screen father that it's been refreshing to go from the dark and brooding Ben to the lighthearted Alex. He even revealed that he's been getting some comedy lines that he loves. Wilson previously revealed that he was excited to work with John Aniston (Victor Kiriakis) as well, per Soaps.
Wilson and Kurth seem to get along famously, and even shared a sweet moment when Wilson admitted he was a bit nervous about how fans might react to him stepping into the new role. Kurth gave Wilson some solid advice, telling him not to get too caught up about becoming a new character, as soap opera viewers are used to seeing their favorite actors step into different characters, referencing Josh Taylor and Judi Evans' swapping characters over the years.
The actors also bonded over their characters' love for the ladies, revealing that Alex may be more like his father than fans were expecting. To symbolize their new on-screen relationship, Wilson even gifted Kurth a baseball cap that said "World's Greatest Dad." Wilson wrapped up the interview by revealing that he's very grateful to be starting a new journey as Alex, and asked fans to embrace the character.