President Biden Speaks Out Amid His COVID-19 Diagnosis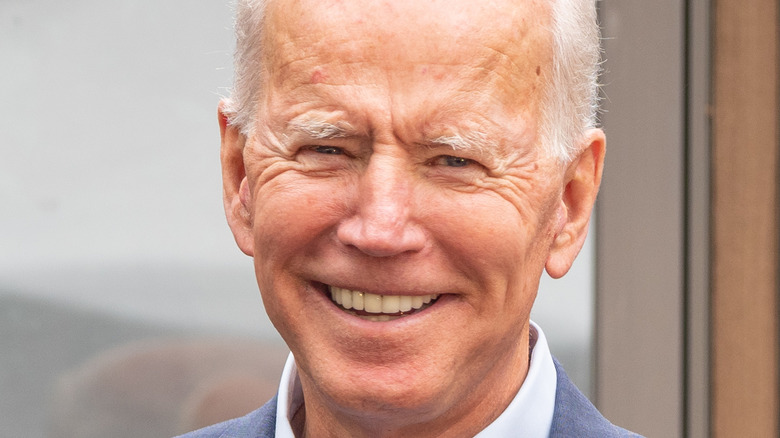 John M Poltrack/Shutterstock
President Joe Biden tested positive for COVID-19 Thursday morning, raising concerns for his health amid continued coronavirus cases across the country. What we know about Joe Biden's COVID-19 diagnosis is slim but positive thus far. White House Press Secretary Karine Jean-Pierre said in a statement that the president is experiencing "very mild" COVID-19 symptoms and taking the antiviral drug Paxlovid.
First Lady Jill Biden has tested negative for COVID-19, via CNBC, and ensured the American people that her husband is doing well. "I talked to him just a few minutes ago, he's doing fine," she told reporters. CNBC noted that the first lady is considered a close contact, and though she tested negative, is following social distancing protocols, according to her office. Meanwhile, the president is working in isolation through phone and video calls.
President Biden has broken his silence to speak out about his COVID-19 diagnosis and gives his first-hand account of the virus.
Biden says he is keeping busy while staying in isolation
President Joe Biden tweeted amid his COVID-19 diagnosis that pictured him smiling at a desk and recounted his morning tasks. All the while, Biden seems to be assuring the American public of his ability to stay productive in his role while isolating himself. "Folks, I'm doing great. Thanks for your concern," the president wrote on Twitter.
The president went on to detail some of his morning tasks. "Just called Senator Casey, Congressman Cartwright, and Mayor Cognetti (and my Scranton cousins!) to send my regrets for missing our event today," he wrote. Biden ended his message, "Keeping busy!"
The protocol of a COVID-19-positive commander-in-chief is not set in stone, as shown by the differences in how Former President Donald Trump's administration handled his positive COVID-19 diagnosis compared to the current White House's. The picture of Biden working in his office is a stark contrast to scenes of the former president being taken to Walter Reed Medical Center in October 2020, before COVID-19 vaccines were widely available.
President Biden is "fully vaccinated and twice boosted" according to the White House's statement announcing his diagnosis.