Venita Aspen On Joining The Regular Cast Of Southern Charm For Season 8 - Exclusive Interview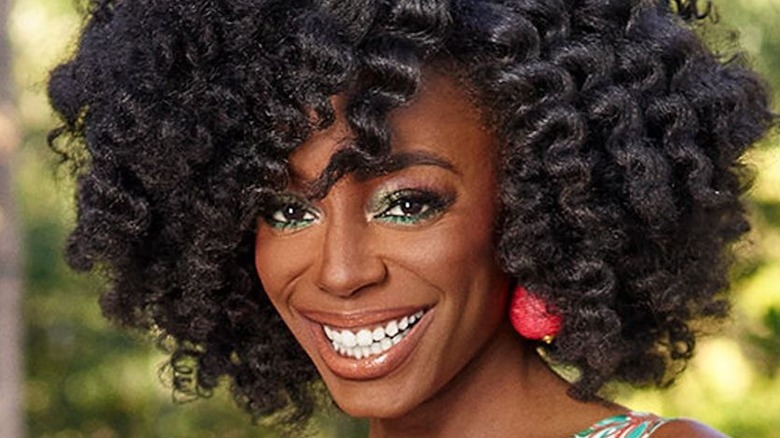 Stephanie Diana/Bravo
For the past seven seasons, Bravo's "Southern Charm" has offered viewers a glimpse at the lives of Charleston, South Carolina's socialites. The series has followed the social lives, romantic entanglements, and many dramas of cast members like Craig Conover, Kathryn Dennis, Shep Rose, Austen Kroll, and Naomie Olindo for years. 
With Season 8 now airing, viewers have also gotten the chance to get to know Venita Aspen. Aspen is not entirely new to the series. The influencer and model came on "Southern Charm" as a guest in Season 7, but now she's a full member of the cast.
During an exclusive interview with The List, Aspen shared her experience being the new member of the cast. She also opened up about what it was like going from a Bravo fan to being part of a series, and how she's been trying to balance working full-time as an influencer with her filming schedule.
Venita's decision to join Southern Charm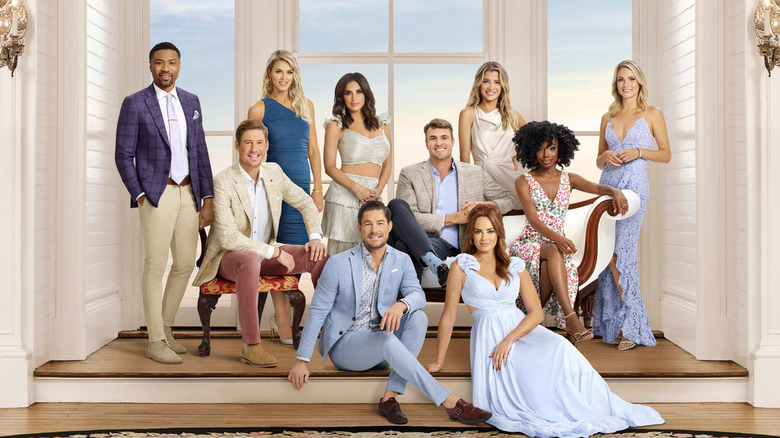 Stephanie Diana/Bravo
You first came on "Southern Charm" as a guest star that would come into some episodes in Season 7. What is that like? What's the difference been like now in Season 8, being a full member of the cast?
I no longer have time in my day. It's all gone. If I'm not working as an influencer, I'm working for Bravo, and time does not exist anymore, but I love it.
That was actually one of my questions because you're also a model, an influencer, and now a reality TV star. How do you, or do you find any balance of free time?
I've gotten much better at finding balance. If you were to ask me that two years ago, I would've been like, "I don't know what balance is." I've done a pretty decent job of unplugging completely during the weekends, which has helped me balance the fact that I now have two full-time jobs.
What made you want to join the cast full-time?
I set the goal last season of, if I do good enough and they ask me to interview, I think I'll take it and see if I can do it. I would always [say], "I'll always try most things once," and this is one of those things I've always wanted to try. I was excited when I got the call and the opportunity to be a part of the cast.
What was your experience like this season? Do you think you'd want to do it again for another season?
This is the most chaotic my life has ever been, but I'd definitely do it again. I really did enjoy it. Even in the midst of chaos, there are so many good moments that happen when you're filming, and you get to build stronger relationships with people, and get to know people better, and see other sides of them that you might not necessarily see, so it's definitely rewarding and exciting.
Being the newbie of the cast
Did you have any worries going into this season, or was it mostly [you thinking], "How am I going to have the time?"
The time was one of my biggest worries because, at the time that we started filming, I was also the busiest that I had been in a while with my influencer work. That was one of my main worries, and my other worry was, "How accepted am I going to be as a newbie in the group?" Everyone had been on the show since the beginning. I'm coming in as my first year, and people have been on the show for at least seven or eight years, and it's like, "Okay, I hope they like me."
What did you feel your reception was like with the rest of the cast as you were coming in as a new person?
The majority of the cast was pretty welcoming. Everyone was excited to get to know me and see who I was and learn more about me, which was really refreshing because, as I said, I was nervous I was going to walk in there, and people were going to be like, "You've got to go. We don't like you."
What would you say was the biggest challenge being on this season?
The biggest challenge being on the season this year was not really being able to get one-on-one time with people that I know I could fix things with off-camera. That time was not allotted, so I feel like that was one of my biggest challenges.
Venita's philosophy on dealing with drama
Now that the episodes are coming out, how do you feel about watching it back and seeing yourself on reality TV?
It's wild. I don't know if you know, but I'm a big Bravo fan myself, so it's definitely full circle. I used to come home and watch Bravo religiously. I would leave events early. I would have parties with my girlfriends to watch new seasons and first episodes. Now, we fast forward, and I just had a watch party for an episode that I'm on. It's mind-blowing.
How do you feel about the way it's edited and how you come across in the show? Do you feel like it's pretty accurate to what you experienced in real-time?
They make it to where I'm a little more full of myself than I actually am. It's not really a bad thing. Some people don't like it. It's hard to have this much confidence, and then people don't really accept that too well, but it's fine.
On any reality show, there's a lot of drama. Did you have any philosophy going into the show, like "This is how I'm going to deal with that," or did you have any strategy?
No. I didn't want to think about it too much because I didn't want anything to seem too calculated. I was like, "Listen, if drama comes my way, I'm going to have to deal with it in the moment how I naturally would do it," and I'm not going to go in and be like, "I'm going to handle it this way, or I'm going to do that. I'm walking into this being my most authentic self, and I'm going to react in the most authentic way possible."
[Now that you're] an influencer and people know who you are. Do you feel like that's affected the way people who you've known in the past now treat you?
No, so far, so good. I haven't gotten any special treatment, or people haven't started acting weird yet, but I feel like as the season progresses, people are going to start coming out of the woodwork, for sure.
Fans will see more of her personality on Southern Charm
You mentioned you had a watch party. Are you just with your friends watching it the way you would watch a normal Bravo show?
This one was a little more planned, but I had a watch party out in a house on Sullivan's Island back home, and it was wild. I had 25 of my closest friends in there. We had good food, and we all turned the TV up at 9:00 and sat there and watched it. It was wild to go from having small watch parties at my house and now having a watch party where I'm actually involved in the episode. It was crazy.
That sounds insane. Have you noticed any big differences in your life since the show started coming out, or are you still kind of waiting for how that'll affect things?
I'm still waiting. So far, so good. I left Charleston for the summer, so I feel like that's helping with the fact that I haven't noticed any big changes yet. We'll see. I'm waiting for that moment to happen.
What is it like for your friends to watch you? Did they have any funny reactions?
Yes, my best friend Tati, who you guys might be able to see as the season progresses, she was in my ear the whole time. "Oh my God. I can't believe you're doing this. You're on TV. We've made it." We call each other T and V. She was like, "T and V is on TV now." It was fun. Everyone's been really supportive, which is super nice.
You've already been sharing your life on social media as an influencer. Do you feel like being on the show will give your fans a different side of you?
People will get to see me beyond the first nine squares that you see on Instagram. You can have a voice on Instagram and share your thoughts and things like that in stories, but that disappears after 24 hours, and a picture only says so many words, so it'll be nice for the audience that I had prior to the show to see more of me on TV and more of my personality.
Are there any parts of the show, or this season, that you're looking forward to coming out and seeing how people respond to it?
I don't really know. I pretty much know as much as you know right now, so we both have to wait and see.
New episodes of "Southern Charm" air Thursdays at 9:00 p.m. ET on Bravo. New episodes are also available Fridays for streaming on Peacock.