If You're An Enneagram Type 2, You Should Try This Wellness Trend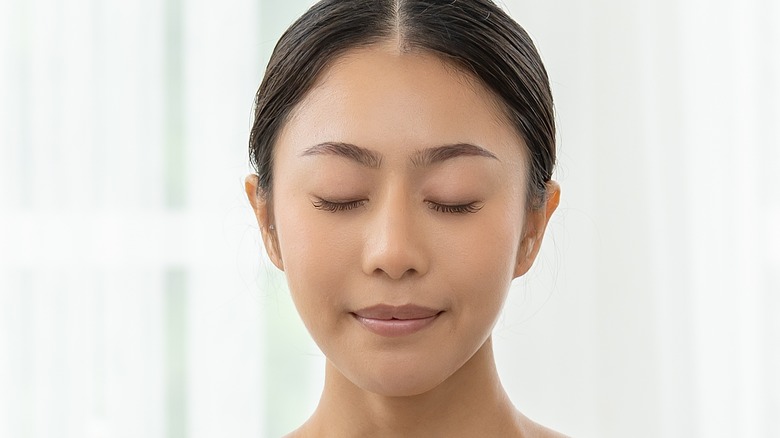 220 Selfmade studio/Shutterstock
Adhering to our own wellness is more important than ever. But getting the courage to actually put ourselves first and embark on a wellness journey can be intimidating. Instead of trying to create an entirely new you, consider trying one wellness trend at a time. These days, the biggest trends in wellness include adding a few drops of CBD oil to your morning coffee or using your lunch break to go on a "hot girl walk," per The Every Girl. If you're not sure which trend to try first, consider looking within to determine the best one for you.
The Enneagram is a great tool to help us learn more about ourselves and our reasons for doing things. If you have been labeled as an Enneagram type 2, you are considered the helper, via The Enneagram Institute. You are warm, friendly, and have a huge heart, but you can also be a bit of a people-pleaser and put others before yourself. You have probably helped more than a few friends move, as you are unlikely to ever tell a loved one no. And while those are great qualities to have, you can't forget about taking care of yourself, too. Take some time away from helping others and try this quick and easy wellness trend perfect for type 2.
Enneagram type 2's should focus on pampering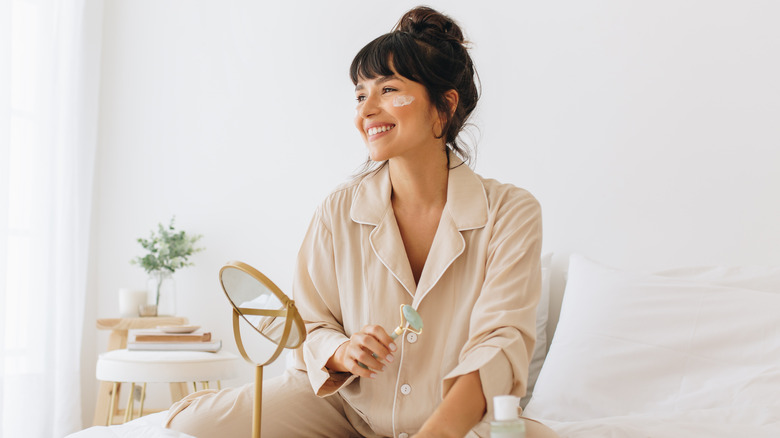 JLco Julia Amaral/Shutterstock
According to Truity, as an Enneagram type 2, you are constantly striving to be appreciated and ensuring those around you are loved and taken care of. This can be exhausting and may even leave you feeling a bit burnt out at the end of the day. Instead of driving over to your friend's house tonight to cheer her up after a fight with her significant other, spend the evening pampering yourself.
The Every Girl recommends Enneagram type 2s try a facial massage. This is an easy wellness trend you can hop on board with without feeling like you are spending too much time on yourself. To do this trend correctly, consider buying a jade roller or ice roller, or even a gua sha tool, which is a flat precious stone used to scrape the face (via Sublime Life). There are a few different methods when it comes to facial massages, and the one you choose depends on the results you are looking for. According to Byrdie, different techniques can help with anti-aging, fewer wrinkles, or lymphatic draining, which helps with circulation and sinuses.
The benefits of facial massage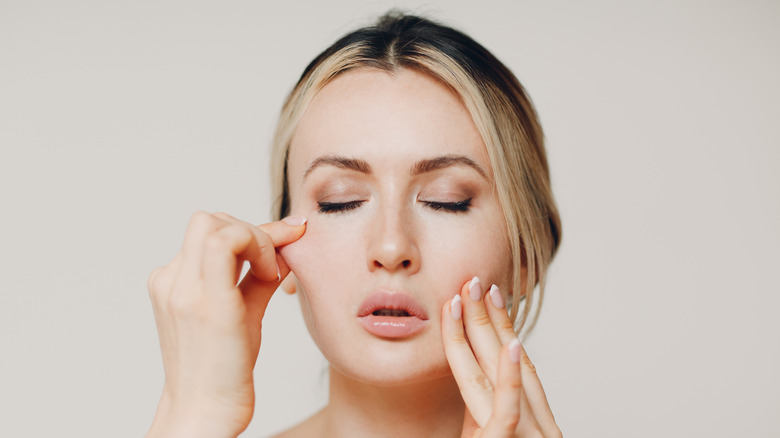 Max4e Photo/Shutterstock
Facial massages are a great way to relax and unwind after a long day, but they have a ton of other benefits as well. According to Healthline, they can help with facial appearance by minimizing the look of wrinkles and making your skin look younger. They can also be beneficial in helping with things like acne and dullness. But beyond the outer shell, they also help with nasal congestion, sinuses, and TMJ, or temporomandibular joint conditions. If you have scar tissue on your face, the right kind of massage can also help eliminate that by aiding in the healing process.
To properly do a facial massage at home, StyleCraze suggests first cleaning your face with a mild cleanser and then applying facial oil or moisturizer tailored to your skin type. Once your skin is fresh and clean, use your fingers or a facial roller of choice and start with your forehead moving upward towards your hairline. Then move on to your eye area, cheeks, and then mouth. The chin and the neck should be worked on last, followed by a gentle massage over the outer lining of your entire face. Once complete, you should be left feeling less stressed and ready to take on whatever the next day has in store.