Jill Duggar Dillard's Return To Instagram Has Fans Scratching Their Heads
2022 is barely half over, but it's been an eventful year so far for Jill Duggar Dillard. The former star of "Counting On" and her family just moved to a new house — one closer to her husband Derick Dillard's new job in the legal field (via Us Weekly). In February, she also announced the exciting news that she was expecting a third baby — a little brother for sons Israel and Samuel — on the family blog. In late June, fans were treated to Instagram photos of the sweet baby shower thrown by Jill's in-laws and her cousin Amy Duggar King. 
Arriving a little early, the newest little Dillard, Frederick Michael, was introduced on the blog four days after his July 7 birth. In addition to meaning "peaceful ruler," Jill noted "The name Frederick also holds special meaning for us since it's Derick's name with 'Fre' added to the front." Freddy's middle name is also the same as his dad's.
The following two weeks passed without a word from the Dillards, who are normally quite active on social media. They're open about sharing both the joyful moments of their lives and less pleasant ones, such as their statement on the verdict of Jill's older brother Josh Duggar. Even more oddly, they didn't put the birth announcement on Instagram in addition to posting it on their website. 
When Jill finally did break the silence, her explanation raised more questions than answers.
Jill Duggar Dillard said she was 'locked down'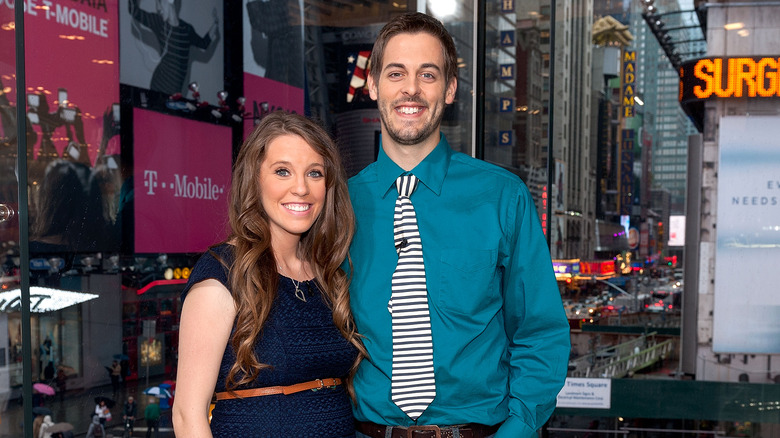 D Dipasupil/Getty Images
On July 21 — two weeks after the birth of her third son — Jill Duggar Dillard finally posted a baby photo of little Freddy on Instagram. "Hey! We are finally back on Instagram after being locked down & unable to post for awhile," she began. Jill went on to repeat the details that she originally put on the family website, "in case you missed our blog post from last week." Derick Dillard put up the same post on his feed.
But amid all the congratulations and well wishes were questions about the puzzling reference to "being locked down." The Dillards suffered a bout with COVID during Jill's pregnancy; some wondered if they contracted the virus again after Freddy's birth. Had they been suspended from Instagram for some offensive comment or photo? Or was this connected somehow to the Dillards' continuing estrangement from Jim Bob Duggar (per TV Shows Ace)? After all, the Duggar Family website is missing an announcement of this new grandchild. 
Inquiring minds wanted to know. "Congrats! Why were you locked down," asked a fan. "I'm curious too," said another. Other comments included, "I thought you had left us here on IG" and "So happy to see you back on Instagram! Been checking every day for pics of little Freddy!"
For now, Jill and Derick are choosing to stay quiet about the specifics of their social media silence. Between a new home, a new baby, and two active preschoolers, their plate — not to mention their hearts — are likely full.