Twitter Has Declared The True Star Of The Jan 6 Hearings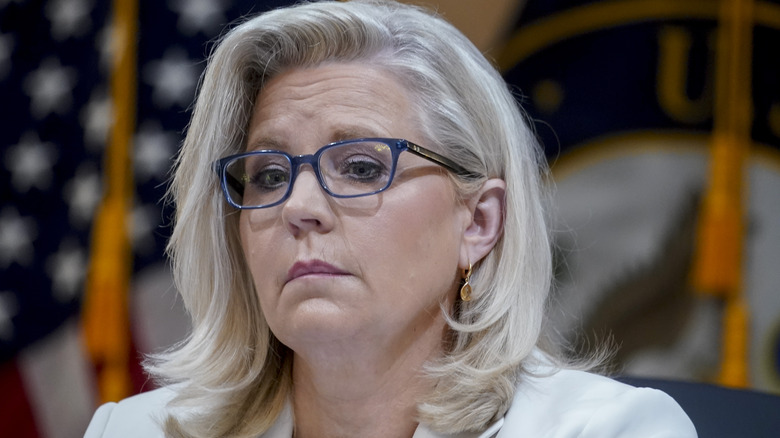 Bloomberg/Getty Images
Wyoming Rep. Liz Cheney delivered a powerful closing speech during the latest January 6th committee hearing. As she wrapped up the hearing, Cheney said, "And every American must consider this. Can a President who is willing to make the choices Donald Trump made during the violence of January 6th ever be trusted with any position of authority in our great nation again?" The congresswoman has earned praise for her efforts on the committee for standing up to Donald Trump. On July 21, news legend Dan Rather tweeted: "Liz Cheney speaks with force about American democracy. It is inspirational. It is dire. And it is necessary." Another Twitter user praised Cheney, tweeting: "Her closing statement was masterful. I may not like her politics, but I respect her integrity and patriotism. It's a start to remind voters on both sides of the aisle What Unites Us."
Wyoming voted almost 70% for Trump in 2020, and Cheney's stand may cost her congressional seat. Wyoming State Representative Landon Brown told Reuters, "Even people who dislike Liz Cheney ... will tell you that they are impressed with somebody willing to stand up on their convictions, so much so that they risk their political career." The Vice-Chair talked to the New York Times on July 21 about her work with January 6th committee, "I believe this is the most important thing I've ever done professionally," Cheney added, "and maybe the most important thing I ever do." Cheney is praised, but Twitter declared the true star of the latest January 6th hearing.
Clark Kent lookalike created a frenzy in January 6th hearing
The star of the latest January 6th committee hearings wasn't Liz Cheney. A hunky Clark Kent lookalike sitting behind Matthew Pottinger sent Twitter into a frenzy per Newsweek. The mystery man even caused "Clark Kent" to trend on Twitter. One fan tweeted: "I keep waiting for the guy behind Pottinger to whip off his glasses and tear his shirt open to reveal the S underneath. It even looks like he's about to do it!" Another tweeted: "This is so infuriating you got Clark Kent about to go full Superman." One Twitter veteran tweeted: "Can't help but laugh thinking about how the Clark-Kent-looking guy behind Pottinger is going to walk out of this hearing and find out he's become a national obsession." Journalist Yashar Ali chimed in by tweeting: "The good-looking man sitting behind Pottinger is not single. That's all I will say, and that's all you need to know!" But the mystery is finally solved!
Sources told TMZ that the hunky "Clark Kent" that drove Twitter wild is 23-year-old Alex Wollet, a medical school student from Ohio. TMZ reported Wollet is living in Washington D.C. during his fellowship at The National Institutes of Health, working alongside another famous glasses-wearing guy, Dr. Anthony Fauci. Wollet is handsome and smart. The poor guy had to take all his social media accounts private after all the attention from the January 6th hearing. It was nice of Wollet to give Americans a little fun during the serious January 6th hearings.