Jill Biden's Sarcastic Response To A Heckler Has Twitter Divided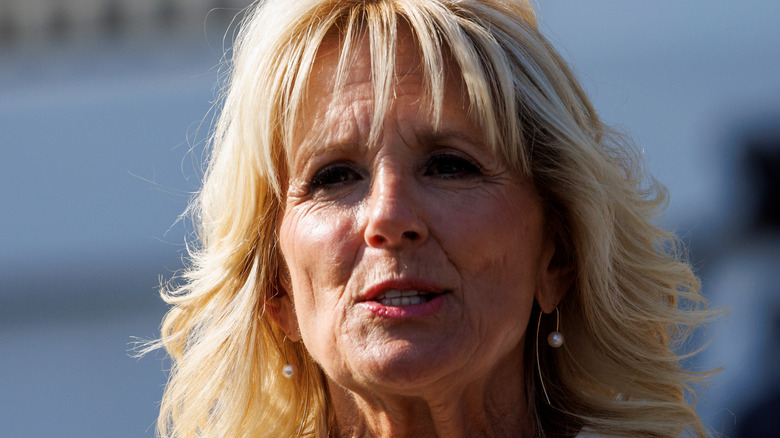 Bloomberg/Getty Images
Just days after President Joe Biden tested positive for COVID-19, First Lady Jill Biden is making headlines for another reason that has nothing to do with her husband's infection status. Indeed, after testing negative, the wife of the commander in chief traveled to Connecticut and visited an ice cream parlor (via New York Post). Innocent enough right? Well, things are never simple when you are leading the country, and as such, Biden was met by hecklers as she exited her vehicle, secret service agents in tow.
In a widely-circulated video clip shared time and time again on Twitter, we see the professional educator briskly walking toward the sweet shop, as someone yells out, "Your husband is the worst president we ever had. You owe us gas money."
It's Biden's reaction that has Twitter divided, with the first lady smiling and saying nonchalantly, "Thank you for your support."
Some fans support Jill Biden's response while others aren't impressed
PROTESTERS: "Your husband is the worst President we ever had, you owe us gas money"

JILL BIDEN: "Thank you for your support"

pic.twitter.com/Y2wPZ9h0Zg

— Benny Johnson (@bennyjohnson) July 22, 2022
As a backdrop for the heckler's comments, it's worth noting that President Joe Biden's approval rating is not looking very good at the moment, with a recent Iowa poll showing that 67% of voters in the state hope the Delaware native does not run again in 2024 (via Des Moines Register). But according to at least one social media user, his wife was simply "taking the high road" by not letting the criticism at the ice cream shop faze her.
Another observer felt her sarcastic response didn't come across well and she should have said nothing. Whether or not they thought Jill Biden handled the heckling the right way, many Twitter users were distracted by the reaction of one agent who was escorting the first lady into the shop. "The SS agent was smirking," one person pointed out, while another individual tweeted, "Even her secret service guys can't hold back a laugh."
Other reactions included the notion that Biden must have misheard the heckler and thought he yelled out that her husband was "the best president." 
Finally, a Twitter user hysterically commented, "She doesn't want to taco about it." Of course, the person was referring to the recent very poorly-received comment the longtime political wife made while speaking to a group of Latinos comparing their uniqueness to breakfast tacos (via The Washington Post).