Jill Biden Finds Herself In Extremely Hot Water Over Recent Comments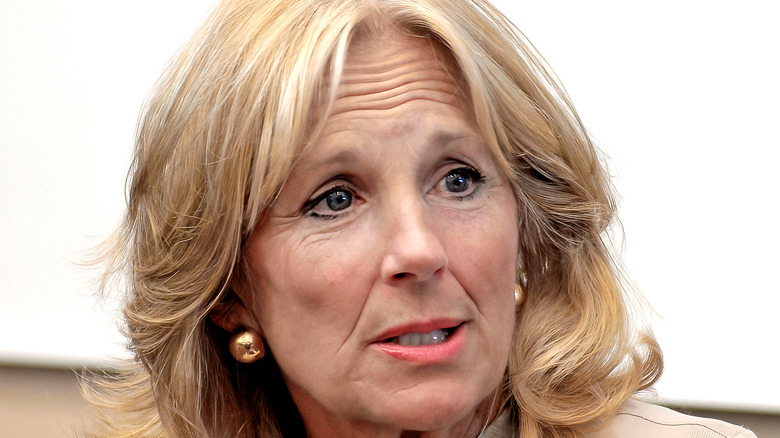 mark reinstein/Shutterstock
First Lady Jill Biden has been praised for maintaining her job as an educator while standing by her husband. As a nine-month professor at Northern Virginia Community College, Biden made history last year as the only first lady to have a full-time job outside of the White House (according to ABC News). 
And, while being FLOTUS provides Biden a platform to express her views for millions to hear, her comments don't always receive a positive response. After Biden's reaction to the Uvalde shooting, many on social media demanded gun control action and called her words empty.
Those criticisms had begun to die down by the time Biden took to the stage at a conference in San Antonio on July 11 (according to Insider). Not long after her speech, the first lady started receiving negative feedback across social media from politicians, civilians, and professional organizations. 
Though her speech was meant to praise Presidential Medal of Freedom recipient Raúl Yzaguirre, everyone seems to be paying attention to other things she said.
The first lady made a comment about Hispanic people in Texas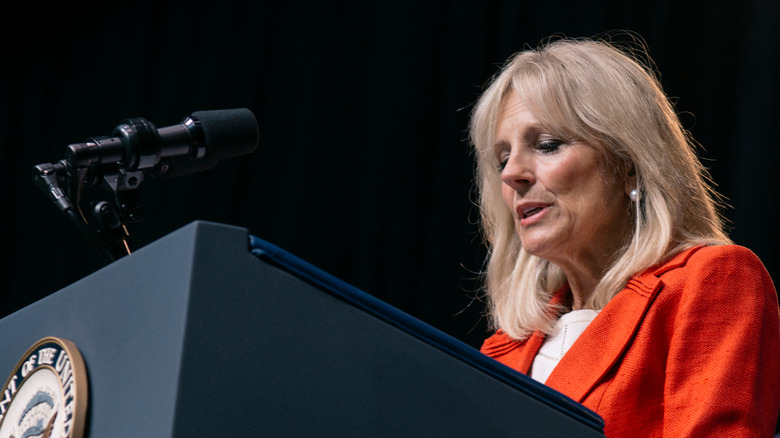 Spike Johnson/Shutterstock
First Lady Jill Biden appeared at the conference Siempre Adelante: Our Quest for Equity to shine a light on Raúl Yzaguirre, a recipient of the Presidential Medal of Freedom (according to WhiteHouse.gov). However, the attention shifted to her other comments as she compared Hispanic people in Texas to breakfast tacos and mispronounced the word "bodegas" (according to CNN). 
In praising Yzaguirre, Biden said, "Raúl helped build this organization with the understanding that the diversity of this community, as distinct as the bodegas of the Bronx, as beautiful as the blossoms of Miami and as unique as the breakfast tacos here in San Antonio, is your strength." 
Video of the speech circulated on social media, and the first lady received backlash from the National Association of Hispanic Journalists. "We are not tacos," the group tweeted. "Our heritage as Latinos is shaped by various diasporas, cultures & food traditions. Do not reduce us to stereotypes."
Reactions to the first lady's comments are flooding social media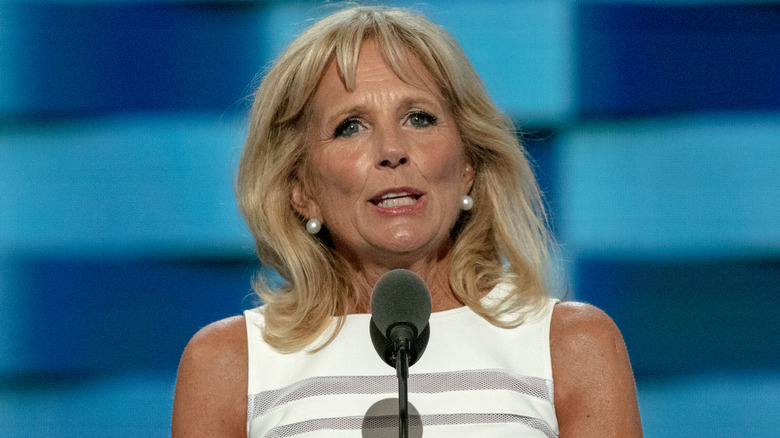 mark reinstein/Shutterstock
After her speech, First Lady Jill Biden initially received warm reactions at the conference. The crowd can even be heard lightly cheering after the "breakfast tacos" comparison. But, once the National Association of Hispanic Journalists called out the first lady's comments on Twitter, more criticism followed.
"In case the White House needed a reminder: no, we are not tacos," Florida Representative Carlos Gimenez tweeted. "Hispanics aren't a monolith. We are a very real, diverse people shaped by different histories, food, and even variance in language. We have dreams and aspirations. We want an education, to work, and to get ahead." 
In a move with far fewer words, Florida Senator Marco Rubio changed his Twitter profile image to a taco in response to the comment.
The leader of UnidosUS, the group that hosted the conference, didn't have much to say about the "breakfast tacos" comment specifically, per USA Today. CEO Janet Murguría tweeted that she was "so honored" to host the first lady, calling her "a great educator in, and a great amiga to, our community for years."