Meghan Markle And Prince Harry Didn't Actually Receive The Invite Everyone Thought They Did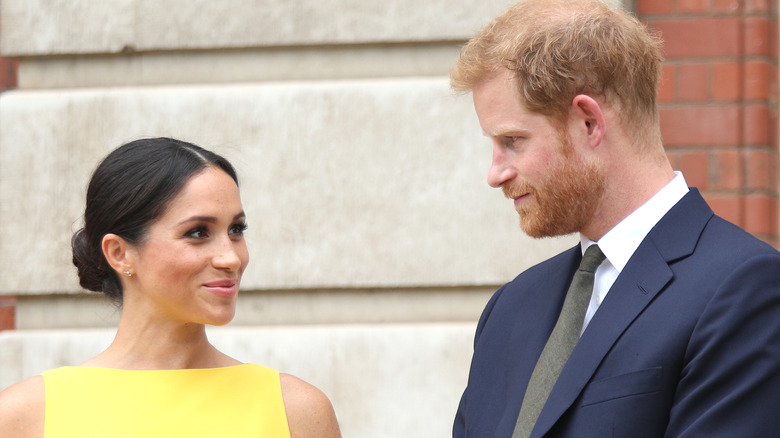 Wpa Pool/Getty Images
While the royal family was worried Prince Harry and Meghan Markle would bring the drama when they came to the U.K. for Queen Elizabeth's Platinum Jubilee, their visit seemed to go off without a hitch. Although they were excluded from standing on the royal balcony with the queen during Trooping the Colour, the Duke and Duchess of Sussex were greeted by a surprisingly positive reaction when they arrived at St. Paul's Cathedral for the National Service of Thanksgiving, per Newsweek. 
Most importantly, they were able to introduce their daughter Lilibet to her namesake, Queen Elizabeth II. Still, Harry and Meghan's brief time in Great Britain showed that there's still a rift between the couple and the rest of the royals — particularly Prince Charles and Prince William. The Sussexes ultimately decided to leave the country before the end of the Jubilee, but all hope has not been lost. Sources reported that William's wife, Catherine Middleton, extended an invitation to her brother-in-law to attend the Duke and Duchess of Cambridge's joint 40th birthday party. 
"Apparently, she thinks this would be an actual great way of bonding together," royal expert Neil Sean revealed on his YouTube channel. "Birthdays are a time, as she's pointed out, of celebration, families, and having loved ones around you."
There has also been speculation that Harry and Meghan — along with their two children — were asked to spend time this summer at the queen's Scottish estate, though this theory has reportedly been debunked.  
Harry and Meghan were reportedly not invited to visit Balmoral this summer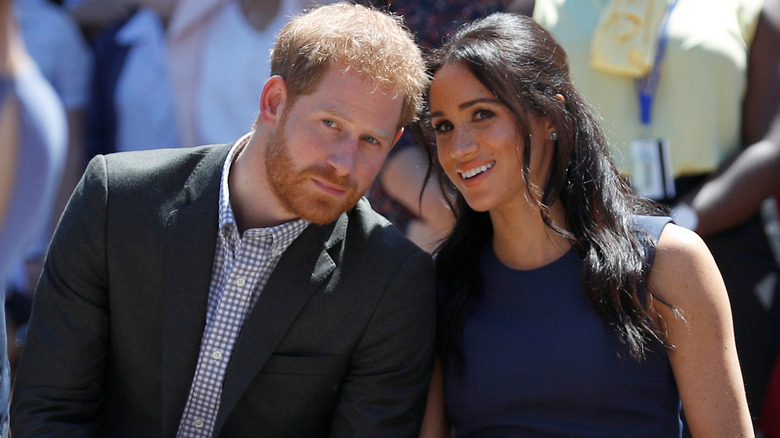 Pool/Getty Images
Despite a drama-free visit to the U.K. for Queen Elizabeth's Platinum Jubilee, Prince Harry, Duke of Sussex, and Meghan Markle, Duchess of Sussex, were supposedly not invited to spend time at Balmoral this summer with Her Majesty. The Sun had reported that the staff at the queen's Scottish estate were told to expect all members of the royal family, "including Harry, Meghan and their children Archie and Lilibet." The queen, who is already in Scotland, will be staying at Balmoral for August and September. She will reportedly be joined by Prince William, Kate Middleton, and their three children, Prince George, Princess Charlotte, and Prince Louis.
Sources told The Sun that the plan was for Harry and Meghan to visit the queen when the Duke and Duchess of Cambridge were not there. According to Page Six, however, Harry and Meghan were never actually extended an invitation to Balmoral and will be spending their summer in California instead. The decision not to include them on the guest list could be due to the fact that Harry is set to release his somewhat controversial memoir in the fall. While he reportedly doesn't reveal anything scandalous about Queen Elizabeth, a source told Page Six that other members of the royal family should be "nervous."
"It's juicy, that's for sure," the insider said. Though there isn't direct confirmation pertaining to the lack of invitation to Balmoral, many royal fans are left wondering why the decision was made.