Joe Biden Made His Thoughts About Donald Trump's Behavior On January 6 Crystal Clear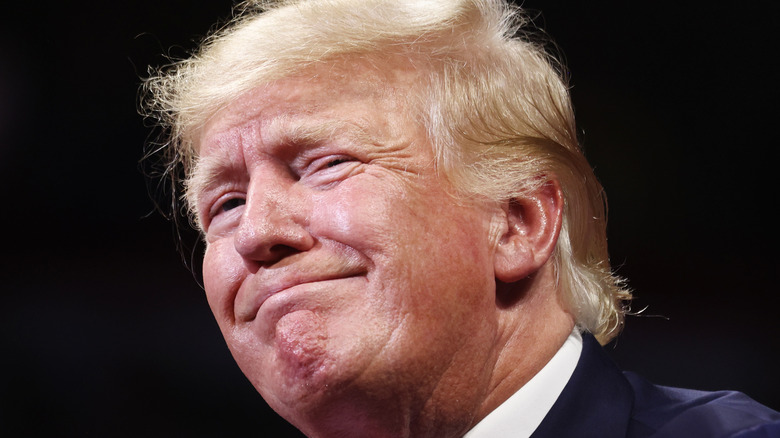 Mario Tama/Getty Images
As the January 6 committee continues its investigation into the insurrection at the Capitol, former president Donald Trump isn't coming off too well. Despite Trump's bold claim that he didn't incite the Capitol riot, plenty of evidence has been introduced that suggests he deliberately refused to stop it. As The New York Times and other sources have reported, Trump opted not to address the situation for a full 187 minutes, and even then, he was adamant about not admitting that the 2020 election was over. 
All this has been widely discussed — and often criticized — by public figures, and on July 25, President Joe Biden joined them. Giving a speech before the National Organization of Black Law Enforcement Executives (NOBLE), Biden recalled how the Capitol Police were "speared, sprayed, stomped on, brutalized" by the protesters attempting to stop the certification of the election results. "And for three hours, the defeated former president of the United States watched it all happen as he sat in the comfort of the private dining room next to the Oval Office," he added (via Daily Mail).
Tweeting that portion of the speech, Biden further wrote, "Brave women and men in uniform across America should never forget that the defeated former president of the United States watched January 6th happen and didn't have the spine to act."
He then doubled down on his harsh words with a statement that had some on Twitter applauding, and others sneering.
President Biden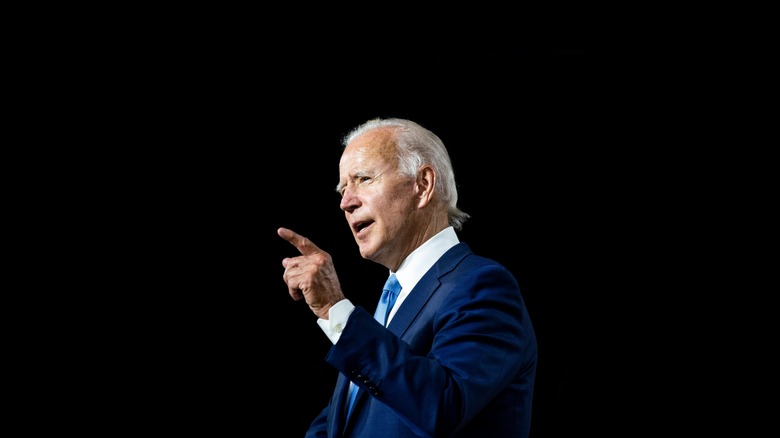 Luca Perra/Shutterstock
Addressing the assemblage of law enforcement executives, President Joe Biden made a statement about January 6 that was clearly aimed at a wider audience: "You can't be pro-insurrection and pro-cop. You can't be pro-insurrection and pro-democracy. You can't be pro-insurrection and pro-American," he said. 
The speech was met with mixed reactions on Twitter. A supporter cheered, "Why the F this hasn't been the message since DAY ONE and hammered on EVERY SINGLE DAY since is utterly baffling." Another said, "You defeated that guy. The American people are now safer than the last five years. Thank you Mr. President for your leadership." A third slammed Trump: "The defeated former 'president' actually enjoyed what he was seeing, and rejected the idea that was presented to him that he end the siege, to go before the cameras and call it off."
Biden's approval rating has slid to a new low milestone, however, and many of the comments on his Twitter post reflected this. Said one, "Remember when Democrats ignored 2020 riots, resulting in the current high crime rate?" One mocked Biden's intelligence: "By 'your remarks' you mean whatever your handlers wrote for you on the teleprompter?" Another criticized, "J6 is nothing compared to what you're doing to this country."
And yet another commenter made a quiet point about Biden's "pro-insurrection and pro-cop" remark. They reposted an article from the Associated Press about a Capitol police officer who actually advised one of the rioters to delete their evidence of being at the Capitol.