If You're An Aries, Here's The Adult Toy You Should Try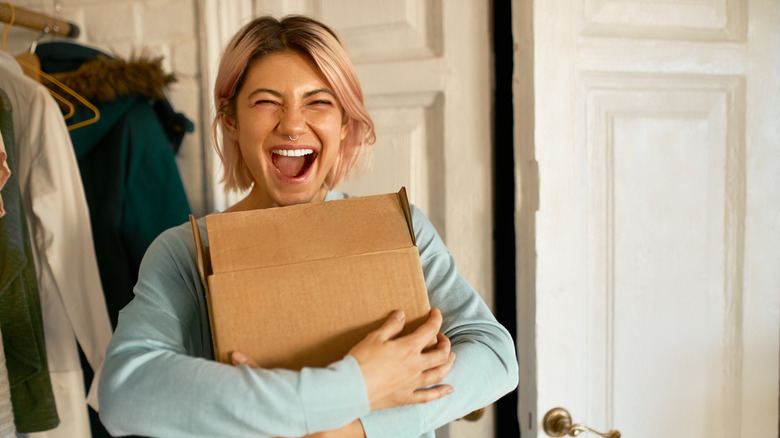 Anatoliy Karlyuk/Shutterstock
Aries may get bored easily, but the right adult toy is sure to keep them on their toes. As noted by Glamour, the more powerful the toy the better, since Aries is ruled by Mars, the planet associated with sexual desire and action. 
Co-Star targets a potential problem area for the super competitive Aries, since they may see intimate time as more of a sprint than a marathon, or focus on the destination rather than the journey. Aries are most likely to be attracted to partners who can match their energy and keep up with their lifestyle, but that doesn't mean they can't benefit from a partner who takes their time. One compatible partner for Aries is fellow fire sign Leo, per Byrdie, since the fixed lion will provide both excitement and stability for the mutable ram. 
Other signs may be wary of Aries' high motivation in the bedroom, but their desire to improve themselves means they're always down to learn new techniques and go the extra mile to satisfy their partners.
Fiery Aries needs an equally powerful toy
Elle's first pick for Aries is an adult toy with some extra leverage — the Rotating Rabbit Vibrator maneuvers in three circular patterns, vibrates, and is waterproof and rechargeable. With Aries' powerful presence, Glamour recommends Lelo's Smart Wand 2.0 from Lovers, which boasts 10 different massage patterns and is just as good for sore muscles as it is for playtime.
Style Caster also turned to a Lelo product for their Aries pick, the Sona 2, which is a dynamic vibrator focused on external stimulation and features 12 settings for ultimate pleasure. This toy is an ideal pick for the Aries who wants multiple realms of sensation, since it replicates the feeling of oral. This toy is sure to help an Aries feel their absolute best, and just as quickly as the fast-moving fire sign could want. 
Allure also vouches for Aries' love of efficiency and they champion the Gigi 2 for solo time. Its flat tip is the perfect starter stimulation while its unique shape hits just the right spot when used internally.
Aries may be up for a new challenge
According to Allure, Aries aren't a sign that loves extraneous details or overly complicated setups, but Refinery29's pick is still worth unpacking. The Eva tucks smartly under the labia and can be worn either during play with a partner or during solo time. As the first sign in the zodiac, Aries doesn't carry the baggage — or wisdom — of the cycles that came before, and they walk into each new day with fresh eyes, per Allure. This makes them the perfect candidate for an advanced toy design that has plenty of tricks up its sleeve.
Toys that lean into Aries' sense of fun and opportunity have a major advantage, and Vice's choice is a cheeky play on the battering ram's forward reputation. The outlet suggests that a strap-on dildo is the ideal toy for an Aries looking to take charge and perfect their sensual rhythm. Impulsivity is also a major mark of the ram, per Allure, so it's best to always keep plenty of options in the toy box so every encounter feels fresh.