Here's Where You Know Purple Hearts' Luke From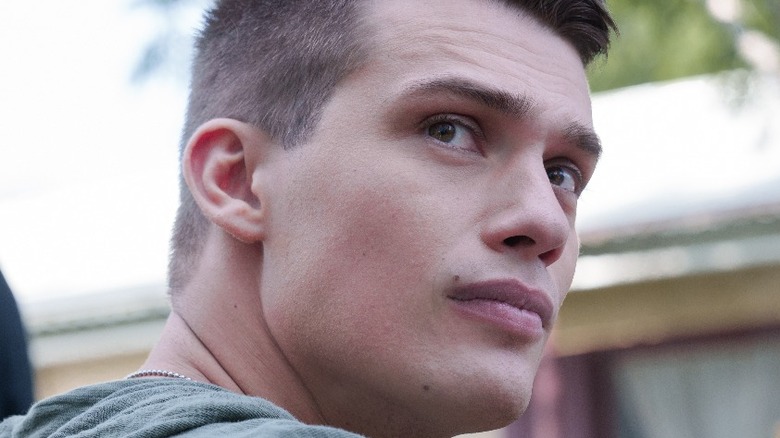 Netflix
The logline for Netflix's delectable new romantic drama, "Purple Hearts," is incredibly enticing: "In spite of their many differences, Cassie (Sofia Carson), a struggling  singer-songwriter, and Luke (Nicholas Galitzine), a troubled marine, agree to marry solely for military benefits. But when tragedy strikes, the line between real and pretend begins to blur." The movie is wish fulfillment, to a certain extent, representing the joining of two diametrically opposed viewpoints. 
It also has plenty to say about the military-industrial complex, the harsh reality of the American healthcare system, and lots more besides. Even when the movie feels slightly overstuffed, though, the central romance is an anchor for everything. Credit to Carson and Galitzine, who infuse their frequently testy relationship with a keenly-felt yearning that makes it impossible not to root for them to work things out in the end. It's also easy to obsess over both parties, too. 
While former Disney star Carson is certainly the bigger star, her onscreen lover is quickly making a name for himself in his own right. In fact, you might already recognize Galitzine from one of his previous, notable roles. 
The British actor has been working consistently for years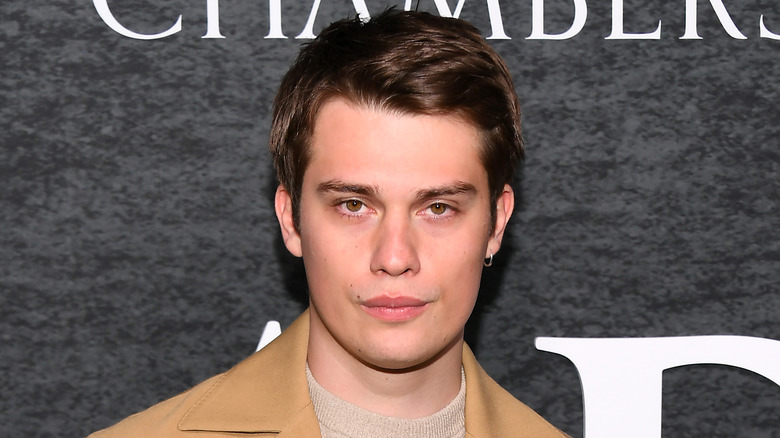 Nicholas Hunt/Getty Images
Somewhat shockingly, given his note-perfect American accent, Nicholas Galitzine is actually a native of Britain. As it turns out, he has something of a knack for accents, having taken a decent stab at an Irish accent in the queer indie movie "Handsome Devil" — The Irish Examiner even described it as "perfect." During an interview with Starry Mag, Galitzine shared that working on the film taught him "to not be afraid to make strong choices as an actor." 
The British star also admitted, "I feel this was the first time I really felt challenged." It's worth noting he's a burgeoning musician too, much like Galitzine's onscreen character, releasing debut single "Comfort" in June 2022. "Handsome Devil" was well received, garnering 84% on reviews aggregator Rotten Tomatoes, and established Galitzine's romantic-drama bonafides ahead of "Purple Hearts." 
However, his breakout moment across the pond came in one of the best romantic comedy movies of 2021, when Galitzine played the prince opposite Camila Cabello in "Cinderella." Elsewhere, he enjoyed a recurring role in TV series "Chambers," alongside bit parts in the likes of "The Craft: Legacy" and "Share." It was "Cinderella," though, that put him on the map with U.S. audiences. And "Purple Hearts" is continuing Galitzine's impressive upwards trajectory. 
Purple Hearts furthers Nicholas Galitzine's US breakout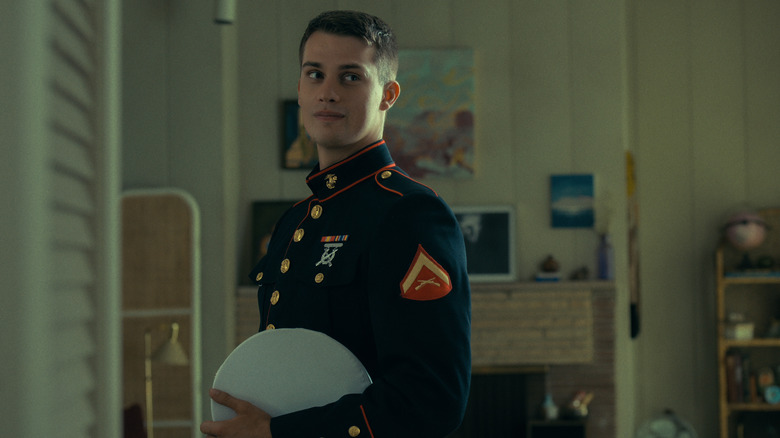 Netflix
In a joint interview with People Chica (via Yahoo! Finance), "Purple Hearts" stars Sofia Carson and Nicholas Galitzine posited that the movie is a refreshing take on how people from different political and socioeconomic backgrounds can come together — particularly in the current climate — if they find common ground. Moreover, British star Galitzine acknowledged, "There was a ton of stuff in the script that I felt I hadn't explored as an actor before, and that's always a fun challenge." 
Approaching the project as an outsider provided another challenge for Galitzine, who told Women's Wear Daily, "I think the U.S.'s relationship with the military is something really intriguing as a Brit because I don't think we have the exact same thing. You know, the military is so involved in sort of political allegiance with certain parties and your religious upbringing sometimes. So I think just getting into the headspace of this character for the preparations is super interesting."
Clearly, the up-and-coming actor isn't willing to rest on his laurels, with each role providing a new opportunity to prove what he can do. With any luck, "Purple Hearts" will launch Galitzine into the stratosphere proper, since everybody is about to fall in love with Luke, just like Cassie.