Jared Kushner Reveals Who Shoved Ivanka Trump While In The White House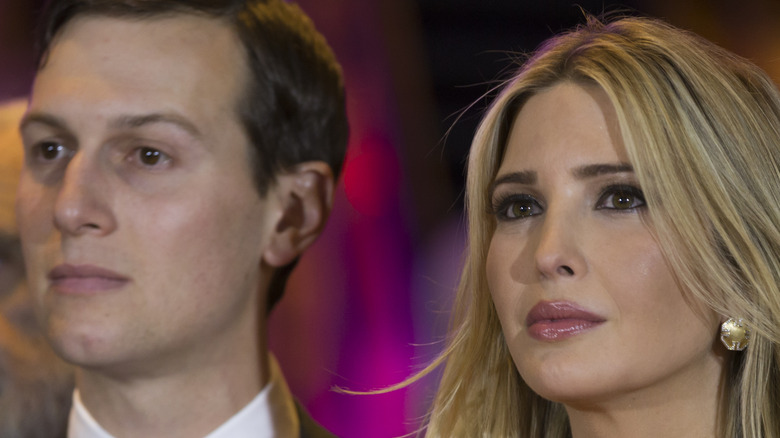 lev radin/Shutterstock
Former president Donald Trump's DC tenure was in part known for its stacked White House staff of friends, family, and allies. Among those were his daughter, Ivanka Trump, and her husband, Jared Kushner. Ivanka Trump and Jared Kushner both served as advisers to the president (via the Trump White House archives and The New York Times). As such, the two saw lots of behind-the-scenes decisions about the American government be made.
In their roles in the White House, both Ivanka Trump and Jared Kushner sat in on important conversations and were entrusted with vast responsibilities. As an advisor to the president, Ivanka focused on "the education and economic empowerment of women and their families as well as job creation and economic growth through workforce development, skills training and entrepreneurship," according to the Trump White House archives. Kushner held a range of responsibilities as a senior advisor, including head of the Office of American Innovation and brain behind Trump-era peace policy in the Middle East (per The New York Times).
It's no secret that politics can get dicey, but Kushner has just revealed a shocking allegation against someone close to the former president.
Kushner says former chief of staff General John Kelly shoved Ivanka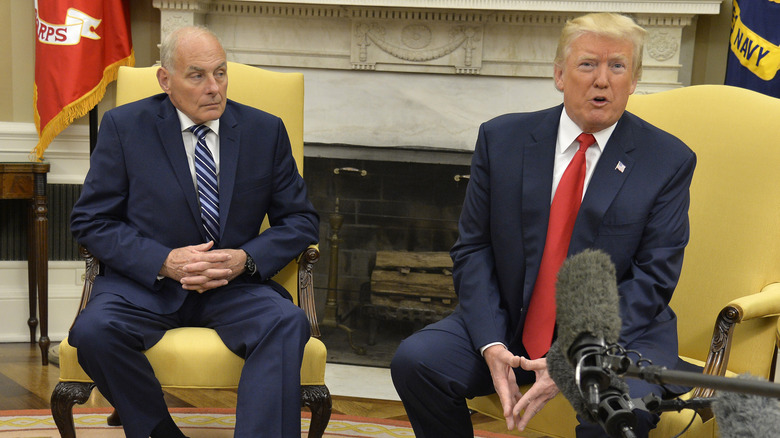 Pool/Getty Images
In his new memoir, Jared Kushner has reportedly revealed a huge secret from former president Donald Trump's term. Kushner is alleging that one of the former president's chief of staff, General John Kelly, shoved his wife Ivanka after an Oval Office meeting, per the Daily Mail. In his book, Kushner reveals that he and his wife saw Kelly as "consistently duplicitous" although "only once did Kelly let his mask fully slip," according to the Washington Post.
Kushner writes how Kelly "had just marched out of a contentious meeting in the Oval Office. Ivanka was walking down the main hallway in the West Wing when she passed him. Unaware of his heated state of mind, she said, 'Hello, chief.' Kelly shoved her out of the way and stormed by. She wasn't hurt, and didn't make a big deal about the altercation, but in his rage Kelly had shown his true character."
The former chief of staff denies the allegations, according to both the Daily Mail and Washington Post. "It is inconceivable that I would EVER shove a woman. Inconceivable. Never happen," Kelly wrote in an email response to Kushner's claim. "Would never intentionally do something like that. Also, don't remember ever apologizing to her for something I didn't do. I'd remember that."
But Kushner says that Ivanka's chief of staff overheard Kelly apologize. Still, Kelly denies the allegation.