If You're An Enneagram Type 9, You Should Try This Nail Color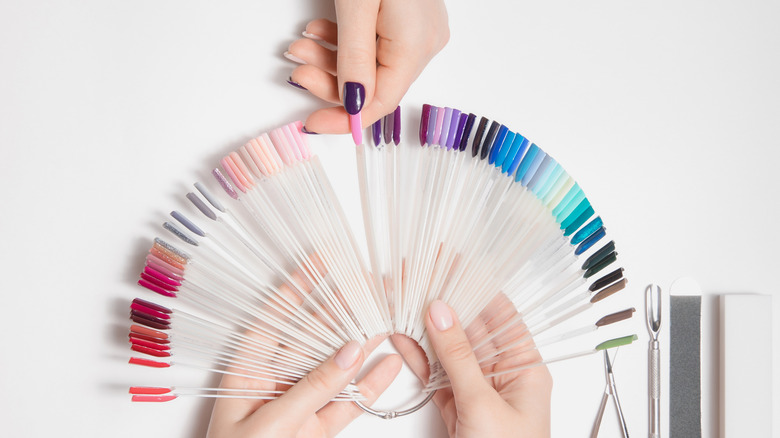 Parilov/Shutterstock
So, you're looking to switch things up a bit and try something new with your nail color. You probably never thought that your Enneagram type could lead you to pick the perfect polish. 
Well, as it turns out, knowing your Enneagram type can help you make more decisions than you think. From what careers are best for Enneagram type 9s to which city is an Enneagram 9s best fit, don't underestimate how much knowing that you're a type 9 can change your life.
Since you know that you're a type 9, you may already know a thing or two about how the Enneagram test works. To put it simply, it's a personality test that uses your thinking and behavioral patterns to sort you into one of nine personality types (via Verywell Mind). As a 9, you are "The Peacemaker," known for your stability, imagination, and ability to prevent and resolve conflict (via The Enneagram Institute).
Here are the best nail polishes for type 9s like you.
Type 9s will love these subtle nail color choices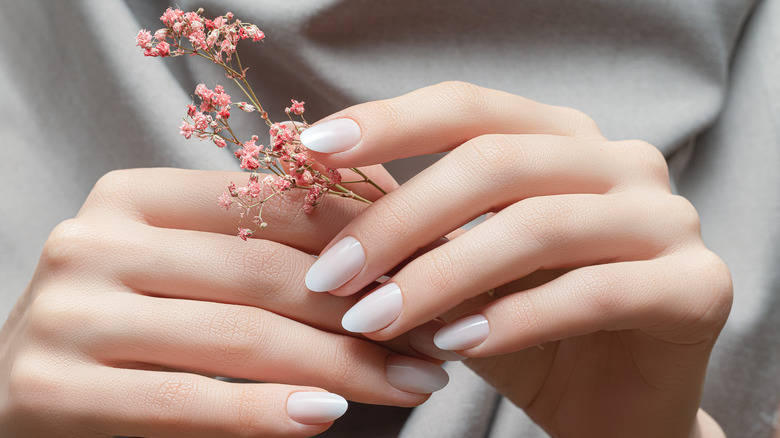 Dev_Maryna/Shutterstock
You may think that what color you choose for your manicure won't affect your life much. In reality, though, putting thought into the colors you surround yourself with can drastically alter your mood (via Apartment Therapy).
With a title like "The Peacemaker," it's clear that peace and harmony both within yourself and around you are vital to you as a type 9. As a result, you'll feel best sporting a color that's light, airy, and serene (via Picture Polish). Pastels like light pink, light blue, and lavender will help you keep that coveted peace of mind without feeling boring.
It's important to keep in mind that 9s are creative, so don't be afraid to wear multiple light colors on your nails at once. You can try ombre nails or alternating colors. If you want to maintain harmony and keep in touch with your creative side, try using multiple neutral colors together.
These are the best bold nail colors for type 9s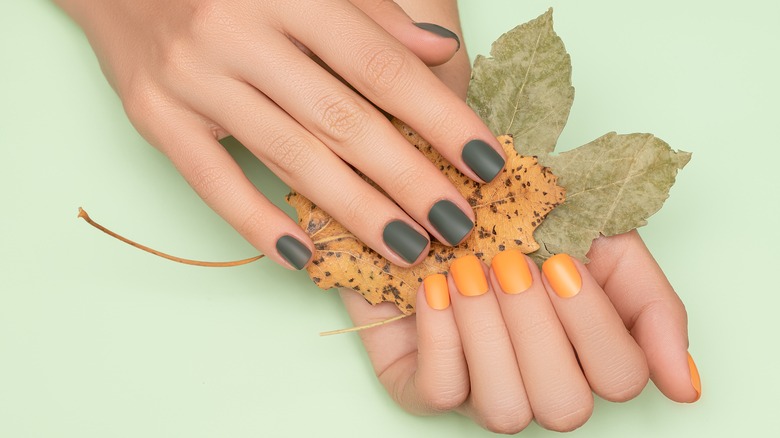 Dev_Maryna/Shutterstock
Sometimes, we all want to spice things up a bit and go for a choice we wouldn't normally pick. If you feel like opting for something a bit bolder at the moment, don't be afraid of color. Earth tones will pair seamlessly with your love of all things tranquil as an Enneagram type 9 (via Picture Polish). When picking a bold polish, opt for dark and deep — like jewel tones — instead of bright and loud. This will make your bold color choice feel much more like you.
Deep shades of green are a great pick, as are darker golds or yellows. You may also like a deep blue or navy, since blue is one of the most peaceful colors there is (via Apartment Therapy). Hues that are frequently found in the natural world are likely to make you feel more in touch with your surroundings and more at peace. As a type 9, consider which option makes you feel most tranquil, and it's almost certain you'll choose the right one.