All The Best Deals For National Lipstick Day 2022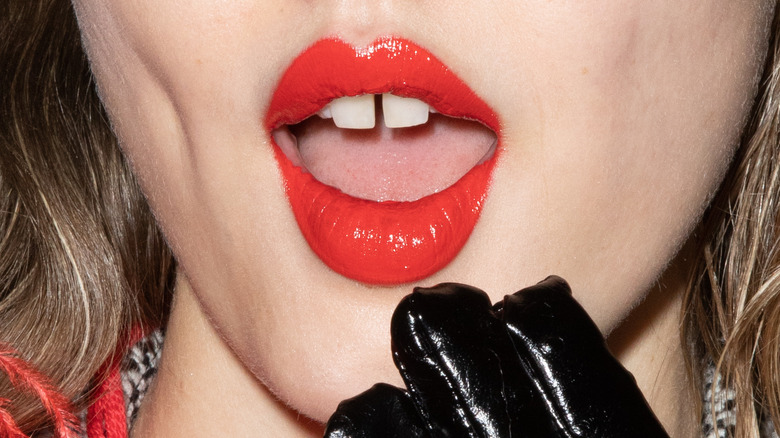 Rosdiana Ciaravolo/Getty Images
We may receive a commission on purchases made from links.
Pucker up, buttercups! Today, July, 29, 2022, is National Lipstick Day and it's quite the Fri-yay. If you're ending a rough week, you can turn your frown upside down with some amazing lipstick day deals. The day dedicated to the pigmented products that perk up your face started in 2016, thanks to beauty blogger and owner of Huda Beauty, Huda Kattan (per Retail Me Not). The day is now officially proclaimed as National Lipstick Day by the National Day Calendar Registrar.
According to the National Day Calendar though, the day is much more than just celebrating lipstick and shopping for deals. It's about encouraging people to "wear their best color" and empower yourself through the art of self-expression. While many wear lipstick on a daily basis these days, wearing lipstick wasn't always encouraged. In 1770, the British Parliament banned lipstick, as they felt it was a "devilish attempt to trick men into marriage."
Thankfully times changed, and during the 1940s, it was seen as patriotic to wear lipstick, with some women even sending encouraging letters with kiss marks stamped on them to boost the morale of overseas soldiers (via Glamourdaze). Now of course, lipstick is worn by all genders and is seen as a way of expressing and empowering oneself, rather than wearing it to entice someone else. So if you want to express your bold self with a new lipstick, we've compiled the best lipstick day deals for you. We promise you won't be pouting over these deals!
High-end lipsticks that you can get for a steal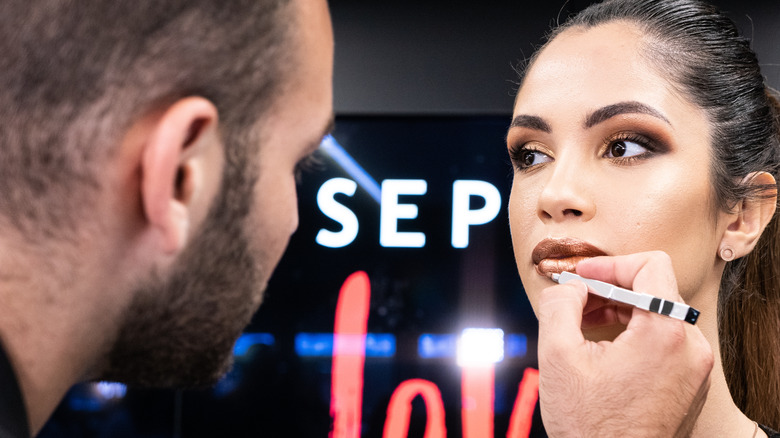 Rosdiana Ciaravolo/Getty Images
One of the best lipstick day deals is from Sephora, who is offering a whopping 50% off select lipsticks, including luxury brands like the Yves Saint Laurent The Slim Velvet Radical Matte Lipstick (now $19.50) and the Armani Beauty Lip Maestro Liquid Matte Lipstick (now $19.50). Other high-end lipsticks that are highly-rated like the Make Up For Ever Rouge Artist Lipstick ($12.50) and the Shiseido VisionAiry Gel Lipstick ($13) are available at a steal.
MAC Cosmetics is offering a BOGO deal off their regular bullet lipsticks, including matte, retro matte, satin, cremesheen, frost, and amplified finishes. Their lipsticks have increased in price to $21, so this is the time to stock up on the Allure "Reader's Choice 2022" winner, as you're getting two for the price of one. However, an even better deal we'd recommend over the deal MAC Cosmetics is offering is available at Nordstrom. MAC Lipsticks are available at 50% off the prior $19 price-tag. So you can get a MAC lipstick for $9.50.
If you're someone who lives for a free gift with purchase though, then you definitely want to check out Macy's. On top of some lipstick sale prices, you can get a free 7-piece gift set for any $75 lipstick-related purchase. This gift set includes mini-sized cult-favorite lip products like the NARS Powermatte Lip Pigment and the Clinique Almost Lipstick in Black Honey.
Stock up on drugstore lipsticks for the ultimate deal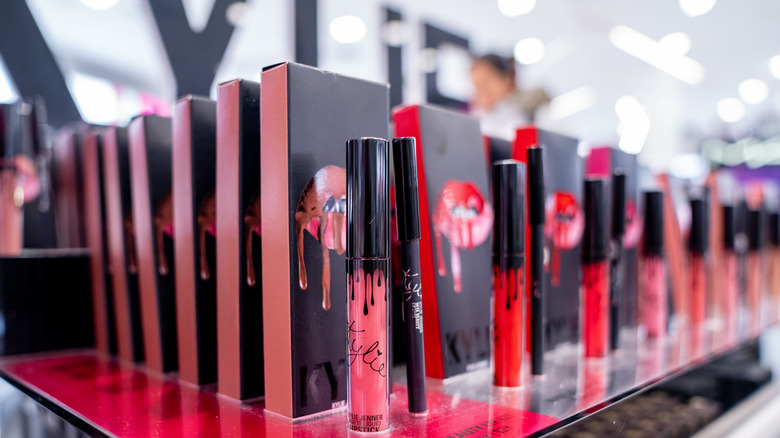 David Dee Delgado/Getty Images
Ulta Beauty has been celebrating lipstick day all week and will still have sales available until July 30, 2022 on high-end and drugstore products. Some higher-end brands such as Lancôme and Too Faced are available at 40% off, while drugstore lipsticks are available at buy one get one 25% off. The best part of the drugstore lipstick deal is you have over 25 brands to choose from and can mix-and-match across brands such as NYX Professional Makeup and Milani Cosmetics. Ulta is also offering several gifts with purchase options, only available today.
Over at Target, there are two lipstick day deals — 20% off select lipsticks for Target Circle members and buy one get one lip product at 25% off. Holy grail drugstore lipsticks such as the Maybelline Color Sensational Ultimatte Slim Lipstick (now $5.99) and the Revlon Super Lustrous Lipstick (now $4.79) are absolute must-buys that are cheaper than your favorite Chipotle entree. The best part about the deals at Target is that you can also stack the discounts. So you can also use the buy one get one at 25% deal with the lipsticks that are available for 20% off.
Maybelline's storefront on Amazon is offering up to 21% off all their lipsticks, while L'Oreal's lipsticks on Amazon are on sale for up to 44% off. Happy lipstick day shopping! Pucker up and get ready to wear your beautiful new lipsticks!