Kourtney Kardashian's Minimalist Advice Is What All New Moms Need To Hear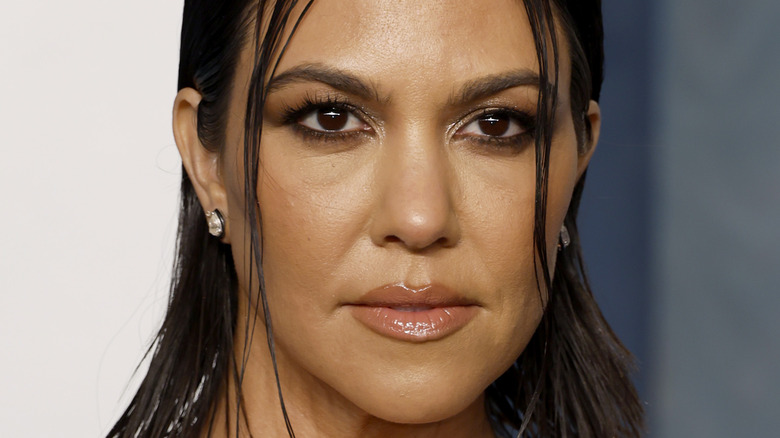 Frazer Harrison/Getty Images
Long-time fans of "Keeping up with the Kardashians" will be well aware of the strong relationship Kourtney Kardashian has with her three kids; Mason, Penelope, and Reign. In fact, the Poosh founder didn't want to continue appearing on the hit reality show if it meant losing precious time with them. As she explained to Vogue Arabia, in 2020, "I have been filming the show non-stop for 14 years. I was feeling unfulfilled and it became a toxic environment for me to continue to have it occupy as much of my life as it was."
Kardashian continued, "Privacy is something I have come to value, and finding that balance of private moments with being on a reality show is hard." As People points out, her pregnancy journey was documented on "KUWTK," from the moment Kardashian learned she was expecting Mason — on the spinoff "Kourtney and Khloé Take Miami" — to his actual birth itself, which took place during the Season 4 finale. Mason and his siblings frequently appeared on the show, and they pop up on the reboot "The Kardashians" too. 
Despite all the trappings of wealth to which the famous family is clearly accustomed, though, Kardashian had some refreshingly relatable advice for first-time mothers. 
Kourtney Kardashian quickly mastered not overthinking everything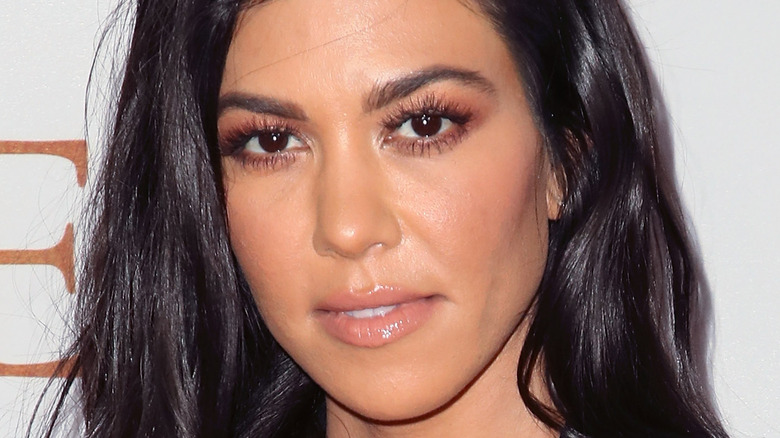 David Livingston/Getty Images
During an interview with The New Potato, Kourtney Kardashian was asked for her best advice for new moms. First and foremost, the reality star encouraged those reading, "to trust your instincts." She explained, "I think we all have a mother's instinct when we have kids, so just trust it and stay calm." Kardashian even recalled how her own mom, Kris Jenner, would stress out about getting everything ready in time for the birth of her first child, Mason, but the Poosh founder reasoned with her that women have been giving birth for centuries, in significantly harsher environments, so there was no need to worry.
Likewise, Kardashian opined, "Don't worry if your diaper bag isn't perfectly packed with all the things you need. As time went on, I started to just leave the house without it. I would bring the essentials or just throw a couple of things in my purse instead of this huge thing, with blankets and extra sweaters. I was like 'Let's just live life and not carry a million things around.'" 
As the "Kardashians" star reiterated, "It's about staying calm and trusting your instincts." Moreover, the mom-of-three doesn't concern herself with the opinions of others either, telling Parenting.com (via Romper), "I am doing the best that I can, and I feel really confident in that." Kardashian argued nobody is really in a position to judge her, even if they think they know better.
The reality star is eager to have more children with husband Travis Barker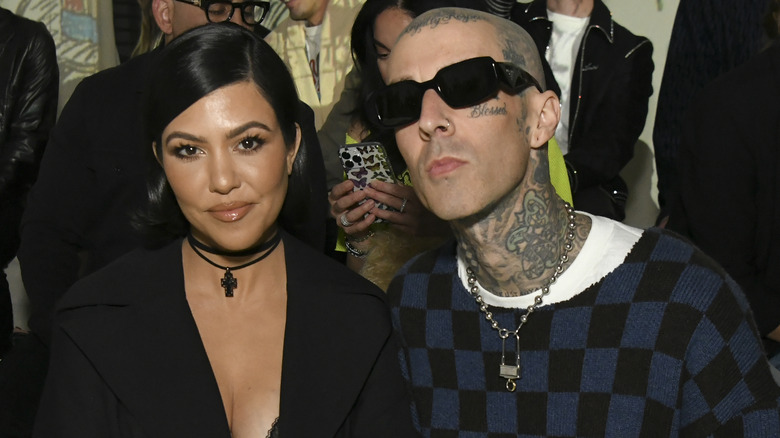 Rodin Eckenroth/Getty Images
A source close to Kourtney Kardashian and Travis Barker explained why they were "praying for a miracle," after the celebrity couple struggled to conceive a child together naturally. Much like his wife, the Blink 182 drummer has three kids from a previous relationship — son Landon, daughter Alabama, and stepdaughter Atiana, per Pop Sugar. Barker and Kardashian were very eager to have a child together, however, their fertility struggles were documented on "The Kardashians." 
As an insider explained to Us Weekly, "She feels like she's almost at the cut-off age of having kids, so this is almost like her last chance." Of the couple's approach, the source added, "They're very committed to each other and raising their kids as a blended family but are hoping to have a child together." The stress of trying to conceive thankfully wasn't putting any additional strain on their relationship, though, since Barker is fully supportive of his wife. 
In fact, the insider confirmed, "The journey just affirmed their bond and love for each other." The Barker-Kardashian blended brood is notably very excited to add to their number, too. Funnily enough, for quite a long time, fans assumed Kardashian was going to have a fourth child with baby daddy Scott Disick, with the former couple even joking about it on "KUWTK," per Us, but it looks like that's fully off the table now she's settled down with Barker.