Angourie Rice On Working Opposite Stranger Things' Gaten Matarazzo - Exclusive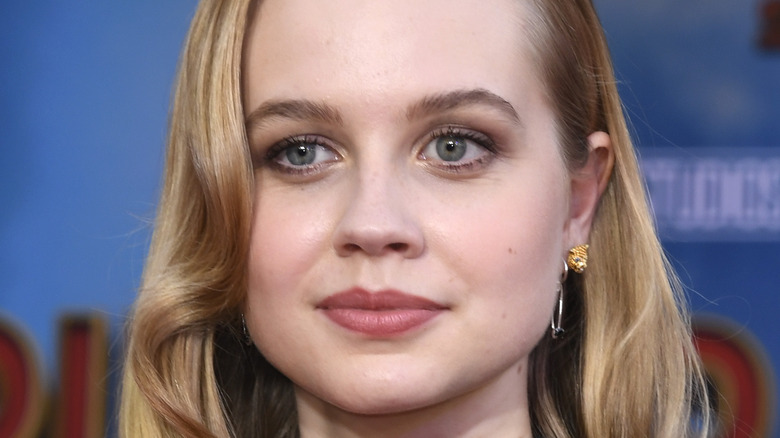 Frazer Harrison/Getty Images
No matter what your opinions of streaming services are, you have to admit: Netflix's original content — which has skyrocketed in recent years — is incredible. From award-winning films like "Roma" to critically successful shows like "The Crown," there's something for everyone. Of course, the list of Netflix original projects wouldn't be complete without "Stranger Things." The series that projected 80s classics back into the cultural zeitgeist and made household names of its stars, "Stranger Things" is the gift that keeps on giving — and it's also given us a charming leading man in Gaten Matarazzo, or "Dusty Bun" to those avid fans out there.
While Matarazzo might be known for his role as Dustin, his latest work in Paramount+'s original film, "Honor Society," is turning heads. Joining him is the dazzling Angourie Rice, whose work in "The Nice Guys," "Mare of Easttown," and "Spider-Man: Far From Home" made her a star. Rice and Matarazzo's characters in the coming-of-age story may start as rivals (and end their relationship with a serious twist), but we had to ask the star what it was like to work with Matarazzo on set. During an exclusive interview with Rice, we got down to the nitty-gritty.
Angourie Rice and Gaten Matarazzo shared a genuine friendship off-screen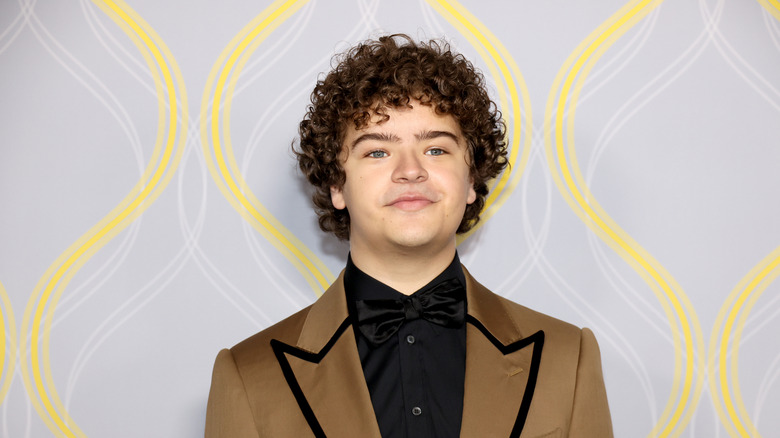 Dia Dipasupil/Getty Images
While many of us know Gaten Matarazzo for having best friends in the likes of Will, Lucas, Mike, Eleven, and Max, viewers should prepare to see the "Stranger Things" star bond with Angourie Rice's Honor Rose. Honor — a determined young student with her eyes set on Harvard — initially sees Matarazzo's Michael as the competition to take down, but their friendship goes in a direction that is far less expected. We don't want to drop any spoilers, but we did ask Rice what her bond with Matarazzo was like when the cameras weren't rolling. Initially striking up a bond over their shared project, Rice shared that a natural friendship developed between them.
"I loved working with Gaten. He's a gem. He's fun. He is witty. He's got so much energy that he brings to set every day, and it was great," Rice said. Initially telling the "Stranger Things" star that they should "hang out" in order to make their on-screen bond come across as authentic, Rice revealed that with time, the two actors simply enjoyed each other's company.
"We became really good friends. At first, I was like, 'We should hang out for the movie.' Then I was like, 'Well, let's just hang out because you're my friend,'" Rice said.
Angourie Rice and Gaten Matarazzo shared inspiration for the film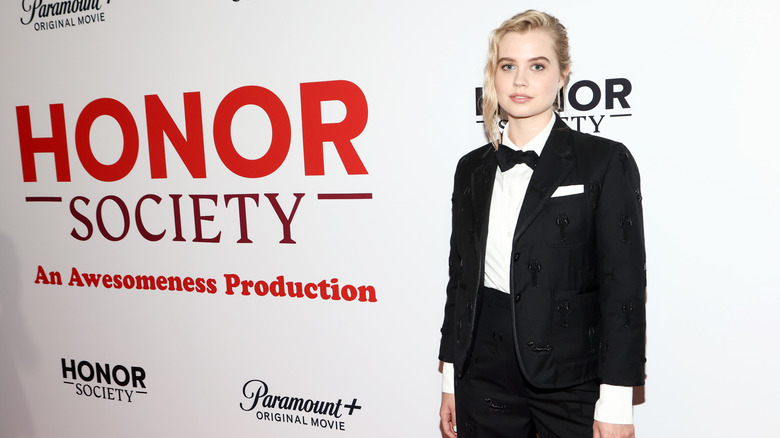 Tommaso Boddi/Getty Images
You can learn a lot about someone based on the shows they watch and source entertainment from. If they're super into reality TV, you may learn that your newfound friend likes easy watching. But if "The Crown" or "The Handmaid's Tale" is more their cup of tea, then your pal likes to invest in the long game. As for Angourie Rice and Gaten Matarazzo, the two co-stars watched programming incorporated into "Honor Society" to get the inside scoop, but their time together turned from film-based homework to hanging out.
"We watched 'Doctor Who' together to prepare. We also spoke a lot about Season 2 of 'Fleabag' because we saw a few similarities there," Rice told us. Of the hit Amazon Prime show "Fleabag" — Season 2 specifically — Rice shared that she sourced quite a lot of inspiration from the show, telling us that the visibility of the leading character resonated with Honor Rose.
Rice similarly turned to Tracy Flick in "Election" and Cher in "Clueless" for more guiding energy for her portrayal of the ever-dedicated Honor. But do Rice's Honor and Matarazzo's Michael get along as much as the actors do behind the scenes? You'll just have to tune into the movie to find out.
"Honor Society" debuted on Paramount+ on July 29.