The Real Reason It Took So Long For Mel And Jack's Romance To Take Off On Virgin River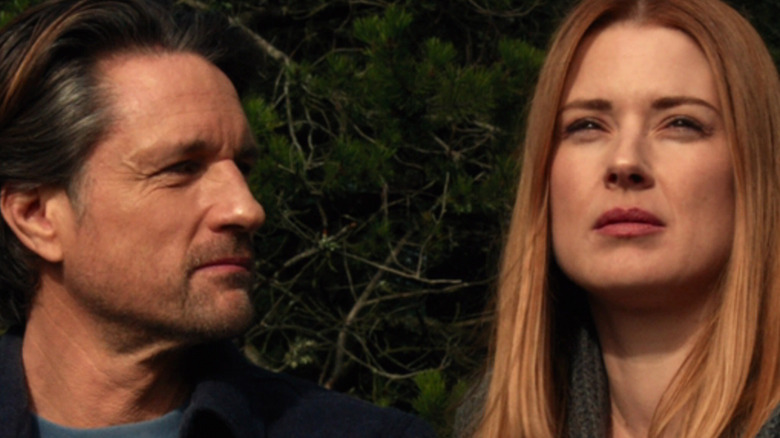 Courtesy of Netflix
Netflix hit the jackpot with its original series "Virgin River" — perhaps due to those exciting cliffhangers on "Virgin River" — and Season 4 recently debuted at the top of the streaming service's TV chart, per Variety. The show is based on author Robyn Carr's book series and follows the story of a woman named Mel Monroe (Alexandra Breckenridge) as she moves from the big city to the small community of Virgin River, California. The nurse practitioner and midwife decides to leave her troubled past behind and take a job at a quiet clinic with the stubborn "Doc" Mullins as her mentor (via Collider).
Along the way, Mel meets so many lovely people in Virgin River, including local bar owner, Jack Sheridan (Martin Henderson). Mel comes to fall in love with the town and the people in it, who are all focused on helping out their neighbors and creating a sense of community among themselves. Of course, a romance between Mel and Jack also comes to be, but the couple's relationship moved a bit slow at first.
Mel was dealing with heartbreak and trauma when she met Jack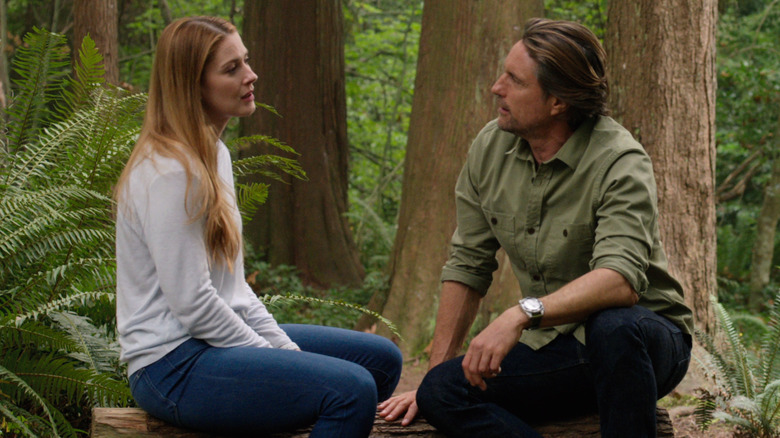 Courtesy of Netflix
"Virgin River" viewers quickly realized that Mel Monroe had a heartbreaking past. During the first season of the series, it was revealed that Mel had a husband named Mark Monroe (Daniel Gillies) and that the pair had gone through a traumatic event when they became pregnant. The pregnancy resulted in a stillbirth that crushed Mel and sent her into a depression (via Country Living). The event put a strain on Mel and Mark's relationship. The couple tried IVF treatments many times but were never successful.
In flashback scenes, fans watched as Mel and Mark drifted apart and weren't on the same page about continuing treatments. During a heated argument on the topic during a car ride, Mark looked away from the road and the two got into a serious accident. Mel sustained minor injuries, but Mark was killed as a result of the crash, per The U.S. Sun.
Mel felt a lot of pain and guilt due to the loss of her child and husband, which is the reason she decided to move to Virgin River. When Mel first met Jack it had only been about a year since her husband's death, which supported the reason why Mel and Jack may have taken their relationship slow.
Jack and Mel's romance has had a big change of pace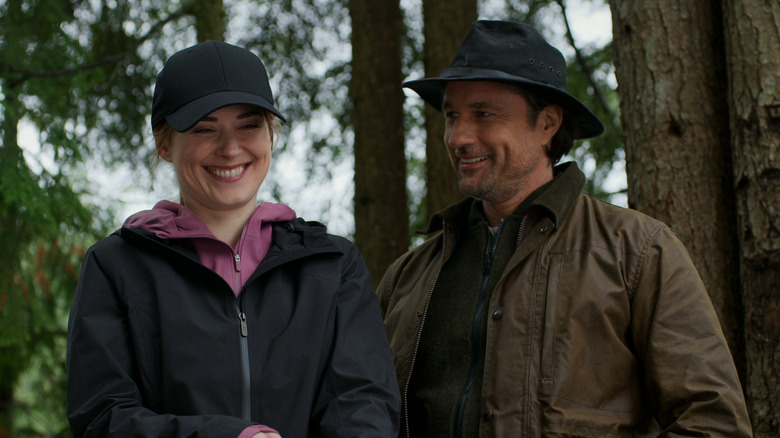 Courtesy of Netflix
According to TV Line, "Virgin River" fans didn't even see Mel Monroe and Jack Sheridan share their first kiss until late in Season 1 and the two didn't hop into bed together until Season 2 of the show. While fans of the "Virgin River" book series know that the romantic moments between the couple can get a bit steamy, the series showrunner, Sue Tenney, opted to move things at a slower pace to kick off Jack and Mel's relationship. This allowed viewers to get to know the characters before they fell in love. Author Robyn Carr was said to enjoy the change. However, since that time, the couple's relationship has seemed to take off.
Throughout Season 3, Mel and Jack were talking about marriage and children. Although the couple had a quick breakup when Jack told Mel that he didn't want to discuss having children at the time, they eventually reconciled. Soon after, Mel found herself pregnant and not knowing if Jack was the father, or if an IVF procedure she had done with her and Mark's embryos had caused the pregnancy (via Decider).
During Season 4, Mel and Jack officially got engaged and found out that Jack was the biological father of her baby (via Watch To Watch). "Virgin River" fans are now reaping the benefits of their patience, and it seems that Jack and Mel's slow-burning romance was worth the wait.