Alexandra Breckenridge Dishes On Mel, Jack, And Season 4 Of Virgin River - Exclusive Interview
Alexandra Breckenridge has become a global superstar thanks to her role as Mel Monroe on Netflix's "Virgin River." Following a huge cliffhanger at the end of Season 3, fans have been eagerly awaiting the show's fourth season, which is now available for streaming on Netflix. As usual, new episodes of "Virgin River" are filled with romance, drama, heartbreak, fun, and some seriously shocking moments. 
As well as playing the ever-loveable Mel on "Virgin River," Breckenridge is a seasoned actor who's appeared in everything from "The Walking Dead" to "This Is Us" to "American Horror Story." She also appeared in the 2020 Hallmark movie "Love in Store," alongside Robert Buckley. Mentioning her involvement in the movie, Breckenridge tells The List, "I had a good time working on that. They were really lovely about us connecting and stuff." She continues, "You know, it's not always that you get to say, 'I think it might be a little more natural if we did it this way, or faced this way.' But the producers were really nice, and it had a lovely director."
Ahead of the release of "Virgin River" Season 4, Alexandra Breckenridge sat down with The List to talk about Mel and Jack's love story, how she feels about her character's pregnancy, and what lies ahead in Season 5.
Mel has to 'juggle Jack's emotional issues' in Season 4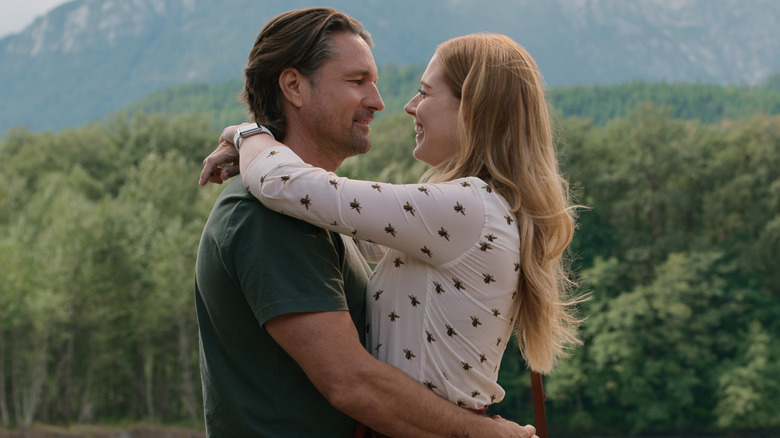 Netflix
We need to talk about "Virgin River." Season 3 left us on a huge cliffhanger with Mel telling Jack she was pregnant. What's in store for Mel and Jack in Season 4?
Throughout the season, they have to navigate [the] "will they, won't they" [of finding out] who the real father is. Mel comes from a place of needing to know, and Jack is more hesitant, so that becomes an issue. You've got two parents on opposing sides, and that's always very tricky.
It's also a very emotional season for your character, particularly because she has this second chance at pregnancy. What's it been like filming that journey?
It's interesting because she's silently terrified she's going to lose the baby. We don't explore that a lot through the season. We get to know her real feelings about it through the stillbirth that she delivers at the clinic, and there's one scene where she talks to Jack about how she really feels. It's this underlying emotional weight that Mel has that we don't really touch on a lot. Honestly, as an actress, I was disappointed, because I would have liked to dive deeper into it, but there was so much to pack into Season 4 that it became difficult to have all of those levels in there.
Moving forward, we'll see where we land in Season 5 with that. She's also having to juggle Jack's PTSD and his drinking, which is really difficult for her. She's trying to manage her own emotional issues surrounding the pregnancy and then trying to juggle Jack's emotional issues. It's a lot for her. She tries to do it all with grace. She tries.
Oh, she always does.
She really does. She tries to handle it all with a smile.
Season 4 ends on a bombshell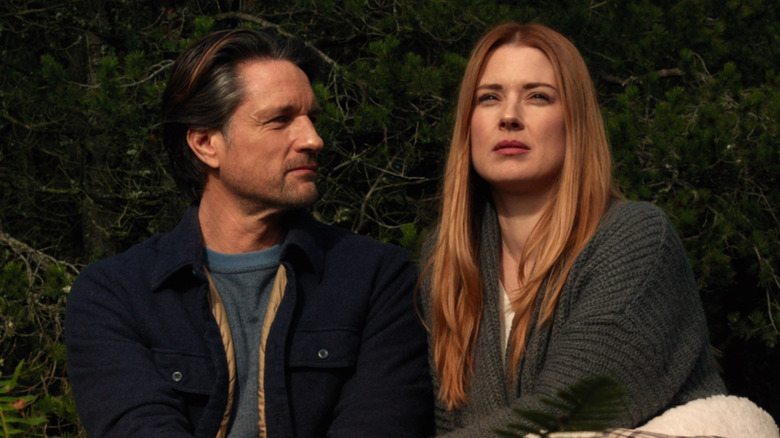 Netflix
So much happens in Season 4. I can't believe it's 12 episodes, because it went by so quickly and it ended on a massive bombshell again. Were you shocked when you got the script, with all the twists and turns?
To be honest with you, I have been speaking very loudly for a while, since we found out in Season 1 that Charmaine was pregnant, I was like, "You cannot. You can't let her be pregnant with his kid. It has to be somebody else's baby." I've been very vocal from Season 1 that I was like, "That's not okay. I don't think that's a great idea," especially with the potential of now, his love being pregnant, possibly with somebody else's child. I was like, "You can't have Mel have Mark's baby but yet Jack is having babies with Charmaine. No!" If you say, "Okay, well, Charmaine isn't ... Jack's not the father of Charmaine's babies, but then he asks to be the father of Mel's baby ... because if she's not [pregnant with his baby], he has no baby. He suddenly has three babies, and now he has no babies?" I was like, "This is all absurd." I understand, it's soap opera-ish, but I get it. I was like, "It's too much; this isn't daytime."
But it does mean going into Season 5 [that] things might be a bit less complicated.
Oh, yeah. I think it's a lot less complicated in terms of how many children Jack is having, for sure. I think he's going to have to navigate how he really feels about this. It is a massive betrayal. He was utterly lied to. They were all lied to for a while, for a very long time. We'll see how that gets handled. I don't know. I don't think he's going to take it very well.
Will Mel and Jack actually end up together?
I also wanted to find out if you think Mel and Jack are endgame. Do you see them ending up together?
It would be very weird if they did not end up together.
Only because this season, it felt like there were so many moments where they almost weren't together, and there were other people creeping in.
It honestly didn't ever feel natural that Jack broke up with Mel. It didn't really make a whole lot of sense.
I got to a point where I thought if he breaks up with her one more time, I'm over this. He cannot keep doing this.
I know! I was like, "Maybe Mel should break up with Jack." That makes more sense. Mel should break up with Jack. Mel should be like, "You know what? I was right in the first place. I can't do this. No, all of this is too much for me, I can't," but he broke up with her, and I can't even remember why. It was so silly.
There was no good reason.
It was goofy, but to be fair, Mel had a really hard time letting him in [during] the beginning, [and] rightfully so. She was coming from ... God, she had so much devastation, losing her husband and her child. It was so devastating, but she eventually let him in, and I thought that was so huge that by the time he breaks up with her, I'm like, "For real?" This woman literally walked through the fires of emotional hell, and then said, "Okay, I'm going to let you back in even though I think that I could lose you," and then you break up with her? This is massively incorrect, and we're still not okay.
Feeling 'very lucky' to be part of Virgin River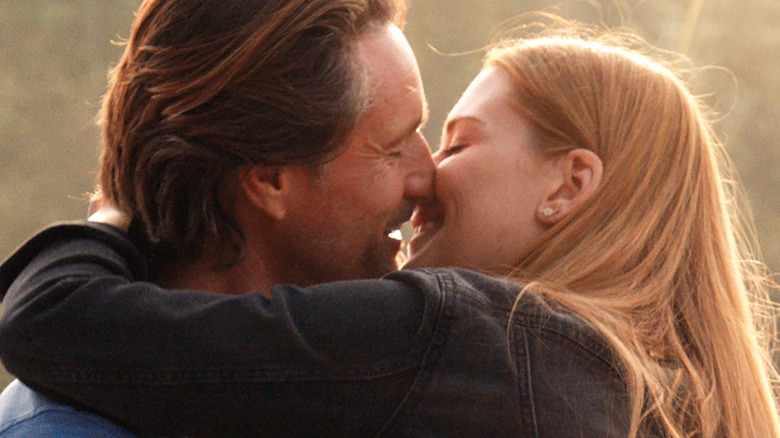 Netflix
Is there anyone you would like to guest star on the show?
Nobody's ever asked me that. I've never even thought of that. For me, it's so not in the realm of anything that I have control over.
But if you did, who would it be?
I would never assume to say any of the people that are fabulous actors. You're not going to come and...
We need to get Brad Pitt in there. That's your next love interest.
Brad Pitt. Oh my gosh. ... He can't stop himself from being the most handsome man, can he? He cannot help himself. I just saw ["The Lost City"]. It's a Sandra Bullock and Channing Tatum movie, and Brad Pitt is in it ... I told my husband, "Oh my gosh, Brad Pitt's in this movie. He has a substantial role, but he dies." I was like, "Damn, that man is so gorgeous, he gets more attractive as he ages" ... If you could send Brad Pitt over, Mel would happily jump ship for Brad Pitt. Yes, absolutely.
Finally, I wondered which "Virgin River" co-stars you're closest to in real life.
I'm really good friends with Zibby Allen, and Martin [Henderson]. Those are my two closest. They're my friends; they're my people. I don't get time to... I have kids, and Tim [Matheson], Annette [O'Toole] and I don't really get together on the weekends with the kids. They all have adult children. I mainly hang out a lot with Zibby and Martin. I love everybody; they're so wonderful.
It's such a lovely cast.
I'm very, very, lucky.
All episodes of "Virgin River" Season 4 are now streaming on Netflix.