How General Hospital Fans Really Felt When Ava Tossed Esme Over The Parapet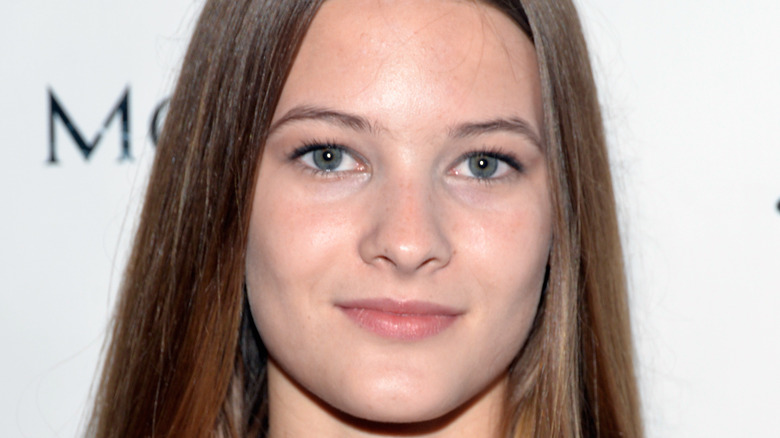 Michael Tullberg/Getty Images
"General Hospital" characters often meet strange and unusual deaths, sometimes falling off the parapet of the Cassadine family home, Wyndemere. Per Fame 10, Katherine Bell (Mary Beth Evans) died from falling off of it — twice. Julian Jerome (William deVry) also took a header off the parapet, but somehow managed to land in water and survive (via Soaps in Depth). Spencer Cassadine (Nicholas Alexander Chavez) returned home from Europe to break up his father, Nikolas Cassadine's (Marcus Coloma) marriage to Ava Jerome (Maura West). Shortly thereafter, his girlfriend Esme Prince (Avery Pohl) joined him, stepping things up by not only torching Ava's car, but also leaving the hospital ID of Ava's dead daughter Kiki Jerome (Hayley Erin) at the crime scene (via General Hospital Blog).
As Soaps in Depth reported, Esme topped everything off by seducing Nikolas and sleeping with him, taking advantage of his fear that Ava had left him. As the trial of Trina Robinson (Tabyana Ali) — whom Esme framed for making a revenge porn video — escalated, Esme threatened to reveal their tryst. Heading this off for some damage control, Nikolas confessed to Ava what had happened. In a scene that had fans jumping for joy, Ava tore into him calling him "stupid" and "spineless."
Ava was not happy to learn the truth and went to find Esme. A colossal fight broke out between the women, the startling outcome of which has stirred up the "GH" fandom.
A fall from a building has GH fans on the edge of their seats
According to Soaps Spoilers, the enraged Ava left the courthouse, went straight to Wyndemere, and confronted the sinister Esme, demanding she confess to framing Trina. Esme refused and Ava threatened her life, as she was curious about a letter the evil girl was trying to hide. Ava grabbed it, and a fight ensued. The melee moved out of the room and onto the parapet. Nikolas, realizing something bad was going to happen, arrived too late. He witnessed the struggle ending with Esme taking a plunge off the building.
The official "General Hospital" Twitter page teased the fight, saying, "Which secrets will come out before their confrontation ends?" One fan responded with "AVAMAZING scenes!!!! Ava did her DEED!!! I also have to give major props to Esme/Avery for having Esme defiantly lick her own blood!" Another stated, "You could see that coming! Was so great! Now what will happen? Lol Maura West slayed this as did Avery Pohl!"
For her part, Maura West enjoys working with Avery Pohl, understanding the fact that playing a villain is hard because the actor can sometimes get scorned by the fans. While most of the Twitter fans cheered for Ava, a few sided with Esme, with one posting, "Don't tell her anything you don't have to, Esme! #TeamEsme Live to fight another day!" 
Clearly, "GH" has the fans on the edge of their seats awaiting the outcome.