The Restaurant You Won't Believe Queen Elizabeth Owns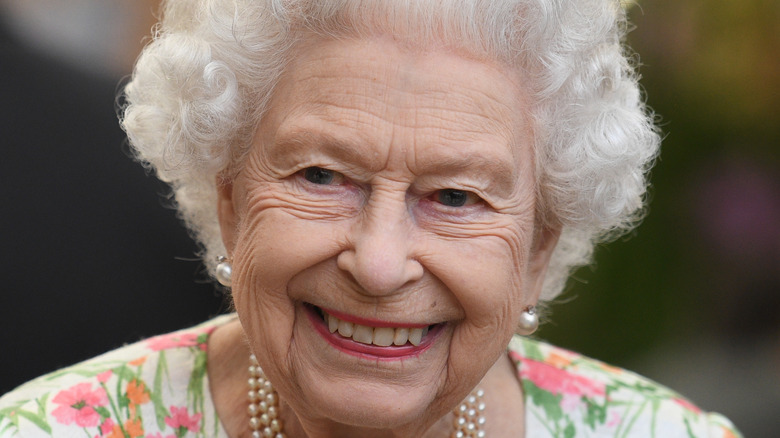 Wpa Pool/Getty Images
At 96, Queen Elizabeth has been an active and revered ruler for a record-breaking seven decades. Only very recently has she begun missing some of her official duties on account of her mobility problems, but she still manages to keep a busy schedule. The queen even continues to enjoy her favorite hobby of horseback riding, having been seen out on her Fell pony in June, per People. 
The queen's determination to keep mind and body active may well account for her longevity. Her careful diet may contribute to it, as well. A typical day's menu for the queen includes a cup of tea and a bowl of Special K for breakfast, a simple sandwich for lunch, and a dinner of grilled fish and salad. Neither she nor any of the other royals eat shellfish because of the risk of food poisoning, according to Express, and former royal chef Darren McGrady once told CNN that Her Majesty is a "very disciplined" eater who doesn't indulge often.
Knowing the queen's healthy dining habits, it's hard to imagine her being connected in any way with a cuisine not known for its dietary benefits. But she's a woman of surprises — remember her unexpected appearance with Paddington Bear during her Platinum Jubilee? Now the news is out that the queen actually owns a restaurant, and (gasp!) it's not a fancy French bistro or a pricey steakhouse. Let's just say: We're lovin' it!
The Big Macs here are royally good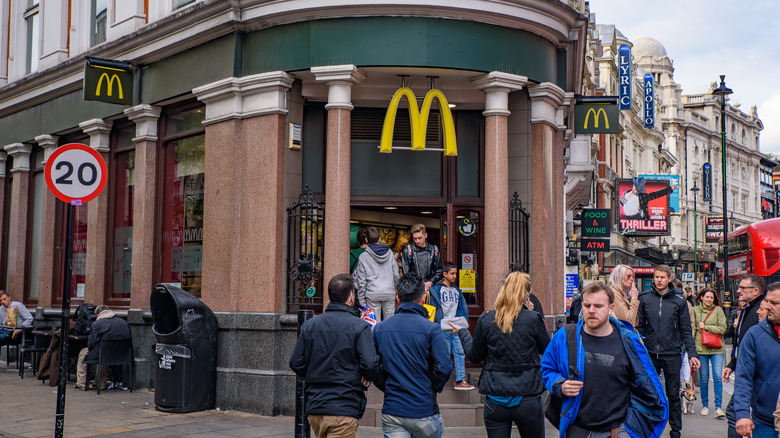 Mo Wu/Shutterstock
Believe it or not, Queen Elizabeth's many properties include not only palaces, sprawling country estates, and London's famous Trafalgar Square, but also a McDonald's branch. According to The Mirror, the Maccy D's (as they call it on that side of the pond) is located in the Banbury Gateway Shopping Park in Oxfordshire, about 80 miles from the British capital. 
Naturally, a royally owned restaurant has to stand out among the commoners. Instead of plastic booths, customers can enjoy their McNuggets on leather sofas, or even have their meals brought to their table by a server. The McDonald's chain in the U.K. also boasts some menu items you won't ordinarily find in the United States, such as The Spicy Spanish Stack burger, vegetarian and vegan burgers, a variety of wraps, salads, and cucumber sticks. Plus, the Oxfordshire location has a drive-thru with digital menu boards for diners who "fancy a bite to eat on the go," as the shopping plaza's website puts it.
The Mirror can't confirm whether the queen has ever set foot into the place. Probably not — the queen's favorite midnight snack is dark chocolate, not fries. But former royal chef Darren McGrady once told Marie Claire that Prince William and Prince Harry "loved McDonald's" when they were children, and mom Princess Diana would often take them there as a treat. Is it possible that William's children have had a Big Mac from their great-granny's eatery?