Jared Kushner Reveals Donald Trump's True Feelings About His Early Relationship With Ivanka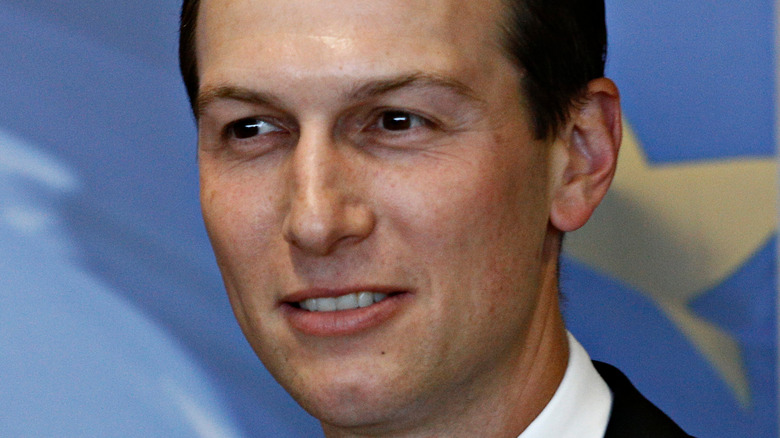 Alexandros Michailidis/Shutterstock
Former President Donald Trump and Jared Kushner grew very close during Trump's time in the White House. Donald took Kushner, the husband of his daughter Ivanka Trump, under his wing, granting him a number of high-profile assignments including overseeing the construction of a wall at the United States-Mexico border, strategizing an end to the Israeli-Palestinian conflict, and overhauling the GOP platform, per Vox. Kushner became the president's right-hand man and, according to The Washington Post, was known to defend him in the early days of Donald's political career. Kushner even kept his own cancer diagnosis a secret so as to not distract Trump from important trade talks with China.
But since President Trump left office in January 2021, shortly after the January 6 insurrection at the U.S. Capitol, Kushner has distanced himself from politics and reportedly said he wants a "simpler relationship" with his father-in-law (via The New York Times). Recently, his wife Ivanka also testified against her father regarding the January 6 attack, driving a wedge deeper between Donald and his daughter and son-in-law, per The Washington Post. 
No longer under the influence of the MAGA juggernaut, Kusher is opening up about his life and time in the White House in his upcoming memoir — and he revealed how the former president first reacted to his relationship with Ivanka.
Donald Trump wanted Ivanka to date Tom Brady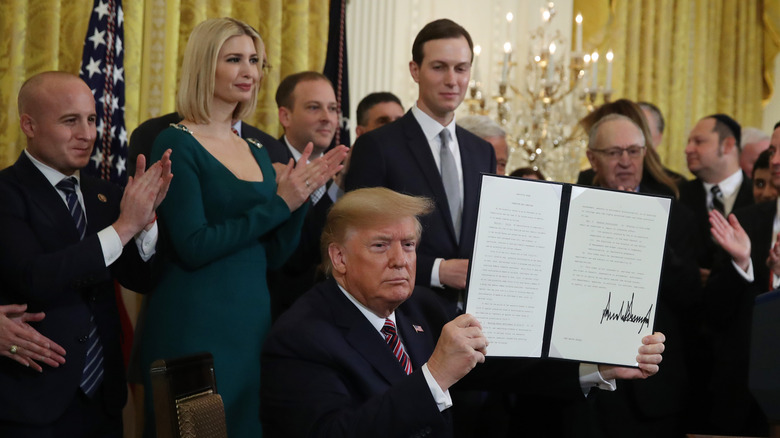 Mark Wilson/Getty Images
Jared Kushner met Ivanka Trump in 2007 through a friend at a business lunch. They shared chemistry, and their relationship eventually grew so serious that the two started discussing marriage. Ivanka even decided to convert to Kushner's religion, Judaism.
But Donald Trump seemed to have a different opinion of Kushner. According to Kushner's memoir "Breaking History: A White House Memoir," to be released on August 23 (via Forward), Donald once wrote an angry letter to Kushner before Ivanka had introduced him as her boyfriend. The letter was in response to Donald's (relatively low) ranking on the 2007 "Power List" curated by "The New York Observer" — which Kushner was responsible for publishing.
As Kushner and Ivanka grew closer, Kushner approached Donald about their relationship and Ivanka's intention to convert religions. Donald initially pushed back on Ivanka's pursuit of Judaism but quickly changed his mind, saying, "most people think I'm Jewish anyway ... they love me in Israel." Then, Kushner writes that Donald claimed that NFL quarterback Tom Brady was also pursuing Ivanka, perhaps in an attempt to deter their relationship. For the record, Brady denied ever courting Ivanka.
The attempt clearly didn't work. Kushner and Ivanka married in 2009 and have been together ever since. But that hasn't stopped Donald from continuing to fantasize about his daughter and Brady coupling up. As the Intelligencer points out, Donald has reportedly taunted Kushner numerous times with comments about how Ivanka "could have had Tom Brady."