General Hospital's Briana Nicole Henry Pens A Raw Message That Millions Of Mothers Will Get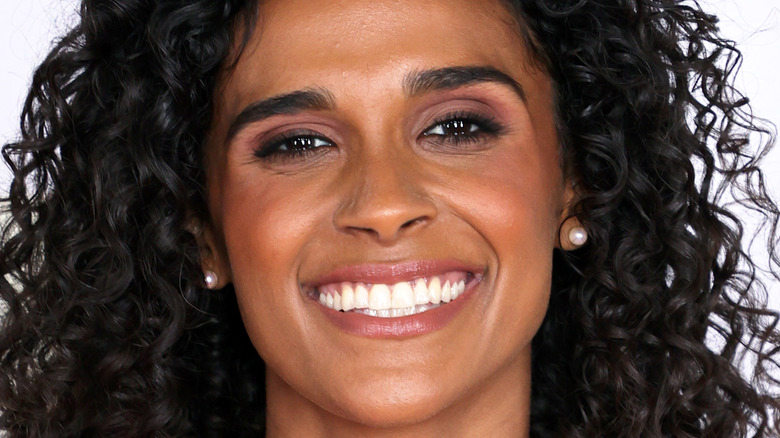 Kevin Winter/Getty Images
Briana Nicole Henry was a major player on the set of "General Hospital" from 2018 to 2021, as she was one of the actresses who embodied Police Commissioner Jordan Ashford. Her time on the soap was certainly busy; her character went through a marriage and divorce to Curtis Ashford (Donnell Turner), the capture of violent serial killer Ryan Chamberlain (Jon Lindstrom), and an investigation into major drug kingpin Cyrus Renault (Jeff Cober) (via Soaps in Depth). Though onscreen she was the mother to TJ Ashford — played by Tajh Bellow who is only three years younger than her in real life — the soap star only recently welcomed her first child.
In March 2022, Henry and her husband Kris Bellows celebrated the birth of their first child, a daughter named Coda. The actress was particularly moved to have brought her little girl into the world on International Women's Day, according to a post on Instagram announcing the birth. Henry kept the knowledge of her expanding family under wraps until well into her pregnancy but has taken to sharing stories about life as a new mom on social media. Her posts often include lengthy captions that detail the strength, support, and overwhelming love it takes to care for a newborn.
Briana Nicole Henry got real about breastfeeding
On Instagram, Briana Nicole Henry took the opportunity to talk about her journey breastfeeding her daughter Coda. Rather than share a perfectly posed and edited photo that would make her followers swoon, the new mom decided to get real instead. In the caption, Henry explained the less-than-glamorous realities of breastfeeding. "It's anxiety about milk supply, making too much or too little. It's sore nipples and incorrect latches. It's leaky and engorged breasts. It's hours of giving yourself to your little love despite how exhausted, depleted or in pain you are. And then there's pumping, oh so much pumping," she wrote.
The actress pointed out that not every new mother has the same privilege and access to resources that she does. She urged her followers to go forgo their judgment of breastfeeding moms in favor of bringing more awareness to the need for lactation support that many don't have.
Henry also sent out a heartfelt thank you to all the people in her life that helped make her breastfeeding journey as seamless as possible, including her husband and mom, her lactation specialist from IMMA Lactation, one of her doctors, and all the other moms in her life that she was able to lean on for support.
She ended the post by saying, "It takes a village, as it should. Seeing those big beautiful eyes look up at me while I feed her will be some of the moments I cherish for the rest of my life, I'm grateful and aware of just how special that is."