Fans Can't Get Enough Of This Sweet Moment Between Prince William And Princess Charlotte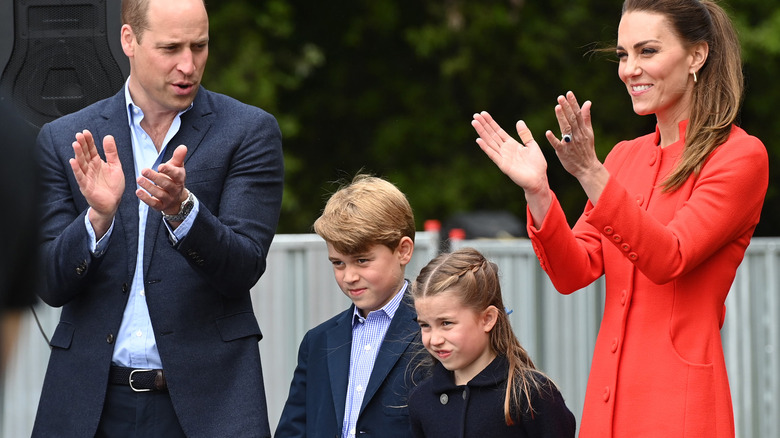 Wpa Pool/Getty Images
Princess Charlotte channeled her younger brother, Prince Louis, with funny expressions during the Commonwealth Games, making the mini royal an unexpected star of the sporting event. As Harper's Bazaar notes, although there were plenty of lovely shots of the princess hanging out with her doting parents, Prince William and Catherine Middleton, all eyes were on her hilarious facial expressions as Charlotte cheered on the talented athletes and reacted in real-time to the action happening in front of her.
Per Page Six, the middle child of the Duke and Duchess of Cambridge wore a chic stripy dress, with her hair in braids, for the occasion. She watched the gymnastics, swimming, and hockey events. Charlotte's enthusiasm was evident as she was laughing, sticking her tongue out, and jumping out of her seat during the games. William and Kate, meanwhile, appeared to be delighted to spend some quality time with her. According to the Chief Executive of charitable organization SportsAid, Tim Lawler, Charlotte's favorite sport was clear.
Lawler revealed, "She really, really loved seeing the swimming, but she's interested in the gymnastics, and while they're trying lots of different sports at home, I understand, when I asked her about sport she answered very easily and said 'it's gymnastics that I like.'" (via Express). However, although Charlotte was clearly having a great time — particularly since she got her parents all to herself for once — the princess seemingly needed some help when she got bored.
Prince William ensured his daughter didn't get too restless at the event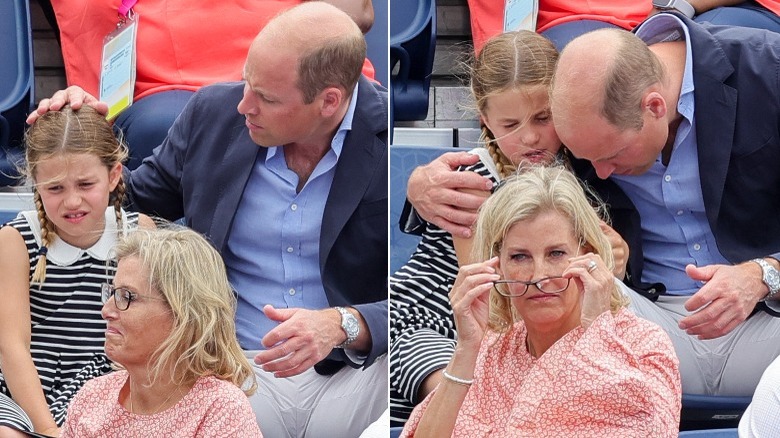 Chris Jackson/Getty & Chris Jackson/Getty Images
Social media is gushing over Prince William, Duke of Cambridge, after the doting dad was photographed comforting a grumpy Princess Charlotte during the Commonwealth Games. According to the Daily Mail, the usually well-behaved royal grew visibly restless after a long day watching the various sporting events, leading her father to step in to give Charlotte some much-needed attention. The Duke of Cambridge was spotted cuddling his daughter, tucking her hair behind her ear, and lovingly patting her head.
As one Twitter user shared, "I love how Catherine and William are always doing something to comfort the kids in these public situations," while another noted, "Love this natural interaction of Papa and daughter." A third posted a photo of Charlotte enthusiastically giving her father a thumbs up, writing alongside it, "They have such a wonderful father-daughter relationship." Evidently, Prince William knows exactly how to handle his daughter. 
Charlotte was later shown enthusiastically meeting dignitaries, to her parents' pride. The lovable father-daughter duo set social media ablaze earlier this week when William and Princess Charlotte of Cambridge shared a video in which she was the spitting image of Kate Middleton. In the clip (via Twitter), they wished England's women's soccer team the best of luck. Funnily enough, Prince William, Duke of Cambridge, made an unexpected prediction about Charlotte's future, suggesting she too could be a soccer star someday, so this could be the start of something.
Princess Charlotte typically keeps her siblings in line during official appearances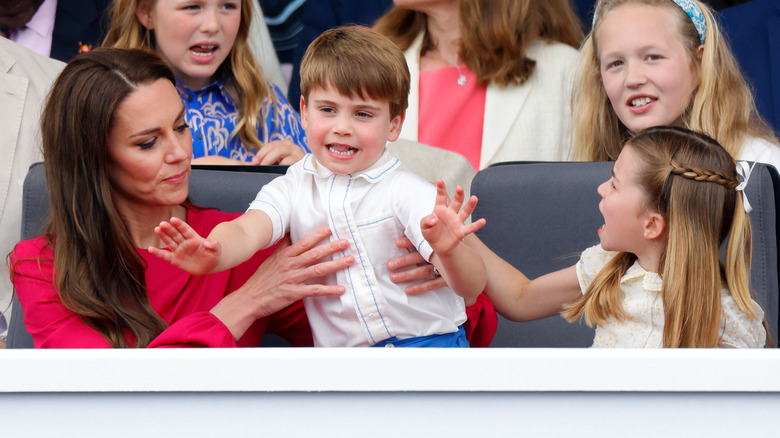 Max Mumby/indigo/Getty Images
Princess Charlotte's hilarious antics at the Commonwealth Games are drawing attention predominantly because she's usually the best behaved of the Cambridge children. In fact, Charlotte frequently keeps her brothers in check. Per People, during the queen's Platinum Jubilee celebrations in June, Charlotte corrected Prince George's posture while they were standing on the balcony at Buckingham Palace with the rest of their family. 
George was seen putting a hand on the ledge, which Charlotte deftly nudged, alerting him to correct his stance, which the prince dutifully did. Elsewhere, Page Six pointed out how she scolded Prince Louis during the Pageant after their mom, Catherine Middleton, Duchess of Cambridge, made several failed efforts to control his bad behavior. After the youngest Cambridge shoved his fist in his mouth, Charlotte pulled it back out, before giving her brother a stern talking-to about behaving himself. 
Of course, it took his grandfather, Prince Charles, and former rugby player Mike Tindall — who's married to Prince William's cousin, Zara Tindall — to keep the little boy in check, as reported by the Daily Mail. Charlotte has a long way to go to compete with him, but Louis was likely cheering her on regardless once he saw photos from the Games.