Royal Expert Explains How Kate Middleton Already Emulates The Queen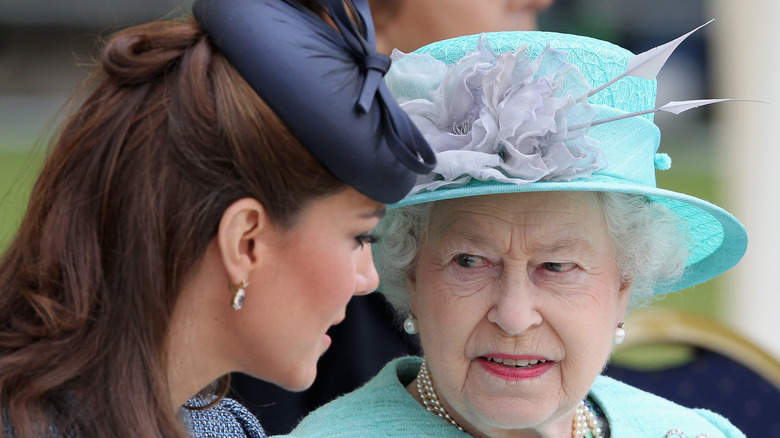 Chris Jackson/Getty Images
A lot has been made of the theory that Kate Middleton is thinking about her future role as queen. Take for instance celebrity fashion expert Miranda Holder who recently opined that the Duchess of Cambridge upgraded her shoe game to signal to people she has what it takes to sit beside Prince William on the throne one day (via Daily Mail).
But it's not just Kate's fashion statements that are proving the mom of three has come a long way since her days partying alongside her now husband (via Cosmopolitan). Not only has she taken on a more prominent role within the royal family lately — especially with Meghan Markle and Prince Harry having stepped back from royal life — but according to a royal expert, the 40-year-old is studying the current monarch to inform how she'll help to rule in the future.
Sally Bedell Smith, the Queen's biographer, told People, "Catherine has learned by observing. She knows what resonates. She will have absorbed a lot from this Queen."
Not that Kate will be a queen one day. Well, not exactly.
Kate Middleton and Camilla Parker Bowles will inherit the same titles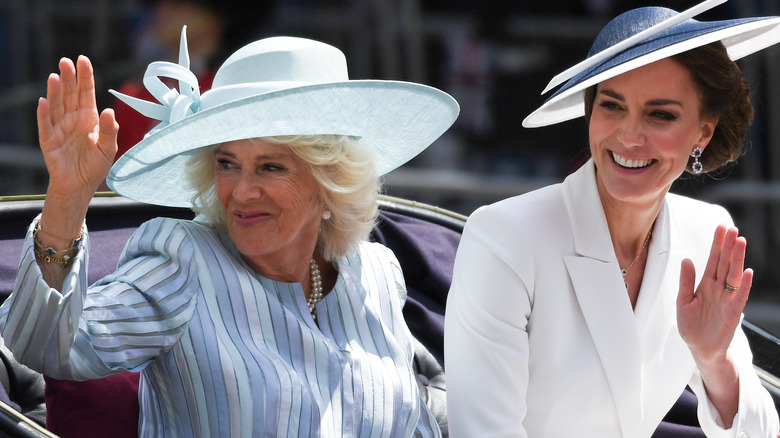 Chris J Ratcliffe/Getty Images
Earlier this year, the Queen made news by announcing that Camilla Parker Bowles, who married Prince Charles in 2005, will one day be known as Queen Consort. This is the very title that Kate Middleton will inherit when the Duke of Cambridge ascends the British throne, before first becoming the Princess of Wales when the Queen passes away (via British Heritage and Parade).
While the title of consort is simply symbolic and does not add Kate to the line of succession — Prince George would become king if his father dies, not his mom — the duchess is still rising to the occasion in helping lead the royal family by living by example (via The National News).
In fact, according to Sally Bedell Smith, much like Queen Elizabeth II, the Duchess of Cambridge can be counted upon to "Never complain, never explain" (via People).
One example of this attitude lies within the ongoing flower girl dress drama between Kate and her sister-in-law Meghan Markle.
Kate Middleton is discreet like the Queen and unlike Meghan Markle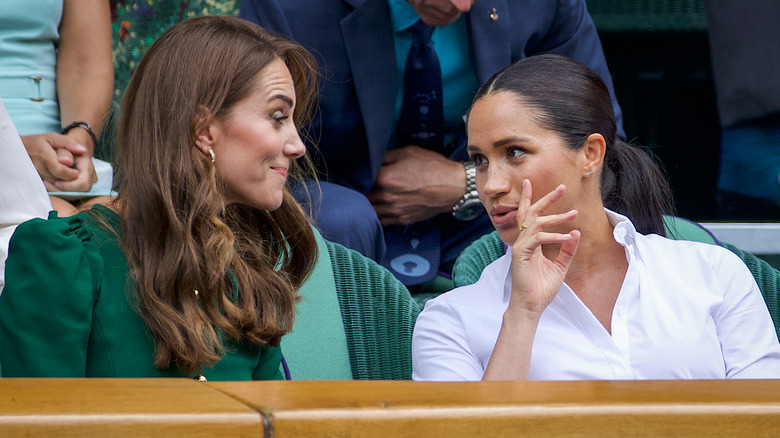 David Gray/Getty Images
Meghan Markle was all-too-ready to comment on who made whom cry over flower girl dresses before her 2018 wedding to Prince Harry while speaking to Oprah Winfrey during that interview.
According to the Duchess of Sussex, it was Kate Middleton who caused the hurt feelings, and not the other way around as was previously reported. "I thought in the context of everything else that was going on in those days leading to the wedding, it didn't make sense to not be just doing whatever everyone else is doing, which was trying to be supportive," Meghan blasted her sister-in-law at one point in the sit down (via Harper's Bazaar).
For her part, the Duchess of Cambridge has remained tight-lipped about the private family moment, a move that the monarch most likely approves of.
Meanwhile, it seems that the Queen is also very happy with Kate's relationship with her grandson, the future king, having reportedly expressed that the duchess' love for William is apparent, despite his station in life (via Marie Claire).