The Time Justin Bieber Pulled Off Eyeliner For A Performance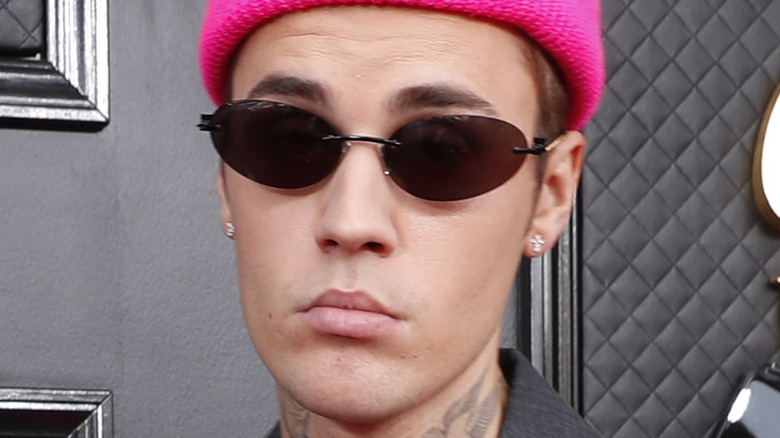 Johnny Nunez/Getty Images
Unless you've been living in an alternate reality, then you've no doubt heard the name, Justin Bieber. From his relationships with his famous exes to his almost innumerable chart-topping singles, Bieber is a bona fide superstar the world over and has been a household name for more than a decade at this point (via Inc.). Bieber began performing at an early age and in an article for The Guardian back in 2015, the singer said that at one point he came close to allowing his early found success to "completely destroy" him.
The plight of the child star is not new. The story of a young entertainer finding mega success at an impressionable age and then finding themselves on a bad path years later as a result, is a tale almost as old as Hollywood itself. Bieber was determined to not allow himself to wander down this road.
In an interview with GQ, the singer opens up about the scary details of his past drug abuse telling the outlet "It was like I had all this success and it was still like: I'm still sad, and I'm still in pain. And I still have these unresolved issues. And I thought all the success was going to make everything good. And so for me, the drugs were a numbing agent to just continue to get through."
His musical inspiration is diverse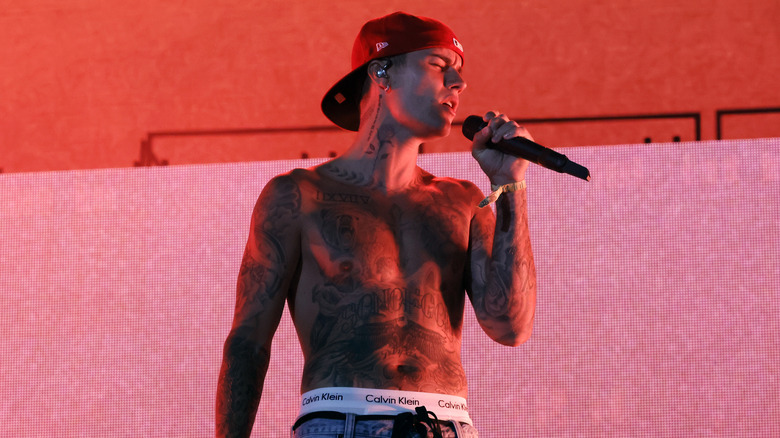 Kevin Winter/Getty Images
Justin Bieber is clearly an incredibly talented performer. According to CBC, the "Our World" documentary star is one of the most successful recording artists of all time. As of May 2021, he has sold upwards of 70 million albums worldwide and is the most successful artist on YouTube, boasting an impressive 60 million subscribers on that platform alone. In addition to being extremely popular on social media, he is also the youngest solo musician to create eight number one albums.
With this level of success, it's not surprising that the singer draws from many diverse sources for musical inspiration. In an interview with Vanity Fair, the singer is quoted as saying that he is inspired by acts like The Beatles and also Boyz II Men. Bieber, who is colloquially dubbed the Prince of Pop, also shows his admiration for the King of Pop himself, Michael Jackson, "Michael [Jackson] was able to reach audiences from young to old; he never limited himself."
He fully leaned into a classic rocker's persona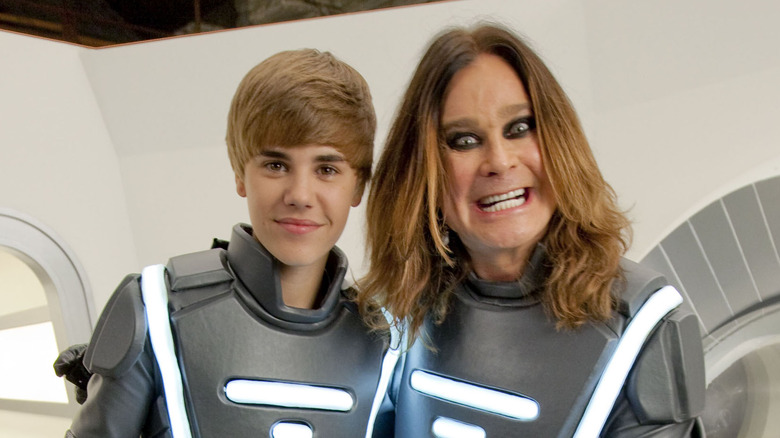 Christopher Polk/Getty Images
There are many performers, especially pop performers, that site the greats that came before them as inspiration, but Justin Bieber did them all one better when he decided to impersonate a rock legend on the show "Lip Sync Battle."
According to the Huffington Post, Bieber got into full character as Ozzy Osbourne for an episode of the popular TV show and covered Osbourne's classic, "Crazy Train," in a full goth rocker get-up. The Prince of Pop was clearly channeling his inner Prince of Darkness as the outfit featured all the Ozzy staples, including ring stacks, black nail polish, and of course the signature heavy eyeliner.
Clearly, the pop star has a deep respect for the classic rocker, but is his admiration reciprocated? Back in 2010, when asked if he had been listening to Bieber's music, Osbourne, in an interview with Blink 182 star, Mark Hoppus said "who the f*** is Justin Bieber?" Despite Osbourne claiming he knew nothing of Bieber's existence, we can safely assume a connection had already been formed because just a few months later the two would appear in a Super Bowl commercial together (via YouTube).