Sofia Carson And Nicholas Galitzine Discuss Purple Hearts' Sociopolitical Themes - Exclusive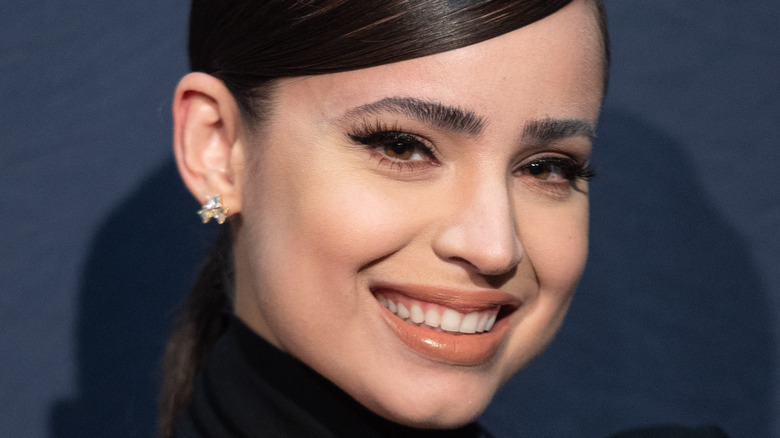 Noam Galai/Getty Images
If you feel as though everything is a political issue these days, you're not alone. From the environment to equal pay to marriage equality to reproductive rights and everything in between, so many of us feel at odds with the reality we're facing.
The ongoing division that we witness on what feels like a daily basis is at the center of the newly released Netflix film "Purple Hearts," starring Sofia Carson and Nicholas Galitzine. The film — which tells the story of Cassie and Luke, their romance, and the initial transaction in which their marriage was agreed to — just goes to show the lengths to which some people will go to live a healthy life. Carson's Cassie, a singer-songwriter, is facing a diagnosis that could change the course of her life. Galitzine's Luke has health benefits as an active member of the military. What starts as a business deal quickly transforms into something else as Luke is sent to a war zone and Cassie is facing her own set of challenges.
To intertwine so many political and social messages into a storyline is not an easy feat, but "Purple Hearts" does so with flying colors. Ahead of the film's premiere, we sat down with Sofia Carson and Nicholas Galitzine to discuss the plot, soundtrack, and intricacies involved in the movie, and both actors commented on the important topics embedded in the storyline.
Sofia Carson reflects on an increasingly 'divided world'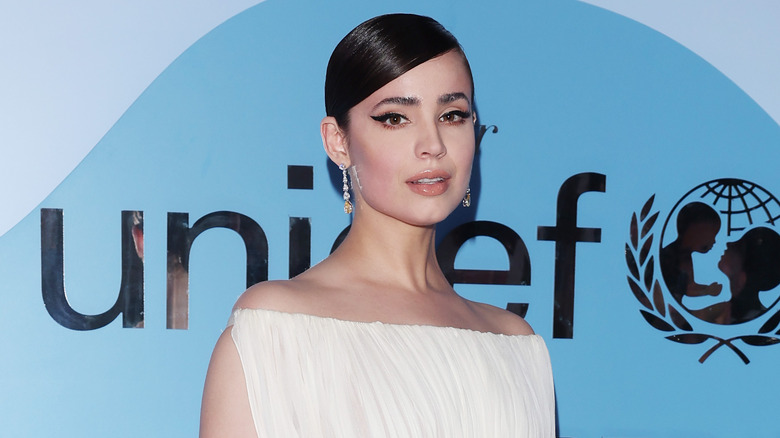 Jacopo M. Raule/Getty Images
Sofia Carson is an actor of many talents. As she is the leading lady, an executive producer, and the writer of the original soundtrack of "Purple Hearts," the film is clearly her baby five years in the making. When we sat down with her and co-star Nicholas Galitzine, Carson was quick to comment on the political and social nature of the film, telling us that the story brings two otherwise divided people together.
"We're in a divided world, a divided country, where all we see is color, red and blue or black and white," Carson said. "The story is about two hearts that come together through the power of love — two hearts that were taught to hate each other. If love can heal these two broken hearts, love is what the world needs now more than ever."
Further reflecting on their roles — as Cassie and Luke are from two very different worlds — Nicholas Galitzine told us that there was something very real about the storyline, despite the schism the two main characters face. "I felt there was actually a movie that could be made that would be a much more unique, original take on the love story genre. These people felt very real to me; they felt very nuanced," Galitzine said.
Nicholas Galitzine comments on portraying a member of the U.S. military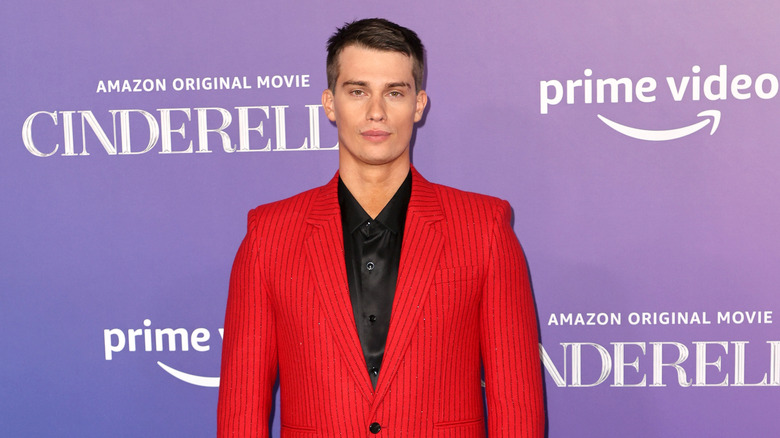 Kevin Winter/Getty Images
If there is one topic amid national and international discussions that continues to demand attention, it's the armed forces. The United States' military is unrivaled in size and scope, a point of patriotism for some and shame for others. As for Sofia Carson and Nicholas Galitzine, their characters' romance in "Purple Hearts" brings a new lens to the topic of the military, with Galitzine's Luke an active member.
"It's been a very fascinating time in the U.S. Maybe 'fascinating' is the wrong word — tumultuous, in a lot of ways. It was an opportunity to explore that as well, which I found very fascinating," Galitzine told us of the experience. "The military world is one that is extremely alien to me in a lot of ways, especially the U.S. military. What is it that makes these people want to do what they do? Can we present them as being more human than the way that a lot of us do perceive them at times? That was important for me."
"Purple Hearts" is available on Netflix now.