Jessica Alba Reveals Why Her Kids Find Her Acting Roles 'Awkward' - Exclusive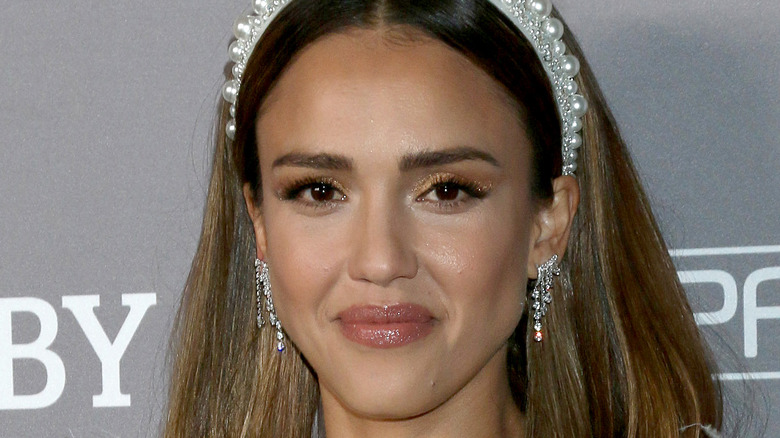 Kathy Hutchins/Shutterstock
Between her successful acting career and her health, wellness, and beauty brand The Honest Company, Jessica Alba is an incredibly busy person. Alongside her work, Alba is raising a family of three children — daughters Honor and Haven, and son Hayes — with her husband, Cash Warren. But when it comes to her Hollywood career, Alba's children aren't necessarily fans.
While Alba has starred in an array of movies and TV shows like "Fantastic Four," "Good Luck Chuck," "Valentine's Day," and "Dark Angel," the star also has incredible business acumen. After founding The Honest Company more than ten years ago, Alba has helped grow the business into a global success story. In fact, Honest just launched on Walmart.com, and the brand is set to roll out to stores nationwide in the fall. Basically, Alba is an unstoppable multi-hyphenate, even if her kids aren't sold on some of her acting projects.
In an exclusive interview with The List, Jessica Alba revealed why her children find her acting career a little "awkward."
Jessica Alba's three kids watched Honey 'once'
To most of us, Jessica Alba is an international Hollywood star who also runs a health and beauty business that was recently valued at $550 million. However, to Alba's three kids, she's simply "mom" at home. When asked if her children watch any of her movies, Alba told The List, "They said that they've seen 'Honey' once. 'Honey' is great, too. But no, they said they saw it once, but they probably just watched YouTube highlights." She continued, "I don't know if they've ever sat down and watched something that I've been in."
Revealing why her three kids aren't watching her acting roles much at home, Alba said, "It's awkward for them. I was trying to get them to watch this TV show I did called 'The New Adventures of Flipper' when I was 12, but I can't find it; it's on YouTube. They watched this TV show called 'Mako Mermaids,' so I was like, 'I think they filmed that at the same place I shot something.'" 
But Alba's kids weren't all that impressed with her revelation, as she explained, "[My daughter] Honor was like, 'Stop trying to show us that you're cool.' I was like, 'I'm not trying to show you that I'm cool. I'm trying to show you that I think you would like that show.'"
However, Alba is pretty happy just being "mom" when she's at home, saying, "It's awkward for them to see me. They're like, 'Why are you talking like that?' Or, 'Is that how you really looked?'"

The Honest Company is now available to shop on Walmart.com.