New Report Shows How Donald Trump's Social Media Platform Isn't Living Up To Its Promise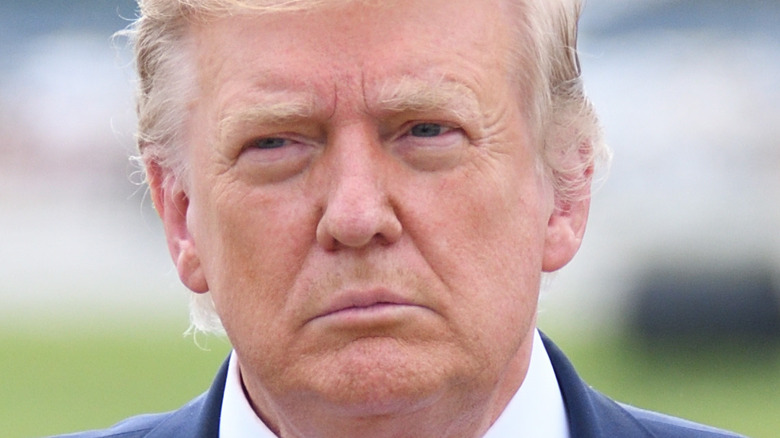 Evan El-Amin/Shutterstock
Donald Trump's penchant for expressing his views on Twitter was a hallmark of his presidency. Unfortunately for him, his views were so often misleading — and downright inflammatory — that Twitter banned him for life. Calling it "unacceptable" that "your favorite American president has been silenced," Trump retaliated by creating his own social media outlet. As reported by The Guardian, the former president declared in a statement, "I'm excited to soon begin sharing my thoughts on TRUTH Social and to fight back against Big Tech."
However, Trump's Truth Social platform hasn't been the success he hoped it would be. It took longer than expected to roll out, and would-be users were left hanging on a waitlist. Its lack of a web presence and accessibility to non-Apple users has also accounted for its poor performance. The Guardian also noted that some of his more famous supporters didn't create accounts right away, so users hoping to hear from the likes of Tucker Carlson may have been disappointed.
Now, it appears that Truth Social is guilty of the same policies that once enraged its creator about Twitter. The Apple Store's description of the platform says it "encourages open, free, and honest global conversation without discriminating against political ideology." This would suggest that Truth Social welcomes users of all opinions — even ones that don't align with the MAGA crowd. Surely a glance at an average user's feed would turn up a variety of thoughts on topical issues, wouldn't it?
Perhaps not. (And don't call us Shirley.)
Truth Social blocks user posts without warning — and not just liberal ones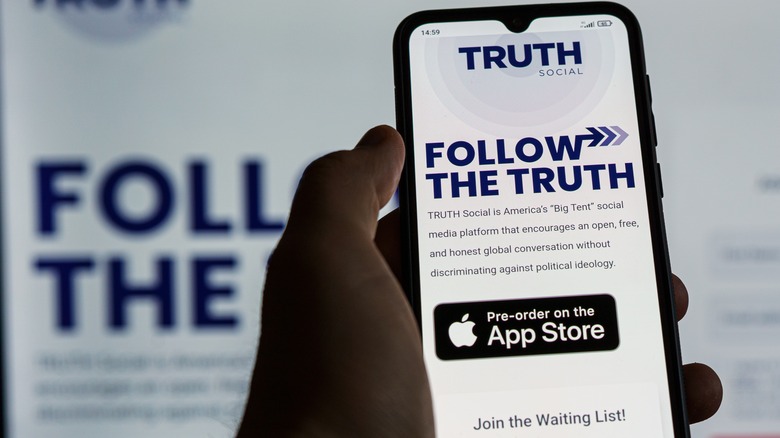 Rokas Tenys/Shutterstock
A new eye-opening report from Public Citizen reveals that Donald Trump's Truth Social app isn't the utopia of free speech it claims to be. Researcher Cheyenne Hunt-Majer points out that the platform has "more restrictive" terms of service than Twitter does, including bans on sexual content and obscenities. They reserve the right to ban any user whose posts are "libelous, slanderous, or otherwise objectionable."
Hunt-Majer also discovered that, far from being an open forum, Truth Social conducts "shadow banning," the term for blocking someone's content without prior warning. For her research, she joined the platform and tried to post pro-choice statements on two separate occasions. When she checked her profile, the posts weren't there, and Truth Social never informed her of the blocking. 
Oddly, it's not just liberals who are being restricted. One woman who calls herself the "most loyal" supporter of the former president was blocked from Truth Social in June, per The Independent. Hunt-Majer backs this up, citing cases of users who were unable to post conservative-leaning statements about the war in Ukraine and gun ownership.
The former president, on the other hand, has no such problems. During the June congressional hearings surrounding the events of January 6, Donald Trump blasted Cassidy Hutchinson's bombshell testimony about his actions during the riot at the Capitol. His accusations that Hutchinson was a liar, a "phony social climber" and "a whacko" came through loud and clear (via Rolling Stone).