Insiders Reveal How Queen Elizabeth Really Felt On William And Catherine's Wedding Day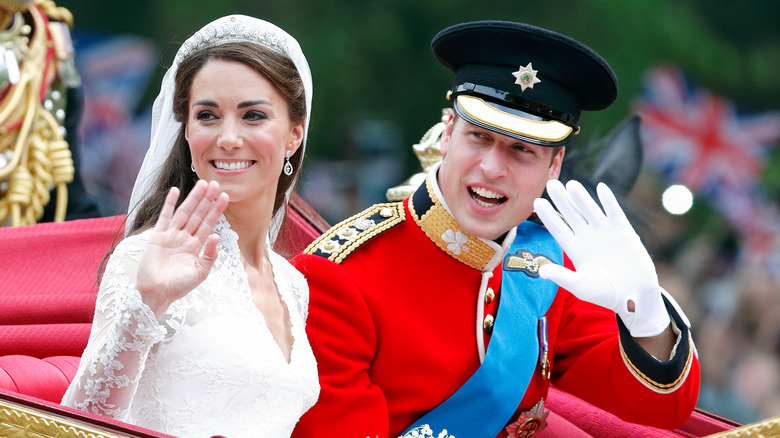 Max Mumby/indigo/Getty Images
The royal wedding of Prince William and Catherine Middleton was watched by an incredible 162 million viewers, per Express. It remains super popular to this day among royal fans, with Catherine's wedding dress in the news all over again just last month. As The Independent pointed out, TikTok users were gushing over the big reveal on the day, exemplifying just how iconic her look was — and it ought to be, considering Alexander McQueen's Sarah Burton told Hello! magazine it was worth around £250,000.
Although they're among the most beloved royals, the Duke and Duchess of Cambridge are relatively low-key, certainly in comparison to Prince Harry and Meghan Markle, revealing little about their home life. People notes the couple are excited to lead the monarchy someday. As their former secretary Jamie Lowther-Pinkerton explained, "They are bringing to the party different means of achieving the whole," through combined personal experience and shared goals.
"He has the experience of knowing where the institution sits and seeing it evolve. The duchess brings this pragmatic awareness of what it's like to be from a decent, down-to-earth family," Lowther-Pinkerton asserted. It was evident back in 2011 that the future of the royal family was in safe hands, so it's no wonder Queen Elizabeth felt so strongly on the day.
The queen felt relieved the monarchy's future was secure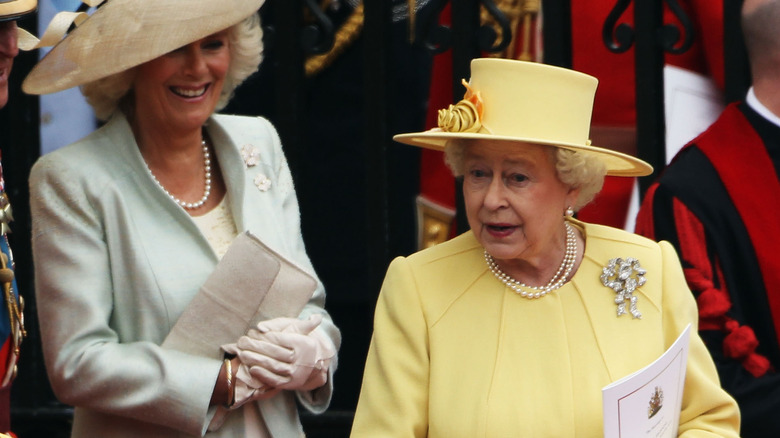 Dan Kitwood/Getty Images
Queen Elizabeth was thrilled to watch her beloved grandson, Prince William, walk down the aisle with Catherine Middleton in 2011. In fact, according to courtiers who spoke to People, she was especially happy to see the line of succession solidified, following years of upset with her own children, whose marriages didn't exactly go to plan. Of the Duchess of Cambridge herself, an insider gushed, "Hearing from the Queen that you're doing a really good job, along with getting support from your husband you grow in confidence."
Although they're, obviously, from totally different generations, Queen Elizabeth's relationship with Kate Middleton is very strong, not least because the long-reigning monarch sees a lot of herself in the younger woman. The duchess has a similar commitment to the throne and even "had tea with ladies-in-waiting and briefings from private secretaries" before she married William because she and the royal insiders "wanted it to work." Fortunately, "everyone has been rewarded with [the couple's] efforts."
As royal biographer Andrew Morton recalled in his book "The Queen," (via The Mirror), "The Queen was positively playful on the day of her grandson's nuptials, 'practically skipping' according to one observer, absolutely thrilled at the way the public had reacted to the royal newlyweds." Her Majesty was reportedly relieved to know that her legacy was in safe hands, while the public seemed to hold the monarchy in high regard once again, following years of scandals and turmoil.
Kate Middleton worked hard to prove herself to the queen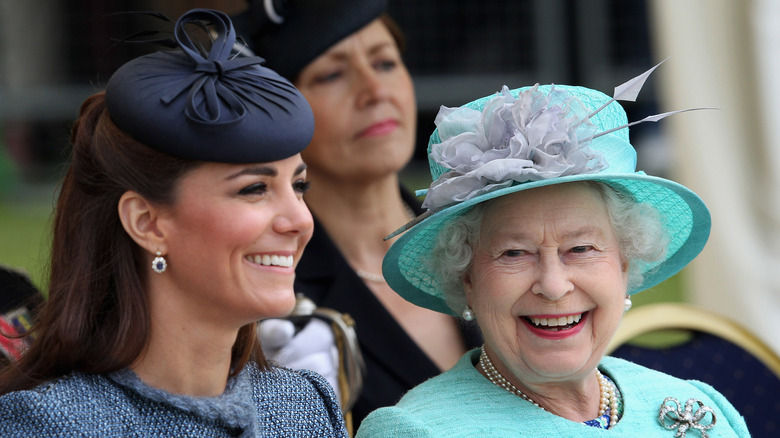 Chris Jackson/Getty Images
A royal expert explained how Kate Middleton already emulates the queen in many ways, not least in her desire to keep their notoriously private life strictly under wraps. Moreover, according to OK! magazine (via Marie Claire), Her Majesty is impressed with the fact Kate loves her husband for who he is, rather than William's royal status. In fact, "She spends a lot more time supporting and nurturing the relationship between William and Catherine than she did with Charles and Diana. It's pretty clear she wasn't going to make that mistake again," as biographer Andrew Morton revealed in "The Queen."
It wasn't always so easy between the two women, however. Nobody expected the Duke and Duchess of Cambridge, who met in university, to go the distance. Further, The Sun confirms that, in the beginning, Her Majesty wasn't sure they were well-suited, following some "frivolous displays of wealth" that she deemed to be in bad taste. Royal author Katie Nicholl recounted, in "William and Harry," how the duchess was seemingly always on holiday, and "Swanning from one five-star holiday resort to another is not the prerequisite for a young woman possibly destined to be queen."
William's grandmother steered his future wife in the right direction, particularly as an advocate for charities causes, and gradually Kate proved her worth. Thus, by the time the Cambridges' 2011 wedding rolled around, the queen was in no doubt that William's future was secure.