Donald Trump Jr.'s Comment On Military Vaccine Mandates Has Twitter Seeing Red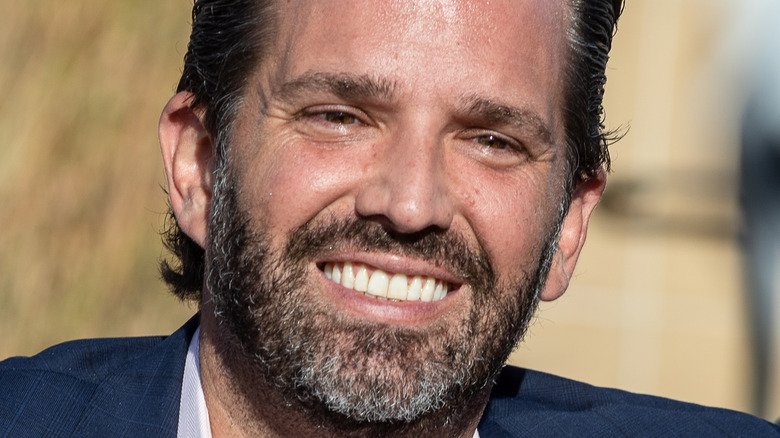 Chris Manning/Shutterstock
The COVID-19 pandemic has led to a baffling paradox. Although the vaccines against the virus have made it possible to reopen business and schools and enjoy socializing again, there is still a chunk of the population that opposes the idea of being required to get them. An April 2022 KFF poll found that four in 10 respondents would not want their employers to impose a vaccine mandate. Among them is Donald Trump Jr., who sees one particular mandate as a threat against people on his side of the fence.
While vaccine requirements are optional for private employers, COVID vaccinations are required for all military personnel, according to the Department of Defense; refusal to do so constitutes a "failure to obey a lawful order" and is subject to penalties. This was the topic of a Wall Street Journal op-ed by James O. Eifert, the adjutant general of the Florida National Guard. Eifert argued that the mandate will potentially lead to a mass exodus of active service members who refuse to be vaccinated — a scenario that would "[put] national security at risk."
Retweeting the WSJ article, Donald Jr. put his own spin on the issue: "They don't care if it puts our national security at risk because the Biden Administration's anti-science vaccine mandate is about purging conservatives from the military and nothing more."
Donald Trump Jr.'s speeches have left many people confused in the past, but in this case, there was no confusion as followers took him to task.
Twitter users pointed out the Trump family history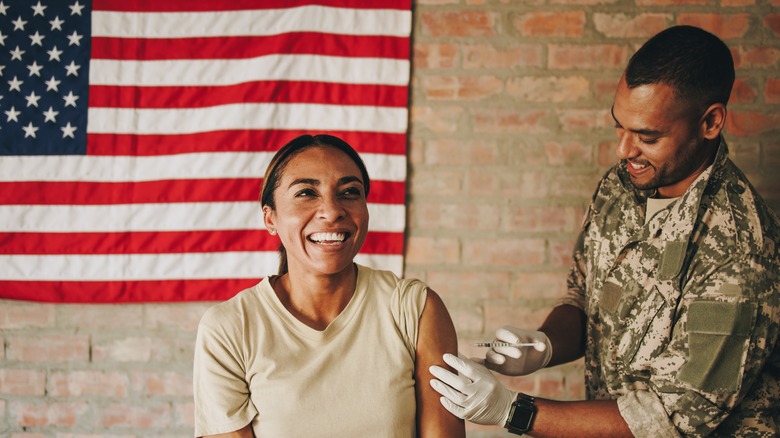 Jacob Lund/Shutterstock
Donald Trump Jr.'s tweets frequently have the internet divided, with his fans praising him for being as outspoken as his dad. In the case of his tweet about the COVID vaccine mandate for service members, however, Donald Jr. mostly got heat from folks who pointed out one basic fact. Said one, "Are the other vaccinations required by the armed forces also 'about purging conservatives'? Chickenpox, hepatitis A, hepatitis B, MMR, pneumococcal, rabies, Tdap, typhoid, polio, and influenza?"
Twitter also delighted in reminding Donald Jr. that he has no skin in this particular game. "How many Trumps even served in the military?" asked a user. "Bone spurs must run in the family." Another chided, "You are not one to talk about placing our security at risk. Your entire family is a danger to our country. Be gone."
One respondent called to mind the events of October 2020, when the then-president fell seriously ill with the virus (per BBC). They said, "Son of the old man who was air lifted to a hospital where 11+ doctors kept him alive with drug cocktails that the rest of us will never have access to has joined the chat on science."
And yet another follower addressed the interdependent nature of the military. "You're no longer an individual, you're part of something bigger than yourself that has multiple intertwined sections, that depend on each other," they said. "Like a chain. And as the saying goes, you're only as strong as your weakest link."