How Jennifer Hudson Was Really Able To Transform Into Aretha Franklin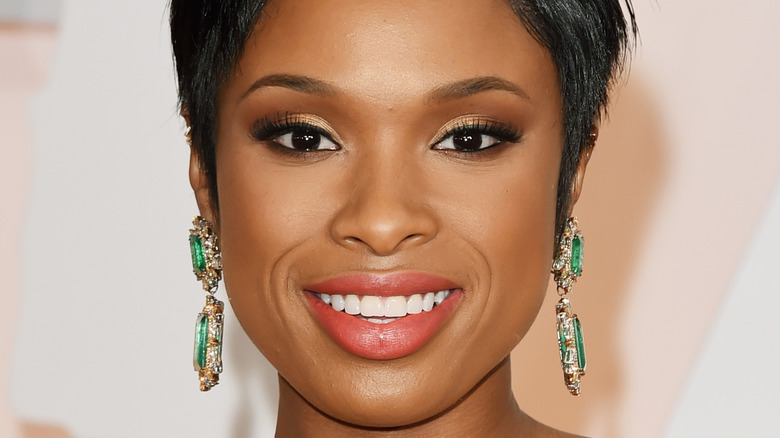 Jason Merritt/term/Getty Images
When Jennifer Hudson was tapped to play her idol, Aretha Franklin, in the biopic "Respect," it seemed like a match made in heaven. Although she's still most well known for competing on "American Idol," the superstar singer has a number of notable acting credits to her name too, including fan-favorite character Louise (from St. Louis), who brought Carrie back to life in the "Sex and the City" movie. Likewise, Hudson impressed opposite Beyoncé and Eddie Murphy in "Dreamgirls." 
She's picky with her roles, however, with Hudson notably turning down the lead role in "Precious" because, as the actor explained in her book, "I Got This: How I Changed My Ways and Lost What Weighed Me Down," she was done playing roles that revolved around her weight (via ET). When it came to portraying the queen of soul, it was a total no-brainer. And getting into character was something Hudson took just as seriously as nailing those all-important high notes.
Jennifer Hudson used her experience of grief to tap into the role
AP News confirms Aretha Franklin personally selected Jennifer Hudson to play her in a biopic of the soul singer's life. The "American Idol" alum — who memorably auditioned for the show with one of Franklin's songs — had opened for her in concert, but it took years for "Respect" to finally come to fruition. And, even when filming began on the project, Hudson couldn't believe her luck. 
Thankfully, the lengthy gestation period ultimately helped the actor embody Franklin in a way she wouldn't have been able to before. As Hudson acknowledged, "I don't know if I would've had the courage to do it or not and lived enough to be able to relate to the story, to tell it." Moreover, the singer and actor had to master Franklin's regal air, since she's a much louder and brasher presence. 
As The Independent points out, Hudson and Franklin had remarkably similar upbringings, both getting their starts singing in church, and suffering immense loss early in their lives. In fact, Hudson reckons that's what helped her fully embody the queen of soul. She explained, "By being given the responsibility by her, it was my duty to care for it or try to protect it or handle it with care as best as I could. I felt the best way to do that though was to bare myself. If I'm going to tell your story, then I should be just as bare doing it."
It took six months of intense training to become Aretha Franklin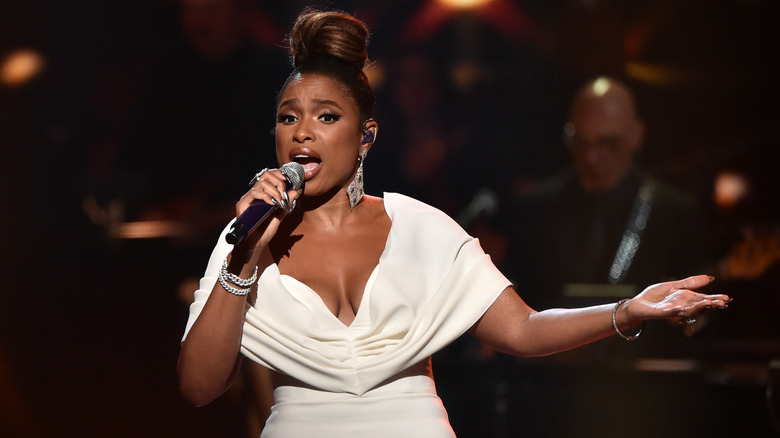 Alberto E. Rodriguez/Getty Images
Although her performance in "Respect" was generally well-received, Jennifer Hudson was one of the many A-Listers who were snubbed by the Oscars. She wasn't nominated in the acting categories, nor did Hudson receive a nod for best original song, for "Here I Am (Singing My Way Home)," per Billboard. Regardless, as the actor told Cleveland.com, she was always meant to portray Aretha Franklin onscreen. "It was natural, and it was also my dream, to play her," she gushed, adding, "This is something that's very personal and very dear to me." 
A profile in the Los Angeles Times confirms Hudson sang live on set, rather than lip-syncing to pre-recorded tracks, which is the norm, which further helped her get into character as Franklin. Even so, the "Dreamgirls" star noted, "You just can't wake up one morning and decide 'I'm gonna be Aretha Franklin.'" Hudson elaborated, "I mean, her voice. Her legacy. The songs. Who she is to all of us. It was daunting. There were times when I was like, 'Jennifer, what have you done?'" 
Fortunately, her personal relationship with the queen of soul, as well as her dedication to the role, helped Hudson exponentially. Per Metro, it took six months of intense training, from learning to play piano to working on how she moved and her dialect. As Hudson explained of her approach, "I will wake up in the morning to Aretha, I will go to sleep to Aretha."