Tyler Perry Proves He's Still Close With Meghan Markle With A Touching Birthday Tribute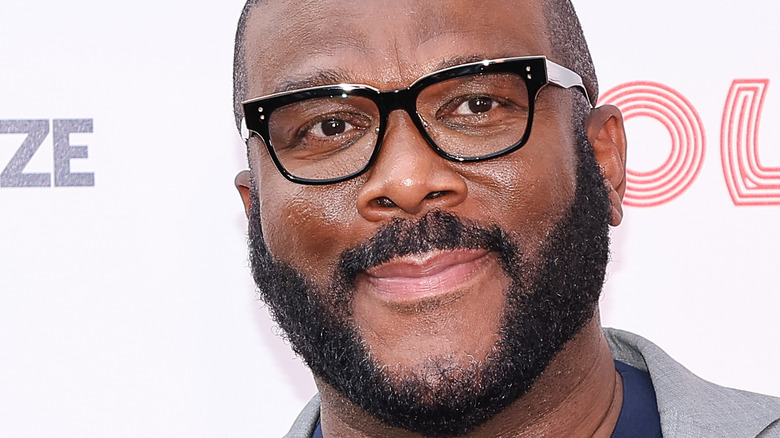 Arturo Holmes/Getty Images
Following Mexit, and right around the time that the world was clued in to where Meghan Markle and Prince Harry had settled in Canada, the pandemic set in. In February of 2020, PureWow was among the outlets that disclosed how the royal couple had settled into a giant mansion on Vancouver Island. And then, everything changed.
As the Duke of Sussex told Oprah Winfrey during the interview that rocked us all, "Suddenly it dawned on me, 'Hang on, the borders could be closed. ... The world knows where we are. It's not safe, it's not secure, we probably need to get out of here" (via The Washington Post).
So where did the most famous family, with Archie still less than a year old, seek refuge? It was actually one of billionaire movie mogul Tyler Perry's homes in Southern California — and the generous offer from the New Orleans native included a full security detail.
The Duchess of Sussex noted that since they didn't have a plan at the time, Perry coming to their rescue, and reportedly without charging them for the stay, "gave us breathing room to try to figure out what we were going to do."
How Meghan Markle met Tyler Perry remains a mystery
The origin of the friendship between Meghan Markle, Prince Harry and Tyler Perry isn't exactly clear. As has been widely reported, the pals do know some people in common, with Oprah Winfrey being a mutual connection.
However, the former talk show queen's best friend Gayle King previously dismissed rumors that Winfrey was involved in facilitating a relationship for the Sussexes and the "Madea" star.
"Oprah didn't hook that up," King told ET Online. "Harry and Meghan know people. Tyler knows people. Oprah knows people but she did not make that connection for Harry and Meghan to live in Tyler's house."
No matter how the royals came to be acquainted with Perry, it's clear the friendship is alive and well, with the Hollywood staple taking to Instagram to wish the duchess a happy birthday this week. 
"I've had a front row seat in your life for the past few years," the actor captioned an image of Meghan kissing the hand of a child. "I've watched you endure things that would have broken a lot of people," Perry continued, going on to say how proud he is of the mom of two.
Perry's birthday tribute ended with his best wishes for the Duchess of Sussex's birthday, calling her "Princess Meghan."