Obstacles Elizabeth Warren Had To Overcome To Get Where She Is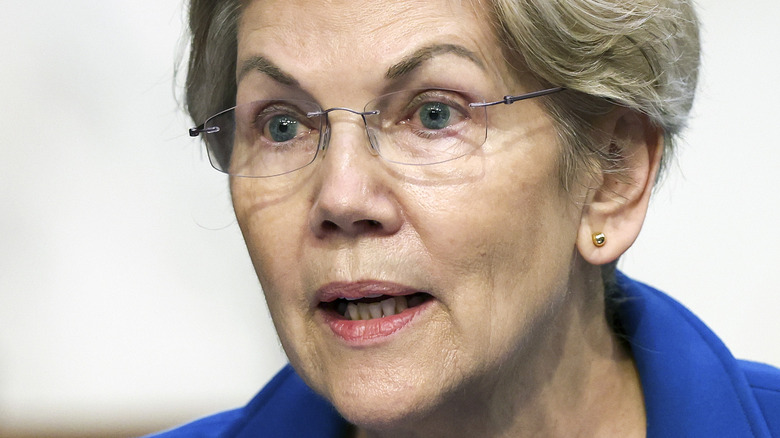 Win Mcnamee/Getty Images
For nearly a decade, Massachusetts Senator Elizabeth Warren has been a resounding voice for progressive issues in the U.S. government's administration. Before dipping her feet into the political pool, Warren was a professor of law for over 30 years (via Britannica). The Oklahoma native taught at several renown institutions, including Harvard University, where she mainly focused on commercial law and bankruptcy, making her somewhat of a financial expert. 
In 2012, Warren transitioned from her law career and made history becoming the first woman senator ever elected in the state of Massachusetts. Though this was a major moment for women, Warren, who is a former registered Republican-turned-Democrat until 1996 (via Politico), has battled criticism from fellow politicians over the years.
Since coming into the political sector, Warren has been heralded as an unapologetic, honest, and radical force in the face of the nation's most pressing issues including taxing the ultra-wealthy. This was seen in 2021, when Warren co-starred in media headlines with Elon Musk after calling him out for being Time's 2021 Person of the Year due to his unethical billionaire status (via The Guardian).
Even though she endured public criticism from political officials like former President Barack Obama, according to CNN, for her oftentimes unpopular stances in Congress, it was when she ran for president during the 2022 election that revealed just how many challenges she's gone through in her political career to get to where she is today. 
How sexism has plagued Elizabeth Warren's career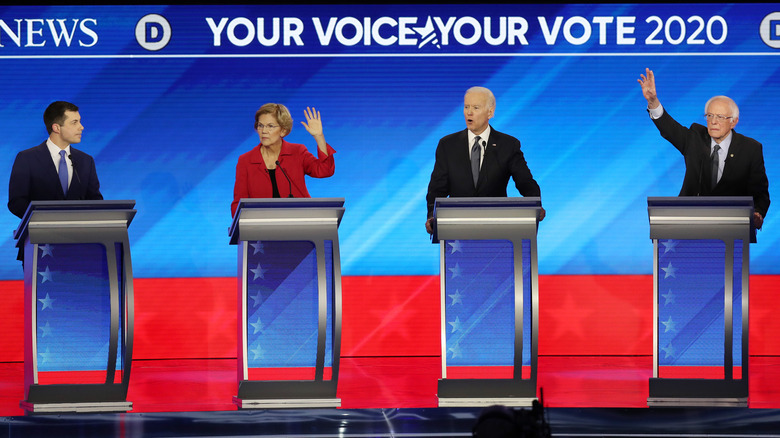 Joe Raedle/Getty Images
When former President Donald Trump was elected into office after winning the 2016 presidential election, Senator Elizabeth Warren publicly denounced him (more than once), calling him out on building "his campaign on racism, sexism and xenophobia" on her social media channels, according to The New York Times. In 2019, Warren put her money where her mouth is by announcing her 2020 presidential run. From that point on, a huge issue that affected her campaign was sexist rhetoric from politicians, both Republicans and Democrats, as well as the media (via The Independent).
Ultimately, Warren dropped out of the race in early 2020, and one thing was clear — despite her impressive political career and presidential campaign being centered around basic human rights, her gender was an undeniable factor with voter likeness. In March 2020, C-SPAN interviewed Warren outside of her house speaking on her decision to exit the race, citing: "If you say, 'Yeah, there was sexism in this race,' everyone says, 'Whiner.' And if you say, 'No, there was no sexism,' about a bazillion women think, 'What planet do you live on?'"
Indeed, data backed this claim. A Data for Progress survey reported that "among likely Democratic voters who strongly disagreed with all four sexist statements, Warren was the marginal favorite over Biden and Sanders. However, among those who did not disagree with the sexist statements, Warren was a clear third (or worse)."
Elizabeth Warren is in a political lane of her own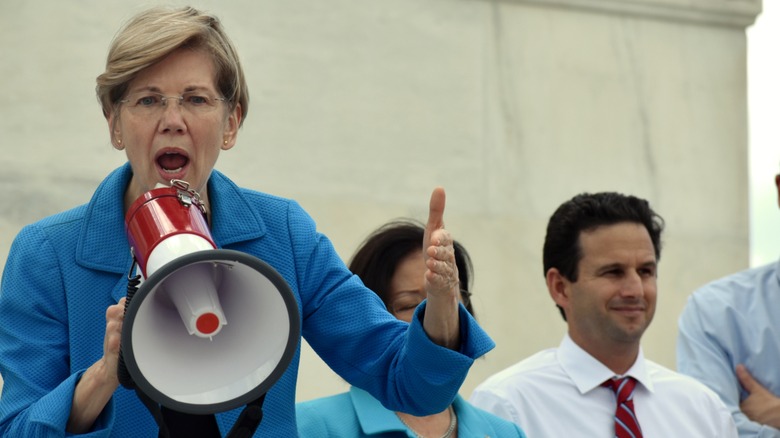 Kelly Bell/Shutterstock
While analyzing the reasons Elizabeth Warren withdrew from the 2020 presidential election, The Atlantic pointed out numerous other obstacles besides sexism that she's had to endure.
With the current state of the nation being so divided, Warren leans leftist, lobbying for universal child care, student debt cancellation, and investing in federal housing to combat housing discrimination, to name a few (via her official website). Being an unwavering proponent of these hot topics has not only made her a target of public disdain, but it leaves some to wonder if she's one of a kind in her given field.
The Atlantic reported that because Warren is in a place of being "to the left of Biden and slightly to the right of Sanders," it left both moderates and progressive voters of the 2020 presidential election struggling to support and ultimately endorse her as a serious candidate. Journalist Connie Schultz spoke on Warren's loss to Vox in 2020, saying, "The electability argument was so frustrating, and is so frustrating," Schultz said. "This narrative had the force of a storm in terms of, you're battening down the hatches instead of throwing the windows open wide to see what the possibilities are."
But Warren has done anything but back down since, continuing to be a voice in the fight for issues like abortion rights. If it's one thing she's shown us, it's that she's in this for the long haul, no matter what.