Everything Jonathan Van Ness Has Said About Their Mental Health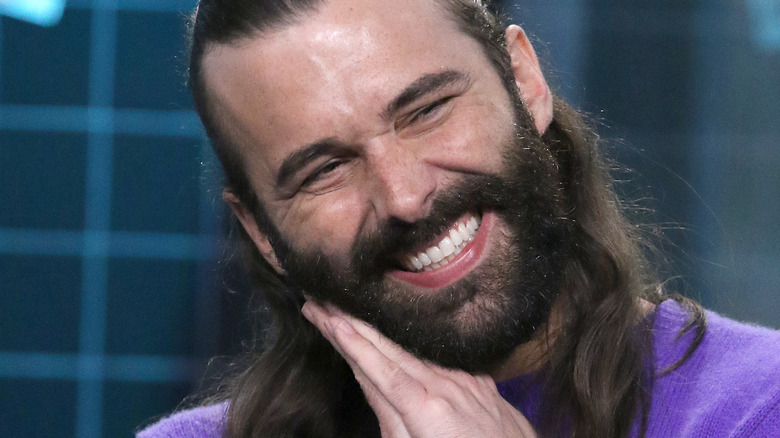 Jim Spellman/Getty Images
Jonathan Van Ness found fame, alongside equally lovable co-stars Tan France, Karamo Brown, Antoni Porowski, and Bobby Berk, on Netflix's insanely popular "Queer Eye" reboot. Van Ness, who uses they/he/she pronouns, identifies as nonbinary and confirmed he's "equally great" with all three (via Parade). The star effortlessly worked his way into the hearts of fans all over the world thanks to a relentless enthusiasm and unquenchable zest for life. 
But nobody is 100 percent happy 100 percent of the time, and Van Ness made it clear that even outwardly sunny people like him have their own struggles with the release of his memoir "Over the Top." During an interview with The New York Times as part of the book's release, Van Ness shared their HIV-positive diagnosis, among many other things. The Netflix star admitted, "I've had nightmares every night for the past three months because I'm scared to be this vulnerable with people." 
JVN continued, "It's hard for me to be as open as I want to be when there are certain things I haven't shared publicly," including his issues with substance abuse and the long road it took to finally make it in his chosen career. Suffice to say, "Over the Top," and the promotional cycle surrounding it, gave fans a new perspective on what Van Ness was privately struggling with — often while plastering a smile on his face for their benefit.
The Queer Eye star espoused the benefits of a support system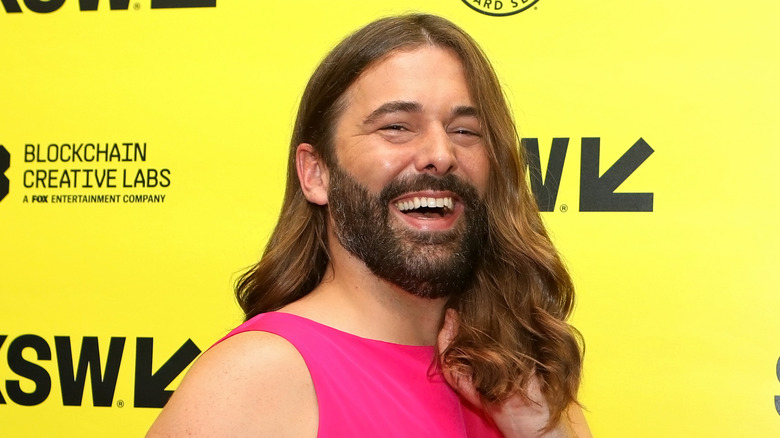 Samantha Burkardt/Getty Images
During a chat with LGBTQ+ charity The Trevor Project (via YouTube), Jonathan Van Ness explained, "Depression is not as easy as saying, 'Just find your joy and you're going to become happy.' That was never my experience. When we're identified fully with our depression, it will say, 'You have no joy, you have no way out.' There will be a negative, internal critic in our mind that we need to be able to dissociate from and pull ourselves away from." 
As the "Queer Eye" resident hair guru acknowledged, he often struggles to pull himself out of dark places and find a reason to be hopeful again. But they try to actively interrogate that negative voice in their head, wondering whether there really isn't anything that can be done to pull them out of it. He also asserted, "When we're able to share with someone who we do feel safe with, we can realize that these things that are happening to us don't make us un-loveable and aren't anything to have as a huge secret and don't make our future dark and dreary. Actually, we have a really gorgeous future and we deserve love and safety." 
Moreover, it might take a while to pull through, but Van Ness knows the darker moments don't last forever. As the beloved reality star told People, it's often tough to push through, even with the right people around you, but there's always hope. 
Jonathan Van Ness employs these tactics to combat depression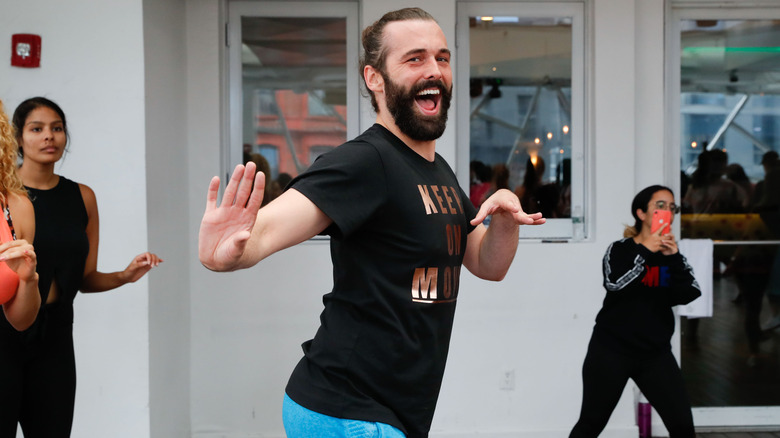 Jp Yim/Getty Images
Dealing with depression isn't easy, as Jonathan Van Ness can attest, but there are a number of things the "Queer Eye" fan favorite does to protect their mental health that we can all learn from, including doing things that bring them joy. In fact, Van Ness took up gymnastics and ice skating in his 30s purely because the opportunities presented themselves. Likewise, as he explained to Parade, "My perfect mental health day is when I'm not being reactive to other people and when I'm grounded in myself." 
The "Over the Top" author emphasized the importance of acknowledging negative or difficult feelings and processing them accordingly, rather than letting them fester. Van Ness has a whole bunch of hobbies to keep his anxious mind occupied, but also regularly attends therapy too. Further, as he told People, anything that forces the grooming guru to move his body naturally helps him get out of his own head, while also getting those all-important endorphins pumping.
Most importantly, Van Ness encouraged other sufferers to find their own path, telling Parade, "There are a million different ways to the top of that mental health mountain. You need a lot of resources to figure out what self-care looks like for you."