Fans Are Going Wild Over A Hilarious Meme Of Pete Davidson And Queen Elizabeth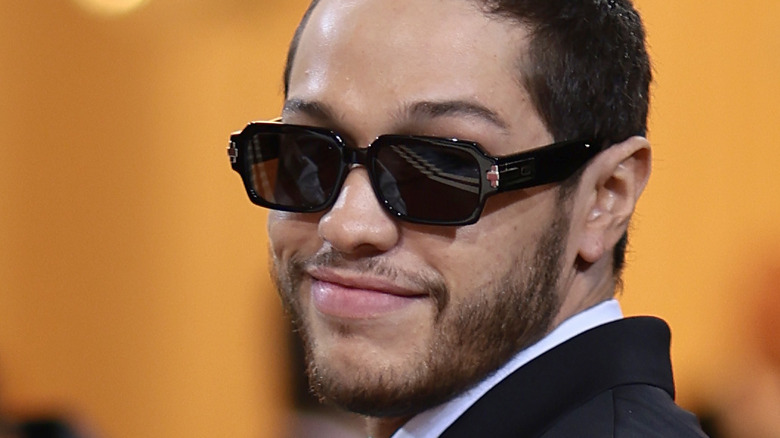 Dimitrios Kambouris/Getty Images
When news broke that Pete Davidson and Ariana Grande had broken up in 2018, fans may have wondered who he could possibly date after her. Their questions were answered when the "SNL" alum coupled up with one of the most famous women in the world, Kim Kardashian.
While we rooted for the duo to last, it was revealed last week that the comedian and reality star were done (via E! News). Why did the unexpected pair end things? A source told E! while Davidson and Kardashian share "a lot of love and respect for each other," that they both travel for their high-profile jobs put a strain on the romance.
Now, after wooing one of the most talented singers of our time, and winning over a woman beautiful enough to land on the cover of the "Sports Illustrated Swimsuit" edition, the unlikely lothario has us wondering once again who he could possibly go out with next. 
Perhaps Twitter has the answer, as a meme of the actor with someone even more well-known and beloved than Kardashian has fans in stitches.
Who can't Pete Davidson get?
A Twitter meme featuring the man every woman seems to go for, Pete Davidson, and Queen Elizabeth is winning the internet this week. What makes the photo so hilarious is how the comic is dressed casually in his trademark pajamawear, while Her Majesty giggles beside him wearing a coat dress, hat and pearls.
One person joked that Davidson had already gotten new ink for his royal girlfriend a la the tattoos he added to his collection in honor of Kim Kardashian, for who he also endured a brand. "He does have a thing for rich, older women with a bunch of kids," tweeted someone else, noting the similarity that the reality star and the Queen both have four children and are admittedly older — although the age difference between the "SNL" star and the monarch is close to 70 years.
Finally, some fans used the meme as a launchpad to suggest other women Davidson could trade up to following his split from Kardashian, including Oprah Winfrey and even Kate Middleton.