Here's How Well Barnes & Noble Is Actually Doing In The Digital Age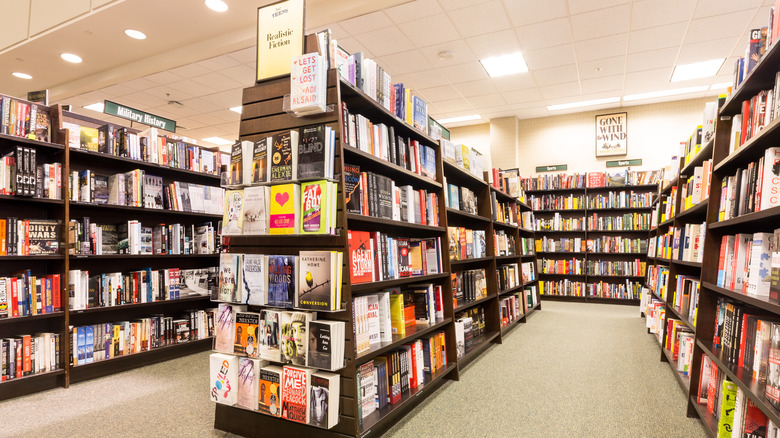 Mihai_Andritoiu/Shutterstock
Barnes & Noble: a quiet oasis for book lovers to wander the aisles and have their main character moment as they search for a new book to dig their nose into. From bestsellers to school supplies, the "#1 book retailer in the United States" has it all for those looking for their next vacation read or the latest celeb-endorsed novel for their book club. According to their website, William Barnes and G. Clifford Noble opened their first bookstore in New York City during the great depression. Today, Barnes & Noble has over 600 stores nationwide, on a mission to "[help] both our customers and booksellers reach their aspirations." (via Barnes & Noble).
But recent trends indicate Barnes & Noble might be in danger. Good E-Reader reports that in the past ten years, Barnes & Noble has closed an average of 15 bookstores each year. Many will blame the decline of book sales on the ever-growing convenience of modern tech — people are now able to access almost any book instantly from their tablet or phone for a fraction of the price of a paperback book.
In the age of instant digital downloads, is it really safe to assume that bookstores are dying? Or do readers still prefer the feeling of the paper between their fingers as they turn each page? The List decided to get down to the bottom of it, creating a graph via Data Herald that analyzed monthly foot traffic trends in Barnes & Noble over the past two years.
Does the next chapter spell bad news for Barnes & Noble?
According to The List's foot traffic graph, which defines a shopper visit as "a stay at the location lasting more than 4 minutes," Barnes & Noble still sees quite a few shoppers each month, although numbers have shown a bit of a decline. Before the COVID-19 pandemic, Barnes & Noble saw a monthly average of approximately 110,000 visitors, with a spike to nearly 200,000 during the holidays. As people were navigating safety precautions in the spring of 2020, foot traffic dropped to barely 20,000. The following summer, masked shoppers began to re-enter stores six feet apart and foot traffic rose to an average of 90,000 visitors each month. While Barnes & Noble has recovered from its 2020 slump, trends have not returned to their pre-pandemic averages. It seems that shoppers are now less likely to spend their days strolling through the fiction aisles.
Research suggests that technology might not be to blame for the lack of visitors — people are simply not reading as much as they once were. Per National Endowment for the Arts, the Census Bureau conducted a Survey of Public Participation in the Arts which found that leisurely reading had steadily declined in the early 2000s, with "less than half of the adult American population now [reading] literature." The study even included digital works as an indicator of reading, and still found that adults were less likely to read on their own accord.
Post-pandemic, people are shutting down their screens and picking up a book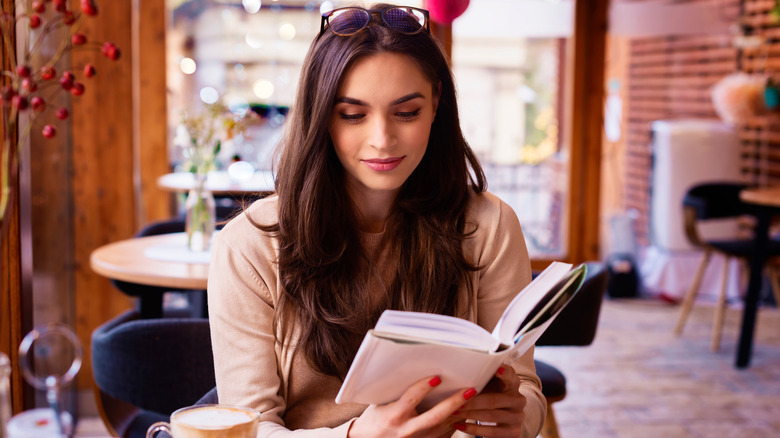 Kinga/Shutterstock
Luckily for book retailers like Barnes & Noble, the pandemic may have reignited our passion for reading, especially physical books. According to the New York Post, book sales at Barnes & Noble were up 12 percent in 2021, showing the largest growth since before digital books were widely available. And with all the research suggesting that there is such a thing as too much screen time, people went searching for old-school ways to cure their boredom. Publishers Weekly reported that their "educational games, puzzles, and workbooks" became increasingly more popular as people looked for things to do while on lockdown. Even with the average visitor count dropping this year, Barnes & Noble remains resilient as people rediscover their love of reading.
So next time you're looking for the perfect gift for the bookworm in your life, or you just dug up your New Year's resolutions list and reading more hasn't been checked off yet, Barnes & Noble has you covered. And if wandering the poetry aisles has you wishing for the ultimate meet-cute, a bookstore is the place to be for a rom-com-worthy first date.