Why Summer House's Danielle Olivera Wants To Appear In Below Deck Sailing Yacht - Exclusive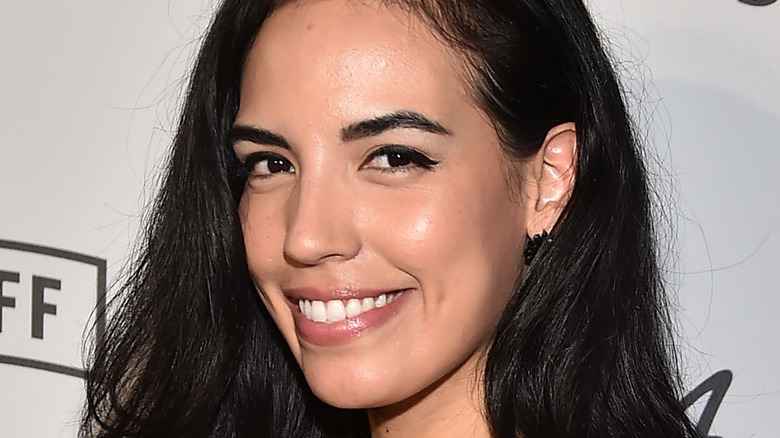 Theo Wargo/Getty Images
Fans of Bravo's "Summer House" love to live vicariously through the cast as they hang out in the Hamptons and visit a copious number of bars and parties each season. Danielle Olivera quickly became a "Summer House" fan favorite thanks to her close friendships with Carl Radke and Lindsay Hubbard and her adorable romance with Chef Robert Sieber. As well as being a reality TV star, Olivera is also a big Bravo fan, and there's one show she'd love to appear on alongside her own — in addition to her other endeavors.
This summer, Olivera is partnering with 1800 Tequila to launch their new cocktail, The Ultimate Margarita Strawberry. Discussing her love of the new cocktail, Olivera told The List, "I'm, as you know, in between the Hamptons and my place in Brooklyn and everywhere in between, so it's a nice, easy grab-and-go. And [it's] a crowd pleaser for when you have people over." She admitted, "I'm not a mixologist by any stretch of the imagination, but I do have a bar cart at my Brooklyn apartment. It's so hard in the summer to devote the time to it. I'm like, 'Let's get everything that we can and do it quickly and have a good time.'" 
As Olivera has recently returned to film the new season of "Summer House," it's likely that she'll be reaching for The Ultimate Margarita Strawberry most weekends. In an exclusive interview with The List, she revealed why she'd love to appear on Bravo's "Below Deck Sailing Yacht" — when she's not busy filming "Summer House," that is.
Danielle Olivera thinks Below Deck Sailing Yacht is 'so cool'
While "Summer House" keeps Danielle Olivera extremely busy for a huge chunk of each year, she has her eye on one other Bravo series that she'd like to be a part of.
"I would love to be on ["Below Deck Sailing Yacht"], because it's the perfect combination of ... They work hard and they play hard, similar to ours," she told The List. "They're definitely doing it in the most insane circumstances on a huge yacht and under high stress. But it's so cool. The places that they go to [and] the personalities are so fun. I would hang out with them. Actually, I'm hoping that I meet them at Bravo Con; that'll be soon."
As "Below Deck Sailing Yacht" viewers know only too well, cast members Daisy Kelliher and Gary King have amazing chemistry, which reached a fever pitch in Season 3. "[They have] weird friend tension," Olivera said. "I love watching her busting his chops all the time." 
Discussing a potential "Summer House" crossover with the "Below Deck" series, Olivera suggested, "Robert [Sieber, Danielle's boyfriend] could chef it up with Marcos [Spaziani]." We've got our fingers crossed that Olivera's dream comes true in the not-too-distant future.

The Ultimate Strawberry Margarita is available nationwide and on Drizly. For more information about the full range of The Ultimate Margarita, please visit 1800tequila.com.