The Recognition Fuller House Got That Full House Never Received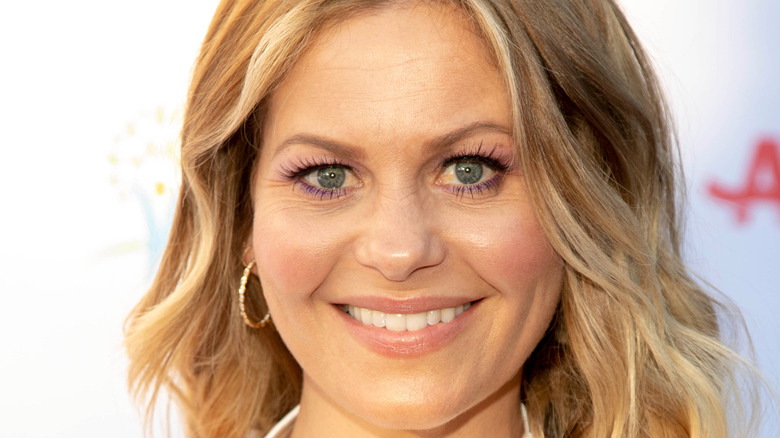 Eugene Powers/Shutterstock
While the premise of "Full House" might have seemed like a downer — a widower (Bob Saget) tries to raise his three daughters with help from his brother-in-law (John Stamos) and best friend (Dave Coulier) — it was actually one of the most watched sitcoms on the air. The show ran for eight seasons and was ranked among the Nielsen ratings' Top 10 in both seasons 5 and 6, per Full House Forever. Viewers were clearly charmed by the show's cast, which also included Candace Cameron Bure, Jodie Sweetin, and Mary-Kate and Ashley Olsen as the Tanner girls, as well as the storylines that managed to mix heartfelt messages with a lot of laughter.
"So many people just wanted D.J. as their big sister, or Michelle as their little sister, or just the little violin music while they had a heart-to-heart scene, even though it was wrapped up in a pretty bow in 30 minutes," Cameron Bure told Today. "But it was the love." 
And those fans were delighted when Stamos revealed on "Jimmy Kimmel Live" (via YouTube) that the show was being revived by Netflix. This time around, DJ (Cameron Bure) was a widow raising her three boys with the help of sister Stephanie (Sweetin) and best friend Kimmy (Andrea Barber). The Olsen twins declined to take part in the reboot, but the show was still a success when it premiered. It also managed to achieve something the original never did.
Fuller House received an Emmy nomination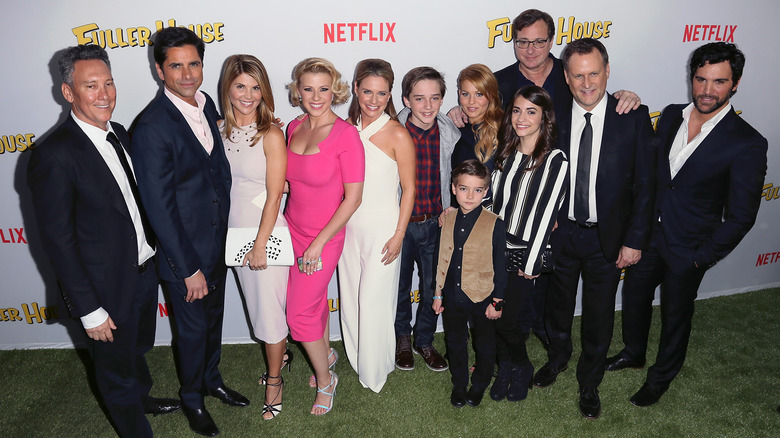 David Livingston/Getty Images
While "Full House" never received any Emmy recognition, "Fuller House" was nominated for Outstanding Children's Program at the 2018 Primetime Emmy Awards. "CONGRATS to everyone at @fullerhouse on our EMMY nom. Only took 30 years!" tweeted John Stamos (via Today).
Unfortunately, the show didn't win — and Netflix canceled the reboot after only five seasons. While it had a strong first season and continued to be one of Netflix's most "binge-raced" shows, it lacked overall viewership. Data collected from Jumpshot showed a 52 percent drop in viewers between seasons 1 and 2 and a 10% decrease between Seasons 3 and 4. An article published by Vox revealed that additional data from Jumpshot listed the most viewed shows on Netflix in 2018, and "Fuller House" didn't even make the top 20.
In addition, the show was panned by critics. Daniel Fienberg at The Hollywood Reporter called the show, "a mawkish, grating, broadly played chip off the Full House block." In fact, of the 50 reviews that the first season of Fuller House received, only 18 of them were positive.
Bob Saget was so proud of John Stamos for developing 'Fuller House'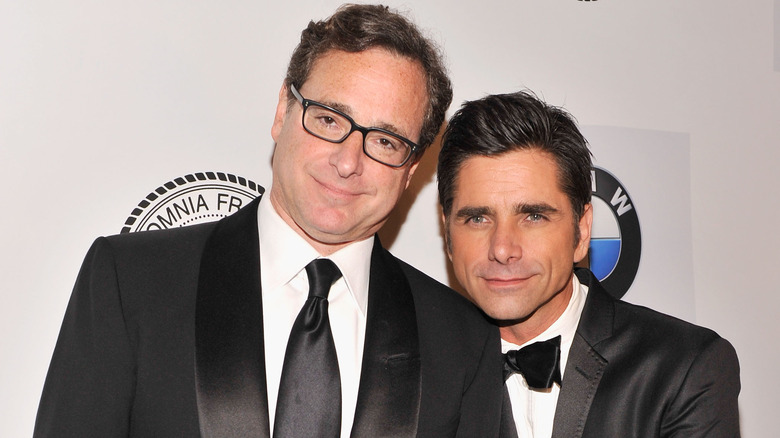 Stephen Lovekin/Getty Images
Bringing the "Full House" gang back together was John Stamos' idea. The actor — who has an ownership stake in the sitcom — had originally planned for a reunion movie, per Screen Rant. When that didn't pan out, Stamos considered casting other actors to play the "Full House" characters, revealing that he wanted Steve Carell to play Danny Tanner and Tracy Morgan to portray Joey Gladstone. 
That plan also never came to be, but seven years later, "Fuller House" premiered on Netflix. And according to Stamos, almost no one was prouder of him than costar and good friend Bob Saget. "But next to my mom, he was my biggest cheerleader, my biggest fan," Stamos wrote in The New York Times after the heartbreaking death of Saget. "He would brag about me to people. When I brought Fuller House back and it was a success, at first you could see he was like, 'Why didn't I think of that?' And then almost every interview it was, 'John did this. He's the one who got us together. We owe it to him.'
With Saget gone, it is unlikely we'll see another "Full House" reboot in the future. Luckily, fans who don't have a Netflix subscription did get the chance to enjoy "Fuller House" when it aired on GAC Family in February 2022.