How Tall Is HGTV's Ben Napier?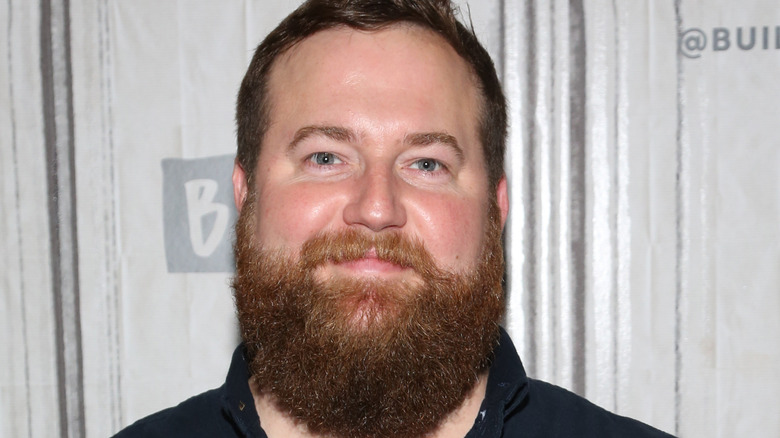 Manny Carabel/Getty Images
Fans can't get enough of Ben and Erin Napier on HGTV's "Home Town" or their fabulous home renovations. In April 2021, Erin shared a photo of a love note from her husband on Instagram, and she wrote: "Every morning, there's a note waiting from Big on my nightstand with my morning caffeine, and I save them all." We didn't think we could love Ben Napier more than we already do, but we were wrong. Writing his adorable wife Erin love notes every single morning is #goals.
Unlike many reality TV stars, Ben and Erin didn't seek the spotlight. In a 2020 People interview, Erin said, "We never expected this. Getting a TV show never even crossed our minds." Ben and Erin landed their HGTV show after an executive contacted them. "I never really watched HGTV before," Erin told Realtor.com. "We weren't big TV watchers at all." The Napiers jumped to HGTV to spotlight their beloved town of Laurel, Mississippi. Ben and Erin have expanded the "Home Town" brand to include multiple spin-offs, so Chip and Joanna Gaines might need to watch out!
But Mr. and Mrs. Napier are more laid-back compared to Chip and Jo. For example, Erin posted a snap on Instagram of Ben sleeping on the sofa and wrote: "Big tree fall hard @scotsman.com." The Scotsman owner seems like he's a big guy, but how tall is Ben?
Fans don't realize how tall Ben Napier is
Many "Home Town" viewers don't realize just how tall Ben Napier really is. In 2020, Erin Napier wrote about Ben's height and big heart in an Instagram post with the caption: "Have I ever told you about how big @scotsman.co is? He really is. Physically, you know that he's very big. 6 feet 6 inches tall and 300 lbs. But that's not what I mean. Not really." The petite Mrs. Napier continued her Instagram post, "Whenever the people he loves are hurting, he has a way of being big enough to carry them . . . when life is bearing down in a way that feels impossible . . . he lifts me up by coming in with the right words when I cannot find them." We're not crying. You're crying.
One reason Ben and Erin are so popular is that before they were HGTV stars, they were happy small business owners in Laurel. Viewers feel that if Ben and Erin's fame disappeared, they'd be happy to return to their pre-HGTV life. According to their HGTV bio, "Six days after meeting in college, Erin and Ben decided they would marry and have been 'inseparable' ever since, working side by side in every venture pursued."
We are looking forward to seeing watch "Big Ben" and Erin do next!