Why Shakespeare Buffs Are Bound To Be Obsessed With Netflix's Love In The Villa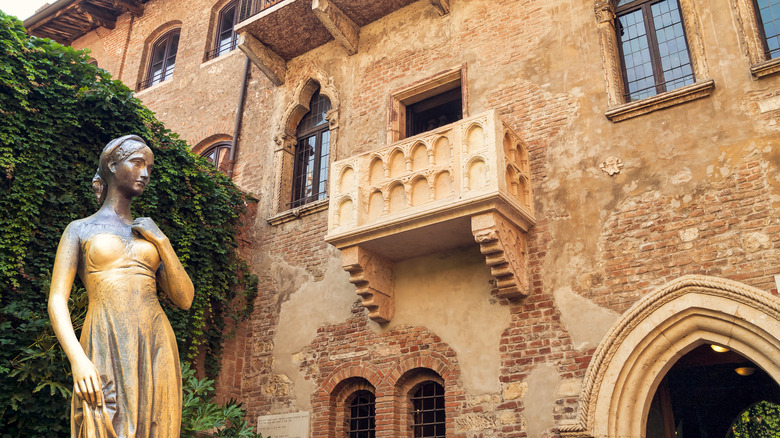 Vladimir Sazonov/Shutterstock
If you're a fan of Shakespeare, you won't want to miss the new Netflix romcom, "Love in the Villa." This light-hearted film stars Kat Graham of "The Vampire Diaries" and Tom Hopper from "The Umbrella Academy" fame. Graham's character, Julie Hutton, has the rug swept from under her when she is dumped by her boyfriend Brandon, played by Raymond Ablack from "Degrassi: The Next Generation" (via Degrassi Fandom). The break comes right before embarking on a romantic trip to Verona, Italy — they were to stay in the villa where Juliet's balcony was recreated.
Though the story of the original doomed lovers, Romeo and Juliet is entirely fiction, the play has touched the tender hearts of romantics everywhere. The actual house in Verona, complete with a balcony is simply a wonderful fantasy since there was no real-life Juliet. Still, her character has become a symbol of love. The 2010 movie "Letters to Juliet" popularized the way those broken-hearted in love seek out advice from Juliet (via IMDb). In real life, thousands flock to the house each year to place their prayers for love on the villa wall, better known as Juliet's wall, and touch the right breast of the Juliet statue in the courtyard to ask her for guidance (via The Culture Trip). Workers in Verona known as "secretaries of Juliet" actually answer letters from those suffering from broken hearts. 
How Shakespeare shows up in the villa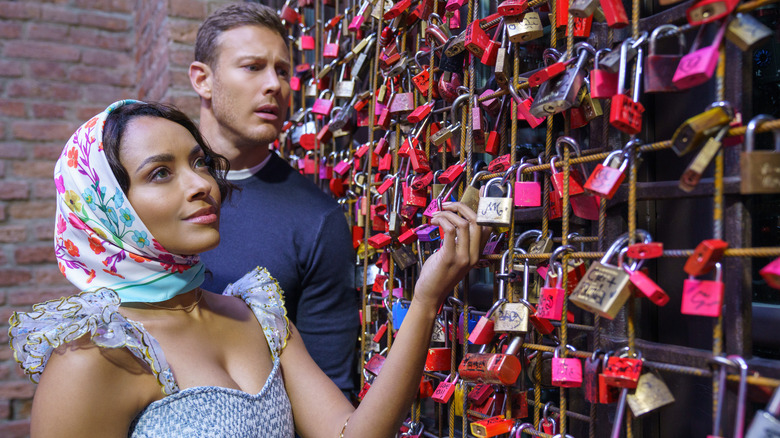 Riccardo Ghilardi/Netflix
Besides the setting, there is quite a bit of similarity between the original Shakespearean play and the film. For starters, Kat Graham's character is named Julie (via Yahoo! News). She is a romantic at heart English teacher who reads the play to her class of third-graders and deeply believes in love. The scenes may stir up English majors everywhere when they remember first falling in love with Shakespeare's plays. You may find yourself mouthing the famous quotes right along with her.
In the movie, the villa is delightful and lives up to the romantic setting you'd imagine. Like the original play, there are plants and beautiful flowers everywhere you look. Since Charlie is a career wine enthusiast, there are countless bottles of wine and even a spectacular vineyard rounding out the backdrop of some scenes.
However, instead of a young couple finding love and having their families feud (via Shakespeare Birthplace Trust), Julie and Charlie find themselves stuck together in the romantic villa due to an Airbnb double-booking, and they feud with each other. That's part of the charm of the movie and unlike the play's teen couple, they both manage to stay alive by the movie's end, though in some instances, you might wonder if that will prove to be true.
To get the behind-the-scenes scoop on "Love in the Villa" from the stars themselves, check out our exclusive interview with Tom Hopper and Kat Graham.