What We Know About The FBI Raid Of Donald Trump's Mar-A-Lago Residence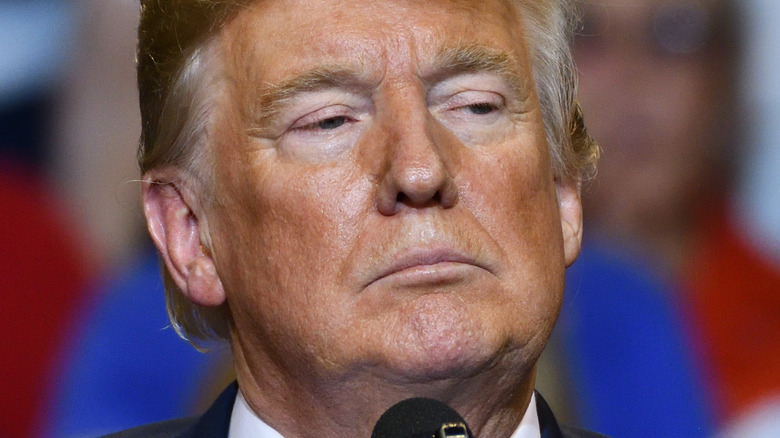 Evan El-Amin/Shutterstock
Donald Trump left the White House over a year and a half ago, relocating to his Mar-a-Lago home in Palm Beach, Florida. But even though the former president is out of the D.C. orbit, his name has continued to land in the headlines.
Earlier this summer, a House committee held televised hearings regarding their investigation into the January 6 U.S. Capitol insurrection, trying to determine if Trump interrupted the peaceful transfer of power once Joe Biden was elected. Americans watched damning testimonies made against the former president, including from those within his circle (per CNN). A new investigation by the Justice Department is also looking into Trump's potential involvement in government conspiracy and election fraud. Additionally, the Justice Department kicked off an investigation into the removal of classified documents from the White House, The New York Times reports. Trump kept 15 boxes of government documents at his Florida home, though they've since been returned to the National Archives.
Now, authorities have revved up investigations, with the FBI storming Trump's Mar-a-Lago residence in a surprise raid.
The FBI searched Trump's home for classified documents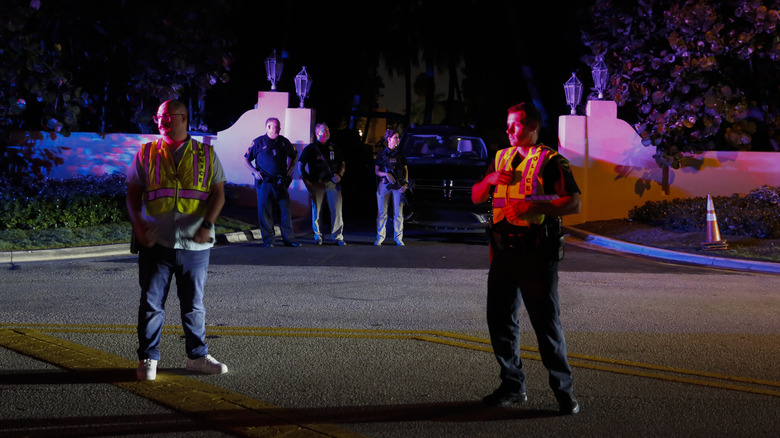 Eva Marie Uzcategui/Getty Images
On Monday, August 8, the FBI entered Donald Trump's Florida home, according to CNN. Sources told the news outlet that the raid was part of a search for presidential documents that Trump may have taken from the White House and continued to hold in his residence, even after boxes of documents were previously returned. A safe was also broken into by FBI authorities, The New York Times noted.  
The former president posted a statement on his social media platform regarding the raid (via CNBC), saying, "These are dark times for our Nation, as my beautiful home, Mar-A-Lago in Palm Beach, Florida, is currently under siege, raided, and occupied by a large group of FBI agents. Nothing like this has ever happened to a President of the United States before. After working and cooperating with the relevant Government agencies, this unannounced raid on my home was not necessary or appropriate." Trump suggested that the search was "an attack by Radical Left Democrats" and an attempt to stop him from running for president again in 2024.
Trump wasn't in Florida when the federal search warrant was executed, and it appears that both Trump and President Joe Biden weren't aware of the raid until it occurred. The New York Times notes, however, that a search of this kind must be carefully orchestrated and requires the permission of a judge and multiple officials before being carried out.