What You Never Knew About Olivia Newton-John's Husband John Easterling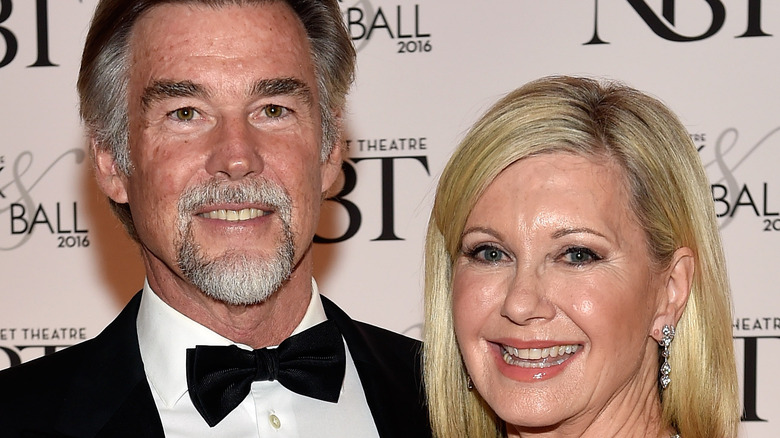 David Becker/Getty Images
Grammy award-winning singer and actress Olivia Newton-John passed away on August 8, 2022, putting the iconic star of "Grease" back in the spotlight as various celebrities, including John Travolta, honored her memory on social media. Her death was announced by her husband, John Easterling, whom the late singer married in 2008, according to InTouch. 
"Dame Olivia Newton-John passed away peacefully at her Ranch in Southern California this morning, surrounded by family and friends. We ask that everyone please respect the family's privacy during this very difficult time," Easterling wrote in a statement on the singer's verified Instagram account. "Olivia has been a symbol of triumphs and hope for over 30 years sharing her journey with breast cancer."
Newton-John had a daughter, Chloe, with her first husband, actor Matt Lattanzi, whom she married in 1984 and divorced in 1995, according to Hollywood Life. The singer kept her private life mostly out of the public eye after divorcing Lattanzi, leaving many wondering about her second husband who was at her side at the time of her death.
Olivia Newton-John called Easterling the love of her life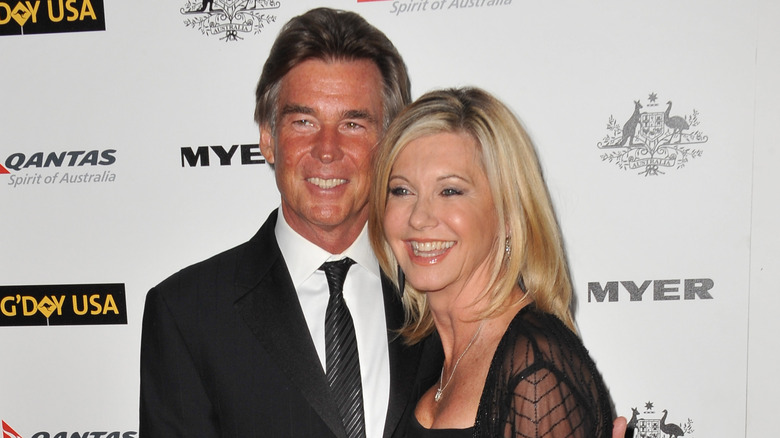 Jaguar PS/Shutterstock
Olivia Newton-John dated cameraman Patrick McDermott off and on for several years until his disappearance in 2005, per the New York Post but she reflected in a 2016 interview with People that she felt "very lucky" to have found love again with businessman John Easterling. "I dated a little bit, but I wasn't expecting to fall in love with him and then bam!" she said, adding, "I always tell my friends you're never too old to find love. I found the love of my life at 59 going on 60! I'm grateful."
According to Reuters, she and Easterling shared a passion for environmental causes and fell in love during a trip to the Amazon. She tagged her husband in an Instagram post, revealing the two had married in Peru. His Instagram profile notes that he's a plant-based medicine researcher. Newton-John, who was first diagnosed with cancer in 1992, battled the disease for 30 years and was an advocate for medicinal cannabis, according to Daily Mail. 
In the YouTube show "Let's Be Blunt with Montel," Easterling said he grew up in North Carolina, where he experienced a near-death experience in 1970 with Rocky Mountain Spotted Fever, which left him with hepatitis. He moved to Ecuador in 1977 to find and sell artifacts and goods but discovered a different type of business venture when natives in the Amazon Rainforest treated him with botanicals when he experienced a health episode. 
John Easterling wasn't a fan when he met his wife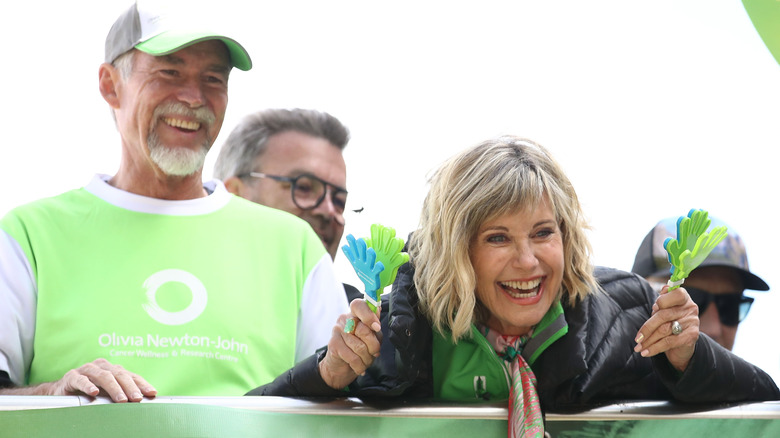 Scott Barbour/Getty Images
In the YouTube show "Let's Be Blunt with Montel," John Easterling said he felt better than ever after South American natives treated him with Amazonian botanicals after he suffered an episode of fever and fatigue. The experience led him to found The Amazon Herb Company in 1990. 
He told Skunk Magazine he wasn't a fan of Newton-John when the two met through mutual friends. "I didn't own any of her music," he said. "In fact, I had never seen 'Grease' until after we were married. I got to know Olivia because we supported the same charity." He added that the charity was founded by her close friends, whose young daughter died from an environmentally induced cancer. 
He said they became good friends, and when she invited him to a concert in Florida and performed "Pearls on a Chain," he realized she was a healer, saying she had "an incredible capacity to genuinely care for other people, animals, and the environment." He then invited her to visit Peru and the rainforest healers with him.