Inside Michael Cohen's Bold Reaction To The FBI's Raid On Donald Trump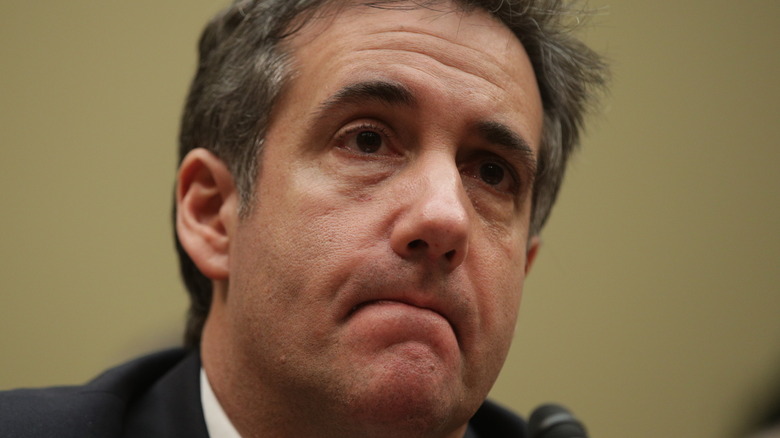 Alex Wong/Getty Images
Former President Donald Trump is in some seriously hot water after the FBI reportedly raided Mar-a-Lago, his private club in Florida on Monday morning. According to CNN, they were specifically looking for evidence that Trump mishandled official presidential documents by bringing them to his private home. Trump posted a public statement addressing the raid, referring to himself in the third person as he complained that the "political persecution of President Donald J. Trump has been going on for years." The New York Times wrote that Trump has reportedly ripped up and destroyed official documents in the past, and has been historically slow to cooperate with National Archives officials.
Within Trump's statement, he compared the situation to Watergate and harkened back to Hillary Clinton's emails that were the talk of the 2016 election. During his rant, he also implied that this raid was politically motivated, citing his attempt to run for president again in 2024, and alluded to the United States becoming a "broken, third-world [country]... corrupt at a level not seen before." 
His frustration seemingly came through when he exclaimed, "They even broke into my safe!" What they found within the safe has yet to be released, but that hasn't stopped Trump's critics from celebrating.
Trump's former lawyer is all smiles
Monday's FBI raid at Mar-a-Lago is the most recent in a long list of legal troubles Donald Trump is facing, and Michael Cohen is no longer by his side to make those troubles go away. Cohen, Trump's former personal lawyer, was convicted back in 2018 for multiple accounts of fraud and evasion during his time working for Trump, per the U.S. Department of Justice. In a public statement after his release in 2021, Cohen vowed to continue his cooperation with legal officials to "ensure that others are held responsible for their dirty deeds and that no one is 'ever' believed to be above the law" (via CNBC). One can only assume he is referring to Trump, as Cohen continues to be a source of information as officials investigate the former president.
Cohen took to Twitter on Monday afternoon to celebrate the news of the FBI's raid on Donald Trump's home. Cohen posted a selfie, smiling wide with the caption, "The look on your face when you learn that the @fbi just raided Mar-a-Lardo and #TFG is sh*tting a brick!!!#KarmaBoomerang."
A few hours later, Cohen posted a video on TikTok reacting to the "hundreds of federal agents" at Mar-A-Lago, speculating that the documents removed from Trump's private residence had "information [Trump] didn't want exposed." He reminded viewers that U.S. Attorney General Merrick Garland had to sign off on the raid, and concluded the video with, "no one is above the law."