Joe Biden's Post-COVID Cough Has Twitter Talking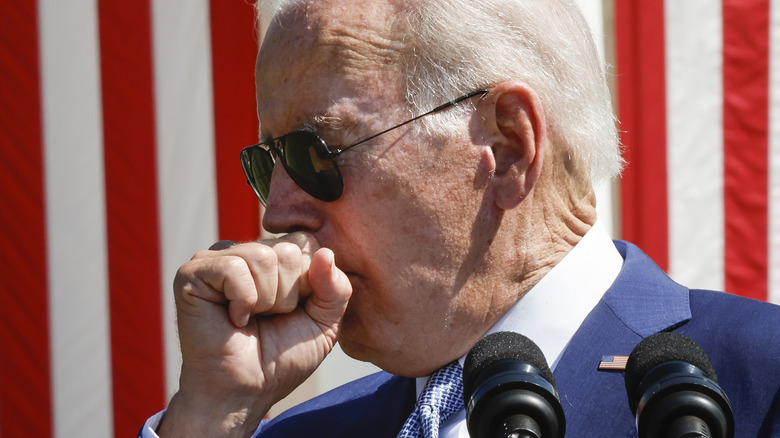 Chip Somodevilla/Getty Images
On Sunday, August 7th, President Joe Biden left his COVID isolation after first being diagnosed with the virus, testing negative days later and then suffering rebound positivity, news of which he shared to his Twitter a week ago (via Vanity Fair). Saying he "felt great," the commander-in-chief's first stop was his home state of Delaware where he reunited with First Lady Jill Biden (via VOA News).
But on Tuesday, the POTUS returned to the White House to speak on what was described as the "CHIPS and Science Act, a historic investment in American jobs and manufacturing," on his official Twitter account. Unfortunately, observers were more focused on Biden's hacking cough than the initiative, with Biden stopping at various points during his speech.
The Daily Wire couldn't help but point out that the leader coughed into his hand and not his elbow, as is a recommended practice by the CDC. And that wasn't the end of the cough commentary online.
Joe Biden's COVID cough is normal but still troubling to people
Sharing footage of another event President Joe Biden attended indoors in Kentucky Monday, during which he also coughed into his hand, someone else wondered, "Are we sure Biden is safe to be around other people? That cough does not sound good — Yikes."
Meanwhile, a GOP Rapid Response member pointed out the double standard of Biden recovering from COVID versus our former POTUS. "Just imagine a scenario in which Donald Trump gives a speech days after he gets COVID and hacks nasty coughs into his hands every 30 seconds. It'd be a national emergency," he tweeted, adding that when Biden does this, no one reacts.
Next up was news anchor Mike Walter's take on the cough, which he called "troubling." White House reporter Philip Melanchthon Wegmann tweeted that the Democrat's cough was "unrelenting" and urged someone to get him a cough drop.
To be fair, according to the American Lung Association, a COVID cough can last as long as six months after infection. As Reuters reports, Biden tested negative on two consecutive days before being cleared to leave his White House quarantine.