The Memorable Schitt's Creek Role You Never Knew Hallmark Star Kevin McGarry Had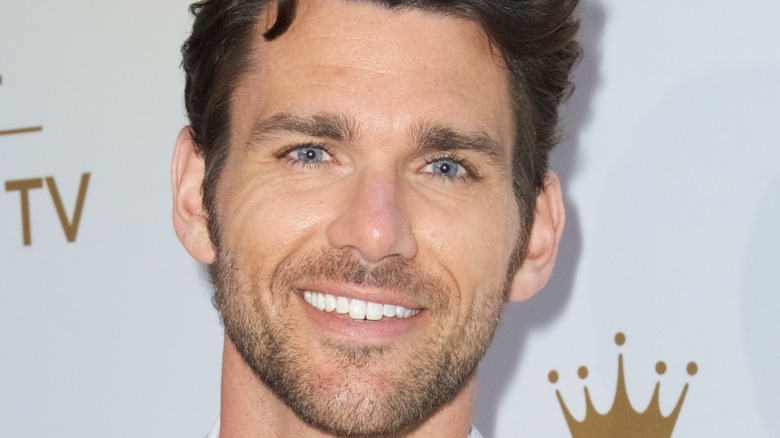 Earl Gibson Iii/Getty Images
Kevin McGarry is an American actor known for his performances in Hallmark movies, some of which he starred in beside his real-life partner, Kayla Wallace. Debuting on the Hallmark channel in 2015, McGarry has starred in the movies "Signed, Sealed, Delivered: From Paris With Love," "Winter Castle," "Christmas Scavenger Hunt," and "Wedding Veils" (per Us Weekly). 
In addition to his previous role on the CBC series "Heartland" and his recurring role in Hallmark's "When Calls the Heart" (per News Unzip), fans may not know that McGarry has also appeared in TV shows such as "Schitt's Creek."
Schitt's creek is a critically acclaimed CBC comedy created in 2015 by father-son duo Eugene and Dan Levy. The series, which currently streams on Netflix, follows the Rose family of four as they're forced to live in a small town after losing suddenly losing their wealth. Eugene Levy and Catherine O'Hara play parents Johnny and Moira Rose while Dan Levy and Annie Murphy play siblings David and Alexis. In 2020, Schitt's Creek ended with a total of six seasons.
Over the course of its five-year run, the show featured many guest appearances by famous actors, including Jennifer Irwin, Victor Garber, Paul Shaffer, and, of course, McGarry.
Kevin McGarry appears as the character Citrus in Schitt's Creek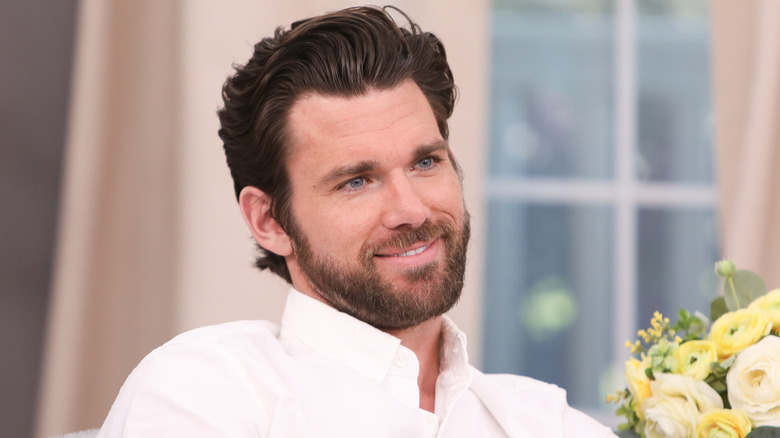 Paul Archuleta/Getty Images
Fans who know him from his feel-good Hallmark roles may be surprised to learn that Kevin McGarry portrays a charismatic cult leader in Season 6, Episode 7 of "Schitt's Creek." According to Refinery29, the cult, which disguises itself as a workout company, recently promoted Alexis to the role of "regional marketing invigorator," so she unknowingly brings gal pals Stevie, Twyla, Ronnie, and Jocelyn to participate in one of the group's exercise classes.
McGarry leads the class as Citrus, who frequently shouts encouraging — but also confusing — affirmations about pushing past demons and ascending to "the gateway," which adds to Stevie's suspicions about the group and leads the women to uncover the truth.
McGarry shared a screenshot from the show on Instagram, showing him and Annie Murphy in monotone cult tunics. He jokingly captioned the picture, "Special thanks to @schittscreek for letting me bring my own wardrobe from home!"
The faux cult on Schitt's Creek may have been inspired by real events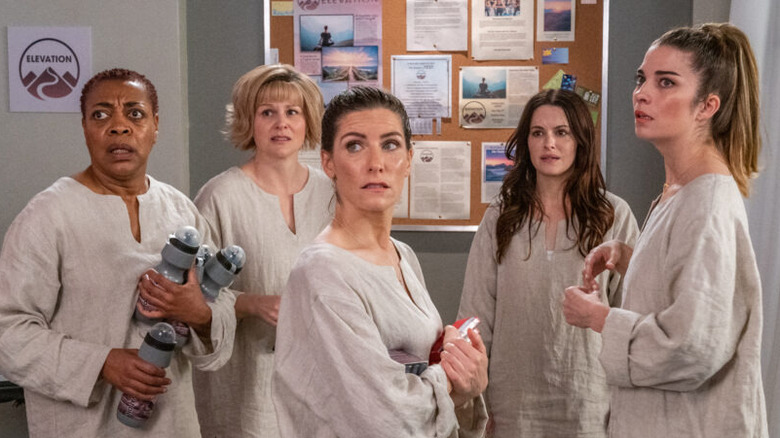 Steve Wilkie/CBC
According to Refinery29, the cult featured on "Schitt's Creek," led by Kevin McGarry's character, Citrus, may have been inspired by the real cult NXIVM. In 2017, it was exposed as a destructive sex cult after a victim gave their testimony to The New York Times (via Esquire). Portrayed as a self-help MLM for wealthy, elite women, the group had been exploiting members since its founding in 1998.
Comparing the fictional and real-life cults, both are predominately made up of women, who are used to recruit other women, and feature a male leader. With these similarities in mind, it may be true that "Schitt's Creek" created the fictional cult featured on the show in the image of NXIVM. Plus, the real cult involved many Canadian citizens, and, given the show's Canadian roots, we can't help but wonder if this is merely a coincidence.