The Love In The Villa Stars You Never Knew Were Married In Real Life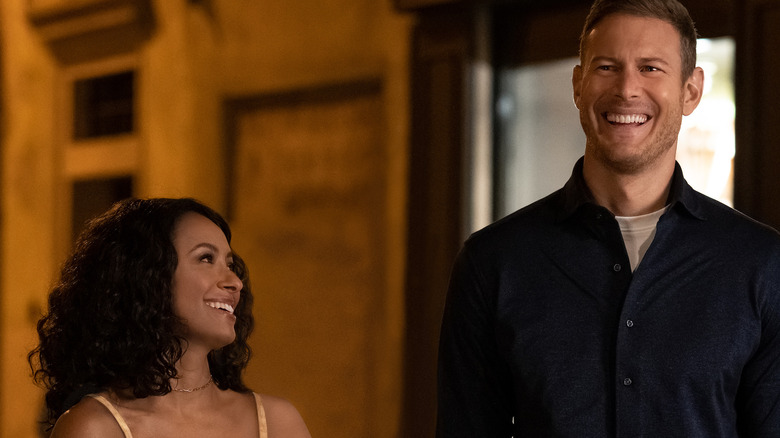 Riccardo Ghilardi/ Netflix
As the lead in the new Netflix movie, "Love in the Villa," Tom Hopper portrays Charlie, a somewhat stuffy and grandiose wine expert (via IMDb). He isn't the most likable character, at least initially. Hopper is most notably known for his roles as Luther Hargreeves in "The Umbrella Academy" and Dickon Tarly in "Game of Thrones" (per TV Guide).
While Charlie rents out a gorgeous Italian villa each year while he surveys the finest wines in Verona, he learns that his villa has been inadvertently double booked when Julie, an American teacher, played by Kat Graham, walks in.  Though they first agree to share the space, things quickly go awry which set this unlikely pair into an ongoing feud. Though they eventually lighten up and call a truce of sorts, the dynamic changes again once Charlie's ex, Cassie, and Julie's ex, Brandon unexpectedly show up in Verona.
What viewers might not know is how this circle of friends lives off camera.
Charlie and Cassie are married in real life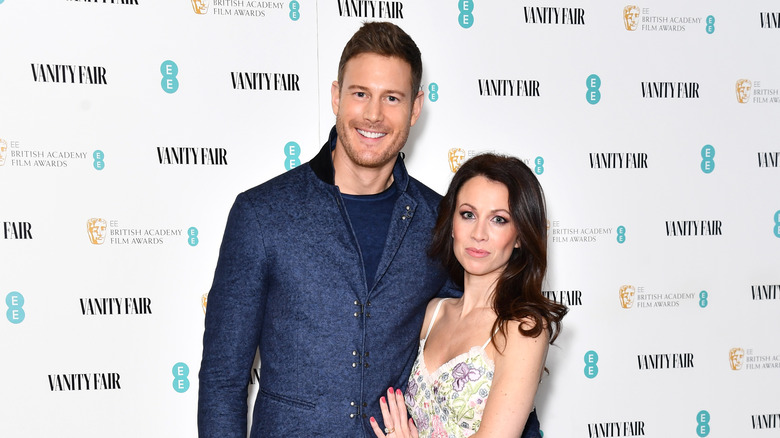 Gareth Cattermole/Getty Images
Tom Hopper's portrayal of uptight Charlie is in stark contrast to his ex, Cassie played by Laura Hopper, who also happens to be his wife in real life (via People). Cassie is a brash, loud, and excitable former model while Charlie is reserved and a bit irritable, though he does have model looks. When first meeting Cassie, you might wonder how she ever ended up with Charlie, which makes their real-life status all the more enjoyable.
Laura actually encouraged her husband to take on the role. Tom told Entertainment Weekly "My wife tends to read a lot of the scripts before I get to them. Some of the ones she's like, 'Oh don't bother, you're not going to connect with this one.' he explained. "And then, with this one, she was like, 'I just read this really great script called "Love in the Villa." It's a really sweet rom-com.'"
As art so often imitates life, the Hoppers arrived in Verona on the set and Tom tested positive for COVID-19. "We ended up having to go into quarantine for two weeks. So, we ended up having to spend two weeks alone in the villa, and we had our own "Love in the Villa" movie."
To get the behind-the-scenes scoop on "Love in the Villa" from the stars themselves, check out our exclusive interview with Tom Hopper and Kat Graham.