Soap Veteran Adrienne Frantz's Baby Boy Reaches A Very Special Milestone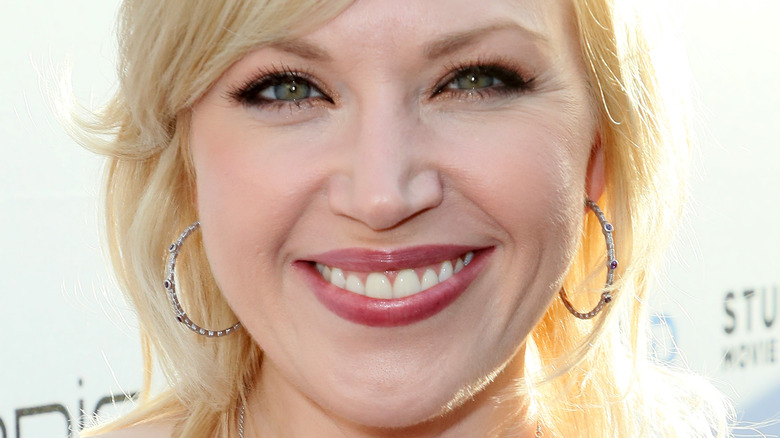 David Livingston/Getty Images
Actress Adrienne Frantz is a veteran soap star who got her start in 1994 in a small role as a young girl on "All My Children" (per Soap Hub). In 1997, she was cast as Tiffany Thorne on "Sunset Beach, although Cheat Sheet reported that it was not a good working environment for her. Shortly after that, she would become better-known in the soap world after being cast in the role of the iconic Ambrosia "Amber" Moore on "The Bold and the Beautiful," and "The Young and the Restless" from 1997 to 2012 — with a special guest spot on "Y&R" in 2013. According to Soap Central, Amber has done quite a few disreputable things like kidnapping a child, passing off a baby as her own, shoplifting and stealing things, and pretending she was pregnant with Liam Cooper's (Scott Clifton) child.
Frantz, of course, is nothing like that in real life, and is devoted to her growing family. In March 2022 she announced the birth of her third child – her second son Killian Lachlan Bailey — and although little Killian had been in and out of the hospital for a fever, Soaps She Knows reported that the baby was fine.
Milestones are always fun to celebrate, and Frantz recently announced a major accomplishment for her third child.
Frantz's son had something to say
Adrienne Frantz is clearly a proud mom, and she took to social media to celebrate her little one's accomplishment — which was seriously impressive! She posted on Instagram, "My amazing #5monthsold baby Killian just said MAMA today!! Wow he stole my heart! It wasn't his first word. That was hi. Then Dada but I'll take it!" Naturally, a video of the baby saying "mama" was part of the post. Fans poured out their love and congratulations. One fan who thought of Adrienne Frantz on "The Bold and the Beautiful" as almost her granddaughter responded with, "So glad to see he is feeling and looking so healthy. Your trips to hospital had me as worried as if I was his great-grandma."
Frantz's fans hail from all over the world as exemplified by the post, with one writing, "Awwwww just such a little cutie Adrienne sending hugs from Australia." Another international fan couldn't help but write, "Vraiment trop mimi ce petit ange." Translation from French, the comment read, "Really too cute this little angel." Fans kept gushing about how adorable Killian is with one follower adding in, "Oh I love his little laugh and his little squeal."
Frantz — clearly a proud mama — has continued acting since she left the role of Amber Moore. She recently appeared on "Days of Our Lives: Beyond Salem" as the character Sophie Faversham. Her Instagram fans who love her acting are still hungry for more Frantz on the small screen. 
One fan brought it back to Frantz's career stating, "Awe... You are missed on B&B. It would be nice to shake up Deacon."